Rossi: "Nothing has changed, I will continue racing in 2021"
Sharp: "It is not true that I have thought about the withdrawal. The situation is the same as three weeks ago, I will run 99% with Petronas."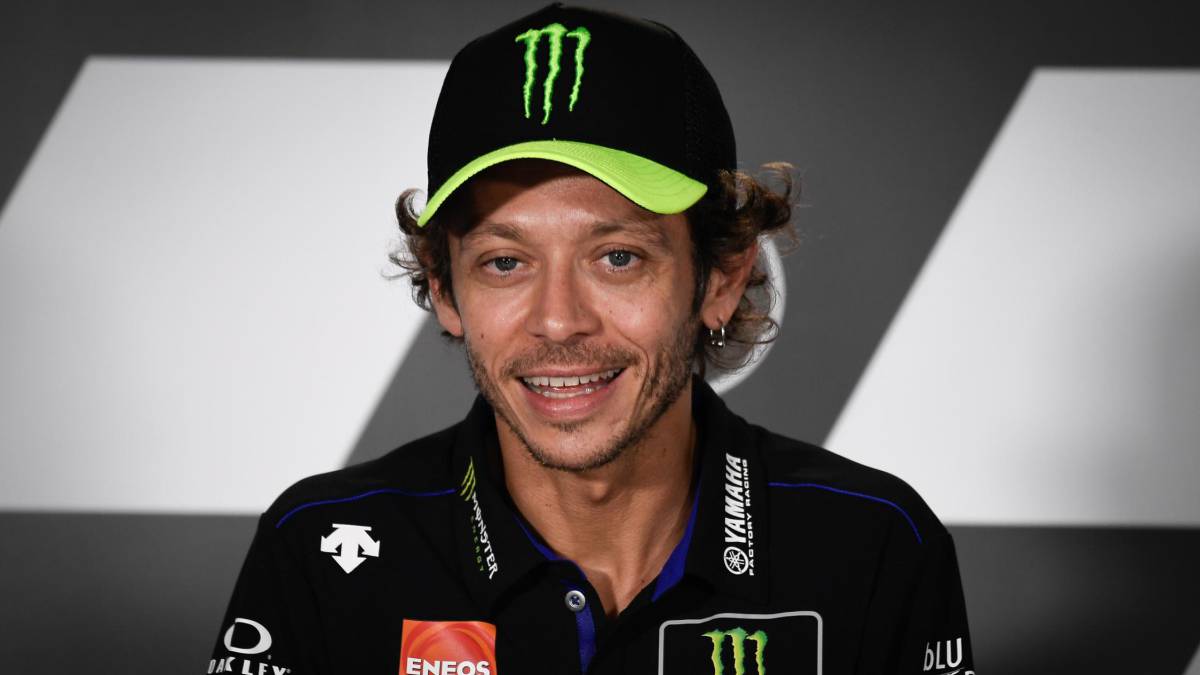 Rossi stays. At least one more year. He made it clear again in the press conference with which the San Marino GP started. His presence was highly anticipated and, as usual, he has not disappointed expectations, starting with some lilting and beautiful Nike Jordan with which he was presented. Footwear aside, his appearance has been very interesting.
-How do you see this calendar of 9 races in 11 weeks?
-It will be all very compact, but we are flying here in Europe and you can rest at home without jet lag between flights. You also have to be a little more careful with injuries with so many races in a row. But otherwise, it's more or less the same.
-You will be running for two weeks at home ...
-It is always something special to race in Misano. For many drivers, and for me, it is the GP at home because I live 10 kilometers away and when I was little we came here. It will also be special because it will be the first time this year that we have a few fans in the stands and that is good to gradually recover normality. In theory, we should be more competitive than in Austria and we should be fighting for the podium and for the top positions.
-What can you say about the rumors of your retirement?
-It is not true that I have thought about the withdrawal. The situation is the same as three weeks ago. We are in no rush and we have some things to fix with Yamaha. Not signed yet, but I will race 99% with Petronas next year. I think when we get to Barcelona there will be the signature.
-Regarding the rumors of the last days, do you think that there are people who do not want to see you renew and who prefer you at home?
-I think that my retirement is very big news. If you write on the Internet that 'Valentino Rossi has retired' there will be many people who click for the morbid. But the situation has not changed, I will continue running next year.
-Are the braking problems on Yamaha overcome?
-I hope we have been able to solve the braking problem. Austria was the worst circuit in this regard, but Misano will be much easier so we won't have any problems. The problem that Maverick had came because he used a different element than the rest.
-Do you see yourself with a chance of being a champion?
-Everything is very open. I am 25 points behind Fabio, but I am seventh. It's all very tight. With these numbers everything is possible, so of course we are going to try our best. What scares me the most is that we weren't fast enough in Austria. This championship will offer us many surprises until its end and it will be open until the end.
-Would you like an asphalt with less grip on the green, so that it is safe but time is wasted?
-That there is the green outside the track limits is done to increase safety, so that if you make a mistake and go long you don't fall. Now the situation at the level of track limits is quite difficult to manage in all categories. But I don't understand how you can have asphalt with less grip off the track. Right now the green already has less grip, but the difference is not so much.
-How about Miguel Oliveira at his ranch in Tavullia?
-I always like to follow young riders and I have always followed Miguel. I like his style because he is crafty, he is very clean and precise. He has shown his level this year, because the KTM has also raised the bar. He has already shown that he is ready to fight for the victories and I am sure that he will be able to become one of the strongest riders in MotoGP.
-What point of view do you have of Jorge Martín's positive?
-Today I heard the news. First, I hope it's okay because it's dangerous. We must continue to pay attention, make a more domestic life, do not leave the house much and be careful. It also depends on luck and I think Jorge has been unlucky.
-What do you think when you see F1 racing at Mugello this weekend?
-I feel jealous because we will not be at Mugello this year. For me it is one of the best circuits in the world with the motorcycle and also with the car. I drove the Ferrari at Mugello and the situation was incredible. In Arrabiata 2 you go full and the start is blind. They are going to enjoy the circuit a lot although it can be a bit narrow for a Formula 1.
-What do you think of Beatriz Neila's success and do you remember that she was filming on her ranch?
-She was piloting at the ranch in the past. She was very fast and a little crazy. I think this world is difficult for girls, because we are mostly men, but they have a lot of potential. I have met some fast riders like Ana Carrasco who won in Supersport 300, I think they don't need anything extra, they just have to try.
Photos from as.com