Real Madrid approved and suspended: Ramos again ...
The captain made it 2-3 to close the comeback. Courtois saved and failed, Varane and Fede vindicated themselves and Casemiro was shipwrecked. Jovic was left in a flash.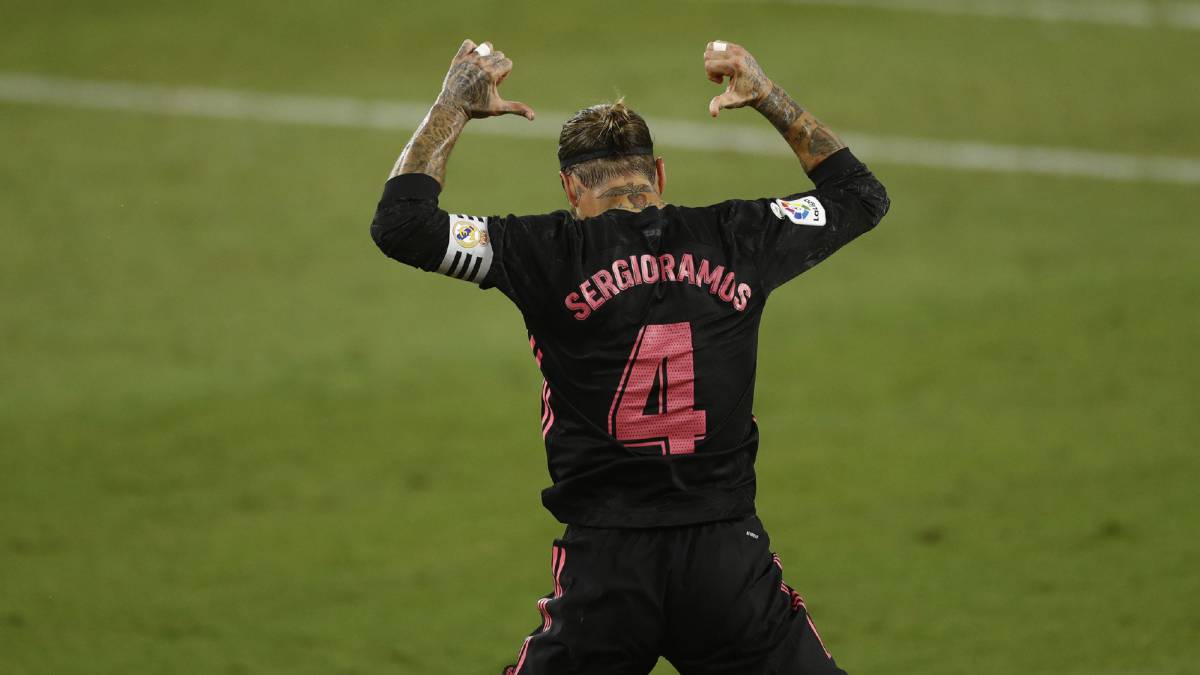 Courtois. He did his miracle every day, scoring 0-0 in the 7th minute with a point-blank header from Sanabria. The 1-1 was impossible and at 2-1 he had to do more. Then, in 76 ', he flew to prevent William Carvalho's 3-2.
Carvajal. He cut by the hair, never better said, in the 30th minute a good cross and gave the pass that ended in 2-2, from Emerson in his own door.
Varane. Again the best in defense, taking his job and doing that of his teammates on several occasions. He blocked Fekir in the 4 'and crossed very well, in the area and out, in the 32' and in the 51 '.
Bouquets. He suffered continually when getting out of position. In 15 'he forgave what he never forgives, an easy goal, in 68' he deserved to score it with a foul that went wide for very little and in 82 ', with a Panenka penalty, he retaliated. And there are 22 consecutive maximum penalties for within. A special target, in addition, for the rival and for being the third player to see the door in 17 consecutive seasons in the history of Primera.
Mendy. The new scheme, with two forwards, invited him to a continuous round trip and he responded in the first period. On 6 'he had the first of the night, but he got caught in the cut and his shot was faulty.
Valverde. Energetic and with a presence throughout the field, although Zidane continues to follow him on the right. His goal at 14 ', acting as' 9', served as a message: he has lost some prominence and wants to regain it. He also helped create the 2-2, opening for Carvajal, and insisted on the wing.
Casemiro. Substitute against Real, he was weak in the melee and clumsy with the ball. He lost the aerial duel with Mandi at 1-1. In 6 'he enabled Mendy well, who did not finish in conditions.
Kroos (changed at 45 '). His delivery error led to the 2-1. Before being substituted, very close to the break due to injury, he was close to assisting Benzema.
Odegaard (changed to halftime). He still doesn't let go, playing like he has to ask permission. They left him in a two against one in the 1-1 corner and did not follow William Carvalho at 2-1.
Benzema. He dizzy Álex Moreno until he found the hole to connect with Valverde in the Uruguayan goal. He exhibited his catalog of movements again, even more liberated by the presence of Jovic. He was late in 45 ', incomprehensibly he did not finish in 71' and neither did he fine-tune in discount, but before he had forced Emerson's own goal and put Jovic in front of Joel.
Jovic (changed in 72 '). Surprisingly starter, she tiptoed through the first half and kicked in the second. There he left a shot rejected in the 61 'and five minutes later he gave the red to Emerson.
They also played:
Modric (came out on 45 '). He assumed responsibility in the circulation, clairvoyant as is customary in him.
Isco (left after the break). With little incidence, he almost sentenced from the heart of the area in 84 ', but crashed in Joel.
Mayoral (came out in 72 '). His first two interventions were both offside. He caused the 2-3 penalty, reason enough for Zidane to continue considering closing the exit door.

Photos from as.com