Quartararo: "One more lap and Mir would have gone ahead of me"
"After several bad races, a victory here tastes very well," said the Frenchman after being emotionally unable to contain his tears on the podium.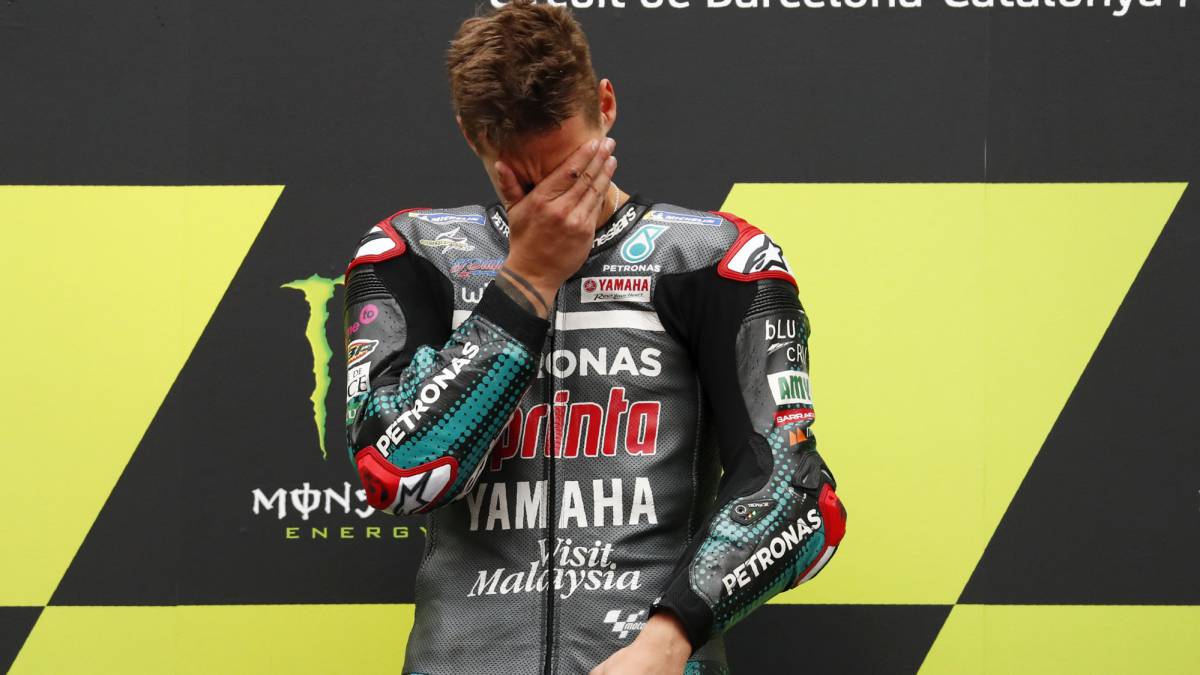 Fabio Quartararo returns to his own devices with his third victory of the year and his return to the overall lead in MotoGP. The Catalan GP already served him to make his debut on the MotoGP podium last year and to get his first GP victory, in Moto2.
-Congratulations on your third win of the year. How was the race?
-It has honestly been a tough race. I made a good start, but I was fourth, behind Miller, but he made a mistake at the beginning and I was able to pass him. Then our pace was very good, but too high to keep the tires until the end. I did two good overtakes on Rossi and Morbidelli, but in the final laps I was running three seconds slower and was actually pushing hard, but I had no more. It's hard to understand why the Suzuki were so fast and we were so slow at the time. But the important thing today was to be fast in the first part of the race.
-How have the track conditions influenced?
-The temperatures were low in the first part of the race and I did not expect the pace to be so high, because I had good grip. The problem came in the end. I went on to 1:43, two more laps and I would have ended up riding a Moto2. Thank goodness the race ended on lap 24, because if it had lasted one more Mir, I would have been ahead of it.
-The tears of the podium?
-After several bad races, you know very well a victory here. In 2020 the lowest moment was Misano's career. That's where I fell and it was one of my worst times of the year. And in the Austria and Brno triplet I only got 20 points. In these tough moments I have been able to work hard and that is why it tastes so good to be here again.
-Is the World Cup already a Quartararo-Mir duel?
-We have seen a championship that had many ups and downs in the first races, where there were 10 drivers in 25 points, so we don't know what can bring us. I don't know how to answer this question, because it is too early to say that the World Cup is going to be Mir's and me's thing.
-Is this victory a response to Marc's comments that he said he expected more from you?
-I spoke with Marc on Thursday, who was here. I did not need to vindicate myself because even if he had not said those comments, I would have pushed in the same way today. Besides, I also think like him, because I expected more from myself. So I think you are absolutely right. But Marc's words have not been a special motivation.
-What was the race strategy?
-It was difficult because both Morbidelli and Rossi put a very high pace at the beginning. I expected it to be lower, because we knew the pace would drop in the end. I knew the last laps would cost me. Every lap he felt the tire drop and tried to keep his distance with Morbidelli. But when they told me that Joan was second to 2 seconds, I pushed to the maximum, but I could only roll in 1:43. It was a very difficult race to manage, I never had a good feeling on the left flank.
-How do you see Maverick and Dovizioso in the title fight?
-Maverick won the last race and Dovi, apart from today, has been the most consistent and has led the championship until this race. They are sure to be fast and they will be in the fight and I think we will have to fight them.
Photos from as.com