Quartararo: "It's crazy that we are still leaders"
Gone are three bad races for the Frenchman: "I feel confident, because this is a circuit that I really like and in which I feel comfortable."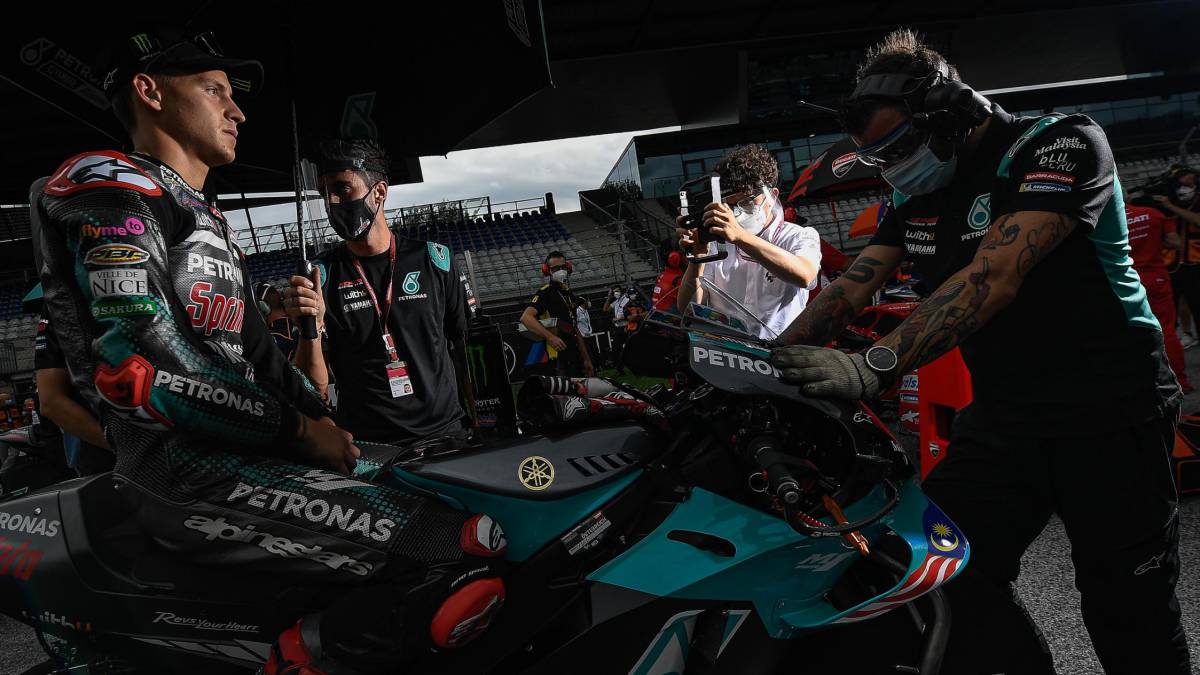 Fabio Quartararo has turned the page upon his arrival at the San Marino GP for the last three races, where he did not go as expected. Even so, the MotoGP leader arrives with three points of margin over Dovizioso, something that surprises him because of how badly he did in Brno (seventh) and Austria (eighth and thirteenth) .
-He comes from having a bad time in Brno and Austria. Are you relieved to get to Misano, where you fought Marquez for the win last year?
-The truth is that I still find it hard to believe that after these three bad races I am still leading the championship. It's a bit crazy, but hey, I'm very satisfied to be here in Misano. Last year was very positive. We did the tests and everything worked very well, with a very good pace and fighting for the victory until the end. We'll see how we do now. I feel confident, because this is a circuit that I really like and where I feel comfortable. We'll see what the race holds, but I'm going to do my best to fight for the podium and victory.
-Do you trust that the problems in the Yamaha you had in Austria will disappear here?
-In Austria we had many difficulties, but we'll see if we have those problems here. We know that Misano is a circuit that suits the Yamaha better than the one in Austria. You will have to adapt quickly to see the correct way to ride and avoid all these problems. Of course, we have to make some changes electronically, but we'll see what we can do. I feel confident, because I really like this circuit and last year I was very good at it.
-Have you fixed Spielberg's braking problems?
-Spielberg is a circuit where there is a lot of very strong braking. There is Turn 1, 3, 4… Also, the brake temperature was very high but, in general terms, I think we suffered more in Thailand and in Motegi. Here at Misano we will return to normal, I think, and the braking problem will be solved at this circuit.
-How do you face another triplet and have so many races together?
-Honestly, I like it. I have been at home for two weeks and in the second I was a bit bored of not riding, of not being on the bike. It's going to be tough, because nine races in eleven weeks will be the first time that happens, but I'm really looking forward to it. Let's see how we do. We will try not to injure ourselves because we will have very little time as everything is very tight.
-Do you draw any conclusions from Martín's positive in COVID-19?
-I sleep on the track and we don't go out during the race weekend. The truth is that I take it very seriously. We have to be very careful at this time, because there can be a lot of danger. For the sake of our own safety and that of others we are not going to assume any risk.

Photos from as.com