Quartararo after his fiasco: "You can't buy the experience"
The Frenchman does not believe that the pressure of the leadership was to blame but his youth: "Even Marc and Valentino are still learning and I am only in my second year."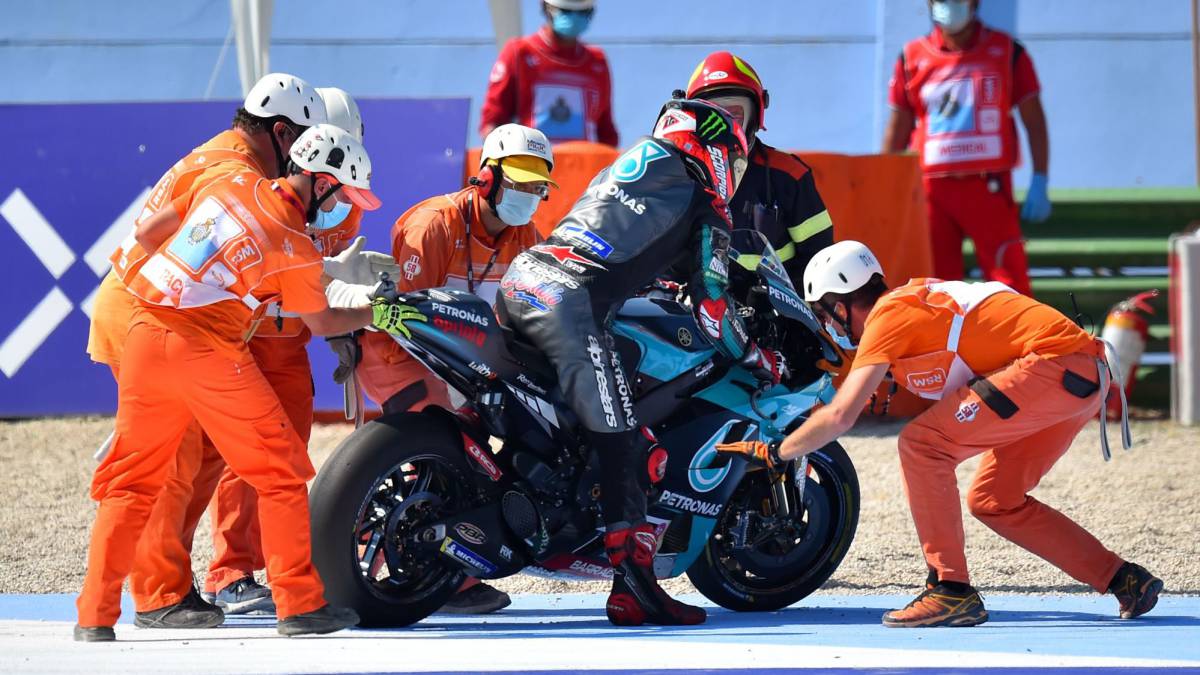 Honest words from Fabio Quartararo after a race in which he screwed up when he was called upon to increase his lead in front of the general classification. He was the big favorite for victory alongside Maverick, but he fell a first time when he was fourth, on lap eight, and then a second after a previous step down the pit lane and the race was already lost. At 21 years of age, he is clear that "experience cannot be bought", he assumes what happened as his own error and sees in his youth the great person responsible for this fiasco that still has him second overall, six points behind the new leader, Andrea Dovizioso.
Own error: "Too many errors on my part. It has been difficult from the beginning, because I did not have a great start, although it was not bad either. Jack passed me at the start, then I was several laps behind Maverick and when I passed him I said to myself: 'Let's go get Miller.' I needed to push to catch the Ducati, but I pushed like it was the last lap, not thinking that there were still 19 laps to go. It was completely my mistake, perhaps because I had lost too much time on the Maverick wheel. This is not the time to make these mistakes, but in any case, we are still second in the standings. All the mistakes I made last year made me learn something, and I hope this one also makes me learn. "
Pace to win: "When I passed Maverick I realized that I could go half a second faster. So I started accelerating earlier and braking later, but unfortunately the front tire had overheated. I braked late on the corner, went long and hit the ground. A shame, because he had the rhythm to fight for victory. Next weekend I want to fight for the victory. "
Learning from the mistake: "I had felt very good on Friday and Saturday and I thought I was going to have a good race, but this is a strange year. You can be fast and you can have a perfect package, but you cannot buy the experience. You have to make mistakes to learn from them. Even Marc and Valentino are still learning, and I'm only in my second year. "
The second crash: "I had felt something strange in the engine and I preferred to go into the pits to check that everything was working well. I really don't really know why I hit the ground at that corner, maybe because they were cold at the time. The first fall I know the explanation, the second not. "
Pressure to be a leader: "People think that now I have a lot of pressure because I am ahead, but in reality I do not care much. I want to be quick and win the championship, but I honestly don't feel pressured to do it, because it's only my second year. Nor am I going to say that I do not feel pressure, because I would lie. When you are competing you need to feel pressure. Today Dovizioso was far behind and I wanted to fight in front because I felt I had the pace to win. I made a mistake, period. "
Photos from as.com