Pogacar joins the Gimondi, Indurain and Bernal club
The Slovenian is the last cyclist who has managed to bring together the Tour de France and the Tour del Porvenir. Only seven cyclists have achieved it.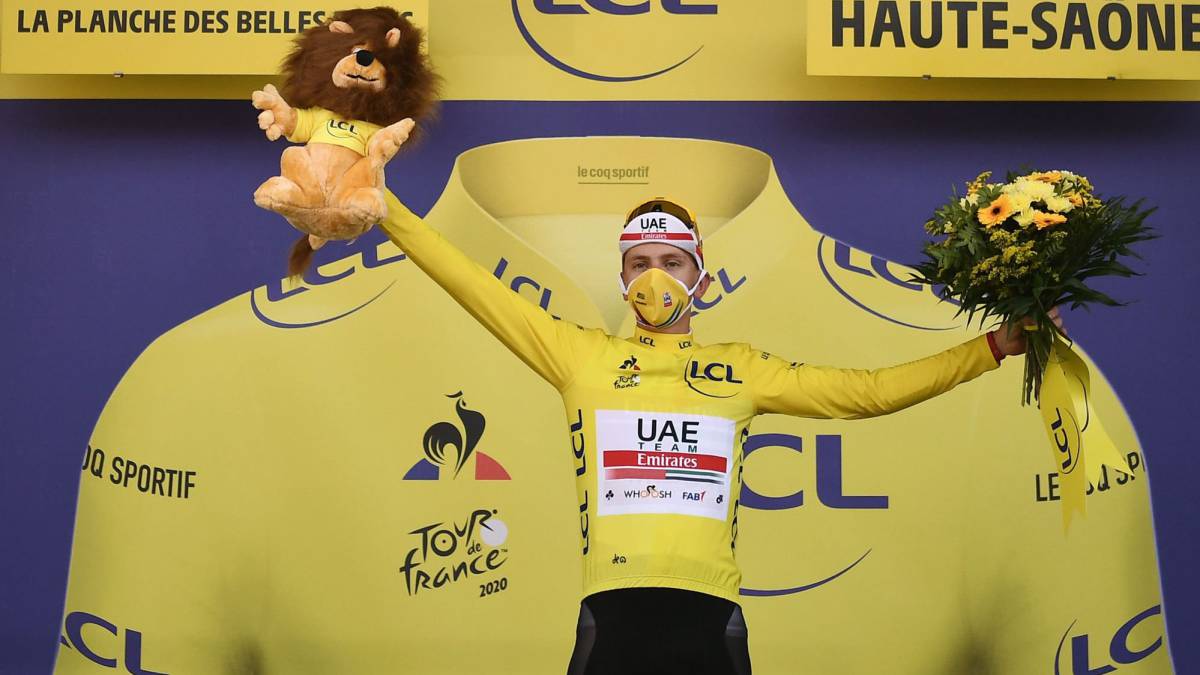 Tadej Pogacar's triumph in the Tour de France has meant that the young Slovenian cyclist has broken numerous historical records, such as being the second-youngest winner of the race and being the second cyclist to win three jerseys in the same Tour after Eddy Merckx. However, unlike 'El Caníbal', Pogacar achieved another milestone that the Belgian did not achieve in his career.
With his victory in the Tour de France, Pogacar has become the seventh cyclist to achieve the double Tour de France - Tour del Porvenir, or what is the same, to have won the main cycling laps in the world in absolute category and sub category -23.
In this way, the Slovenian joins a select running club in which the names of Felice Gimondi, Joop Zoetemelk, Greg LeMond, Miguel Indurain, Laurent Fignon and Egan Bernal already appear. Of these winners, Gimondi has been the only one who has been able to chain both victories, since he won the Tour del Porvenir in 1964 and then won the Tour de France in 1965, while Joop Zoetemelk has been the cyclist who has taken the longest complete the double after winning the Tour del Porvenir in 1969 and triumphing in the Tour de France eleven years later, in 1980.There has only been one case in reverse, since Laurent Fignon, winner of the 1983 and 1984 Tour de France won the 1988 Tour del Porvenir, then open to all cyclists without age limits and under the name of European Community Tour. The American Greg LeMond, winner of the test in 1982 and triple Tour champion in 1986, 1989 and 1990, and the Spanish Miguel Indurain, who won the Tour del Porvenir in 1986 before getting five Tours, would also prevail in the Tour del Porvenir. from France consecutively between 1991 and 1995.
The last to achieve this milestone before Pogacar was the Colombian Egan Bernal, winner of the Tour del Porvenir in 2017 and champion of the Tour in 2019. Now, after succeeding Bernal as winner of the Tour del Porvenir in 2018, Pogacar also follows in the wake of Colombian succeeding him in the Tour de France winners of the 2020 edition.Winners of the Tour del Porvenir and the Tour de France
Felice Gimondi: Tour del Porvenir 1964 and Tour de France 1965
Joop Zoetemelk: Tour of the Future 1969 and Tour de France 1980
Greg LeMond: Tour del Porvenir 1982 and Tour de France of 1986, 1989 and 1990
Miguel Indurain: Tour del Porvenir 1986 and Tour de France 1991, 1992, 1993, 1994 and 1995
Laurent Fignon: Tour del Porvenir 1988 and Tour de France 1983 and 198
Egan Bernal: Tour del Porvenir 2017 and Tour de France 2019
Tadej Pogacar: Tour of the Future 2018 and Tour de France 2020
Photos from as.com