Pjanic: "I'll share the changing room with an alien"
"I have seen Messi happy, he cannot be out of this club," said the Bosnian in a presentation in which he was euphoric and spoke with class: "I would have come to play here at the age of six, I am fulfilling a dream."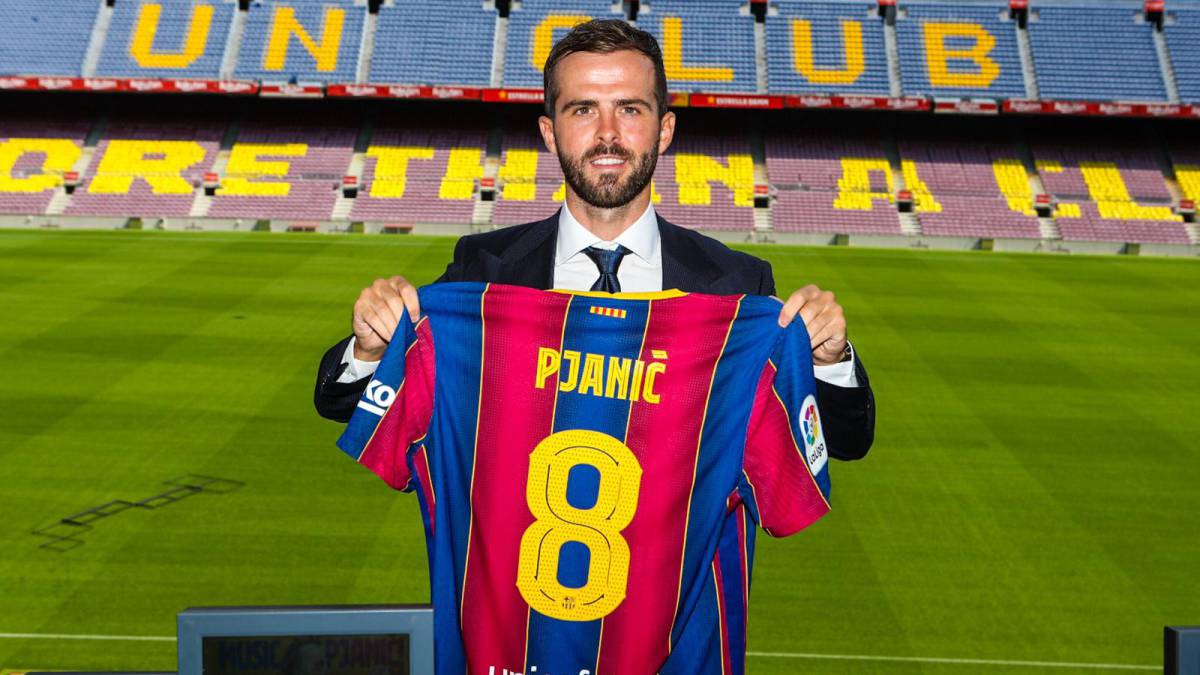 With the slogan "Music, Pjanic", a way of praising his conditions as an organizer, Miralem Pjanic (2-4-1990) was presented this Tuesday as a new Barcelona player. He did it after landing more than two weeks late in Barcelona for testing positive for Covid-19 and having to quarantine. The Bosnian, an old aspiration of the Barça club, signs until 2024 with a clause of 400 million euros. His official price was 60 million euros plus five in variables, although his signing is part of the exchange operation with Arthur, pure financial engineering with Juventus of Turin.
Pjanic, who will wear number eight, signed his contract in the President Sunyol box and, after signing with President Bartomeu and kicking the ball on the grass of what will be his stadium, the Camp Nou, said: "I am very happy to be here. For me and my family it is a pride. I hope to bring titles and bring joy to people. " Then he attended the media.
Do you think it has a Barça style?
Playing here has always been a source of pride. Since I was little I had this dream. Being part of this club is something extraordinary. I am grateful for what has happened and I am in the best club in the world. Entering this dressing room, I have seen what this team is like and it is a great opportunity to share a dressing room with these champions. I hope to help with my experience and with my football. My colleagues can count on me. I will try to play my football and adapt to the Barça game. It is one thing to see it and another to play it. It's amazing.
Why have you decided to leave Juventus after what happened with Barça in the Champions League?
Leaving Juve is difficult, especially with an impressive president who has helped me. But a footballer always needs encouragement, challenges. My dream has always been Barça. If he played for another team other than Juventus, it could only be Barça. Last year was surely difficult for everyone. For the people and also for the footballers. It has not been easy and what has happened in the Champions League are things that happen. Do not look. There are problems everywhere, but now we are going to build the future together. Sharing a dressing room with Messi and not only with Messi, with others, is a dream for me. And even more for how it was last year at Barça.
What did you feel watching Bayern 2-8?
I saw the game. They are matches that happen. In my career I have suffered tough defeats. From the outside, the impression was that, that everything was going wrong tonight. And this Covid-19 situation is not an excuse because players always try to do it well, but it is a special situation. It was a major blow. I read the players and the managers. But you have to look ahead. You have to lock yourself up. We must recover what was lost.
In Barcelona, many remember his goal against Madrid at the Bernabéu with Olympique de Lyon. What do you remember about that goal? Would you like to repeat it?
I remember, of course. An important goal against a big team. It was a pleasure. Then I was young and discovered the great stadiums and the great players.
Would you have liked to come younger? How have you seen Messi? 444 444
I would have liked to be six here, but in football the market rules. Soccer is like that. I have played in great teams and I have respected my teams. Today a dream comes true. It is the ultimate dream. I will give everything I can to make a good memory of me. I followed everything that happened about Messi. But I don't see Messi outside of this club. He has made an incredible story for the team and I think this story will end well. Leo is a winner, an achiever. I only imagined Messi at Barça, this is his home. He is perhaps the best player of all time and for us it is a great asset to have him. Messi has grown up here. I've seen him happy. Everyone is going to have a good time here.
What role does Koeman expect of you?
I've already talked to him two or three times. First, to locate myself. He is a coach who has shown many things in these years. On a tactical level, I have been able to speak with him. We're going to wait for him to integrate me and we'll see how he plans to use me. But we know that the season is long. I am at your service. I will do my best and try to earn their trust and especially that of my colleagues.
What was your relationship with Luis Enrique?
I had an extraordinary relationship with him, I was disappointed that he left only after a year. He was thinking about the way Barça played in Rome. And that's not easy.
How have you lived the contagion situation, how have you lived the process?
Obviously, it tasted bad to me. It is something unexpected and involuntary. Right now, you can never know where the virus can catch. I worked at home, in the gym. I would have preferred to arrive earlier but I had to respect the rules. I have worked well. Now, let's play for a while against Elche.
He has played with Totti and Cristiano. Now he will do it with Messi. To whom does he resemble?
I have met him two or three days ago. I have played with Totti, Cristiano and now Messi. That is fortunate, to have play like this. They are athletes who have given a lot to football. Today I have the opportunity to share the wardrobe with an alien and it will be beautiful. We will be 25 and all 25 will be important.
Have you spoken with Suárez, do you plan to go to Turin? Were you afraid when you played with Messi?
I have already said that I did not imagine Messi with another shirt, he has made an incredible history with this club. And everything will end well. My will was to play with this player and I had no doubt that it would. I did not imagine it in other colors. I don't know anything about Suárez. He is a great scorer. It has made a great history here. If he stays here it will be fine, if he goes to Juventus it will also be fine. They are excellent players who have done a spectacular job. If Suarez needs any advice, I'll give it to him, although I don't think he needs it.
Comes to a team in which the midfield is essential. How long do you think it will take to adjust to a different team?
It takes time. I do not know how much. I have to meet my colleagues. The great players understand each other with movements, with a look. I want to meet my teammates on the field and for them to know me. I want to give them confidence. Busquets-Xavi-Iniesta was the maximum in terms of beauty, quality. But I don't set dates. I will have to adapt as quickly as possible. I hope to play games as soon as possible and the language will help me too. We will succeed. The group has incredible quality.
Photos from as.com