Óscar Rodríguez: "If we win, I will visit La Macarena again"
The Sevilla midfielder starts strong, with the Super Cup, after arriving from Real Madrid. He praises Zidane: "He is my great idol but I have never told him."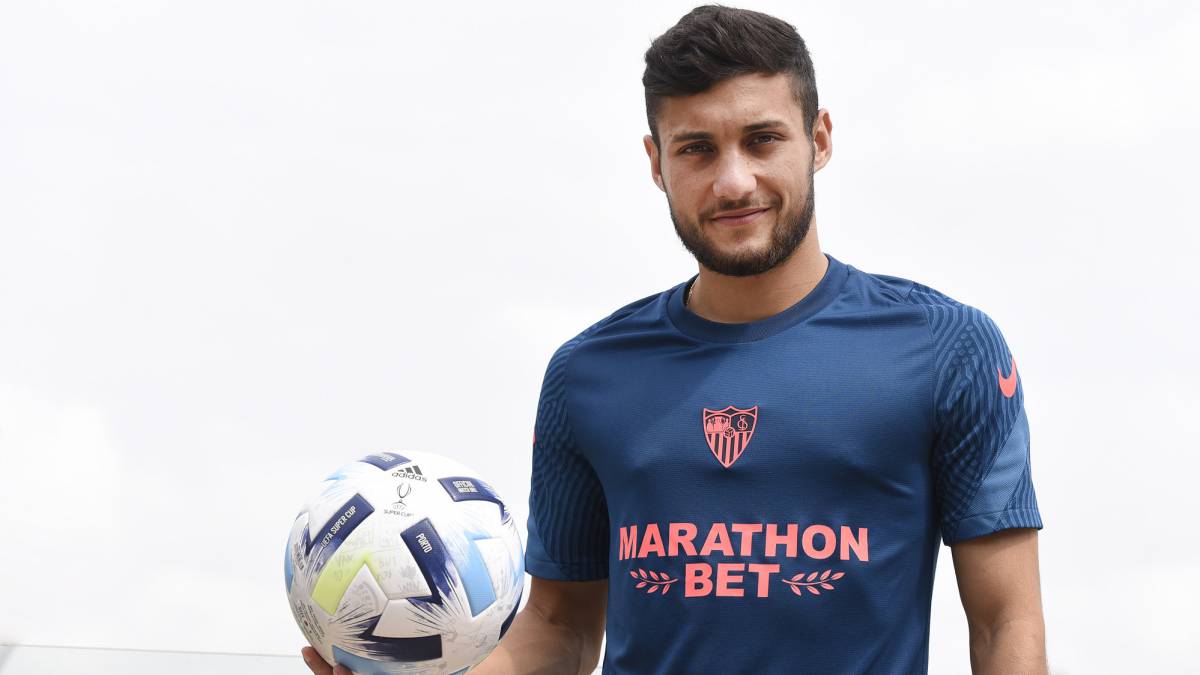 At 22 years old and after a season in which he excelled at Leganés despite relegation, Óscar believes that Nervión is the best place to continue his career. And what better way to do it than with big games like the Super Cup.
What an intense first few days at Sevilla, with the Super Cup included. Is this equipment what you expected?
They told me that this team was a family and that there was a high level of football. It's all true. The team is very united, I have seen it and I am enjoying it with my teammates. And what better way to start with the Super Cup. Bayern have just won the Champions League, with that all said.
Was that 'snitch' perhaps Reguilón?
Yes, it was Regui who told me about Sevilla. I was already opting for this team, but he helped me know many different things before arriving. I would have loved to have Regui with me, but now I wish him the best in the world at Tottenham. You deserve it.
How about arriving here and meeting several former Leganés?
Well, that makes everything easier, of course. I knew Bryan Gil, Amadou, Juan Soriano and the youth squad Genaro, with whom I coincided in the lower categories of the National Team. They have helped me in these first days.
Do you think Bryan can stay?
Bryan has a great level, an incredible confidence and talent. Playing in three-quarters can do you a lot of damage.
You are a footballer that we have seen in many places on the field. What is your preferred position?
My favorite position is inside or attacking midfielder, like 8 or 10. I like to be in the center of the field, where you touch the ball the most and you can be close to the opponent's goal. Last season worked out well for me.
You played as a child in a team called Los Navalmorales and Óliver Torres is from Navalmoral de la Mata, 65 kilometers from his native Talavera. Did you already know him?
The truth is that no, just to follow him. But maybe it's because we're almost countrymen: I get along very well with him, we're already a couple of musicians.
How have you spent these months without competition, after leaving Leganés, after everything that happened with Aguirre and his injury?
I have been part of the summer catching up, I have practically not been able to rest. I had to take a physical trainer for that injury. Aguirre is a coach who does things well. I have nothing against him.
As soon as he arrived, he was seen in the Basilica of La Macarena. Were you already a devotee of the Virgin?
All of my family are very believers and my parents said that they could not leave Seville without seeing it. I'm sure I'll see her many more times. If we get something important like the Super Cup? I'll be back then (laughs) .
And even before arriving at Sevilla the opportunity came with the absolute. Are you thinking about the European Championship?
Being with the National Team was one of my biggest dreams. But now I focus on Sevilla and what has to come will come, hopefully it will be the European Championship.
He made his debut in the friendlies but without any of those free-kick goals with which he marveled last season. How is it to have better effectiveness than Messi? 444 444
They told me that the percentage is very high, yes. Let's see if this year I can even improve it.
His idol is Christian. Did you learn anything from your beating?
No, I think my shooting is quite different. As a child I started to shoot a lot of fouls, I have my own hitting, I have been adjusting over the years.
Returns under the command of Julen Lopetegui. What do you think?
He is a coach with very clear ideas and it shows in the technical, defensive and offensive level of this Seville.
Both you and he are 'victims' of Real Madrid. Is it so difficult to succeed in the white club?
Real Madrid has its way of planning. He has taught me many things in my career and I am proud to have played there, but now I only think of Sevilla.
And Zidane?
I have liked Zizou since I was little, he is my great idol. I've never been able to tell him, really. As a player he had immense talent and he won many things and I think he is improving as a coach. He is a great coach for Real Madrid and there are the titles.
Do you see this Sevilla capable of fighting for the League for Real Madrid?
Puf, we haven't even started LaLiga ... But yes, I see a team to fight for it. Of course, a lot of things have to happen.
Will play Champions. Do you remember those 300 kilometers you had spent so many days from your home to go to and from Valdebebas?
Well yes, of course I have been cold and older and thought about that. So, wanting to play soccer, you didn't think about that so much. I have my father to thank for that sacrifice.
Photos from as.com