Mir: "I will never forget the last lap with Rossi at Misano"
"I didn't care if it was Valentino or whoever it was, but it was an unforgettable experience and I had a great time in the race," says the third.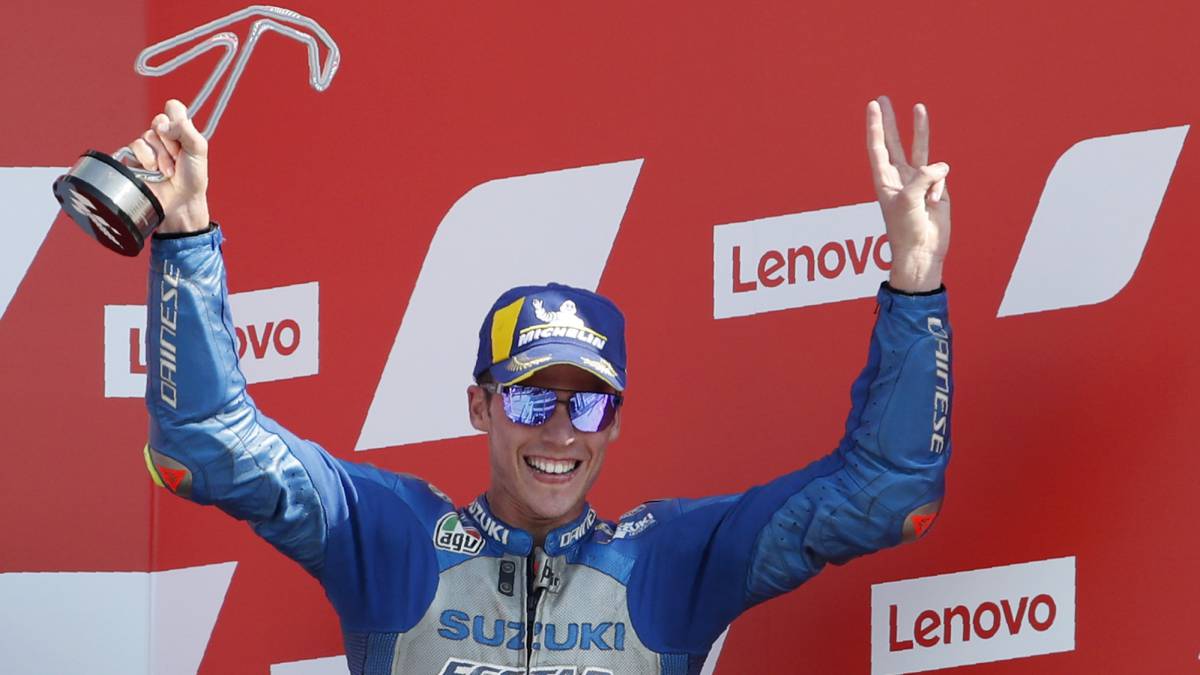 axs
-Congratulations on another podium.
-I am very happy because I gave one hundred percent and all the riders had a similar pace. With the rear half it was difficult for me to warm up a bit, but then I was hunting other riders ahead and I missed a couple of laps, as the rest of the tires were degrading and I was getting stronger. I have not been as strong as in Austria, but in the end it is one more podium that I have achieved.
-What did you think when you went further from the podium positions?
-I took it easy with the intermediate tire, because it was a bit difficult to warm up at the beginning and I had the odd scare and that is why I wanted to be patient, although I lost some position since at the beginning I suffered a bit. Then I started to get the rhythm that I had and I was catching all the drivers. It was complicated, but I got to Rins, I was able to pass it, and then on the last lap I was also able to pass Valentino.
-Leaving Rossi without a podium in Misano is not anything ...
- (smiles). I didn't care if it was Valentino or whoever it was, but it was an unforgettable experience and I had a great time in the race. It has been very long and very hard for everyone, but I am very happy for my team, who have done a good job and we have been able to make the most of what we had. Now the important thing is the tests, to see if we can get what we have been missing and I think that next weekend we can have a good race.
-What is left to win?
-Among other things, go a little further ahead and improve performance with new tires. It is clear that at the beginning of the race you can be a little more competitive if you achieve that. We don't have to lose what we have, which is the pace, but I think we have room to improve even more.
-You have had several scares, right?
-Yes, yes. I've had the occasional scare and that's why I've had to take it easy and I thought: 'Here's the limit and we're going to try to do the best we can with what we have.' And so it has been. That's why I'm very happy.
-Is it only worth winning from now on?
-The podium tastes like a lot to me. I hope I can be on the podium all year and not win a race, but I'm very good here and if you are fighting for the podium for sure a victory will come. The important thing is to stay at this level.
Already at a press conference, the Mallorcan added some other things to what was previously said on the TV:
On the pass to Rossi: "The last lap with Valentino was incredible and I think it is something I will never forget. It was a good pass. I feel sorry for him, because he had a very good race at all times, but today was my day. Thank the team for all the work they have done. Now to work on the test to try to improve with the new tire, qualifying and the first laps of the race.
About the title (it is fourth to 16 points): "I have looked at the positions of the race, not the championship, but I see that I am fourth and it is a very good position, because I am also close to the first. Well, if you look behind, there are many pilots from whom I get very few points. It is a very open championship and the important thing is to be every Sunday fighting for the podium. If we do that, anything can happen ".
Photos from as.com