Maverick pole with record in the spectacular Yamaha poker
The Spaniard bet on two pit stops to use three new tires and led Misano's Q2 ahead of Morbidelli, Quartararo and Rossi.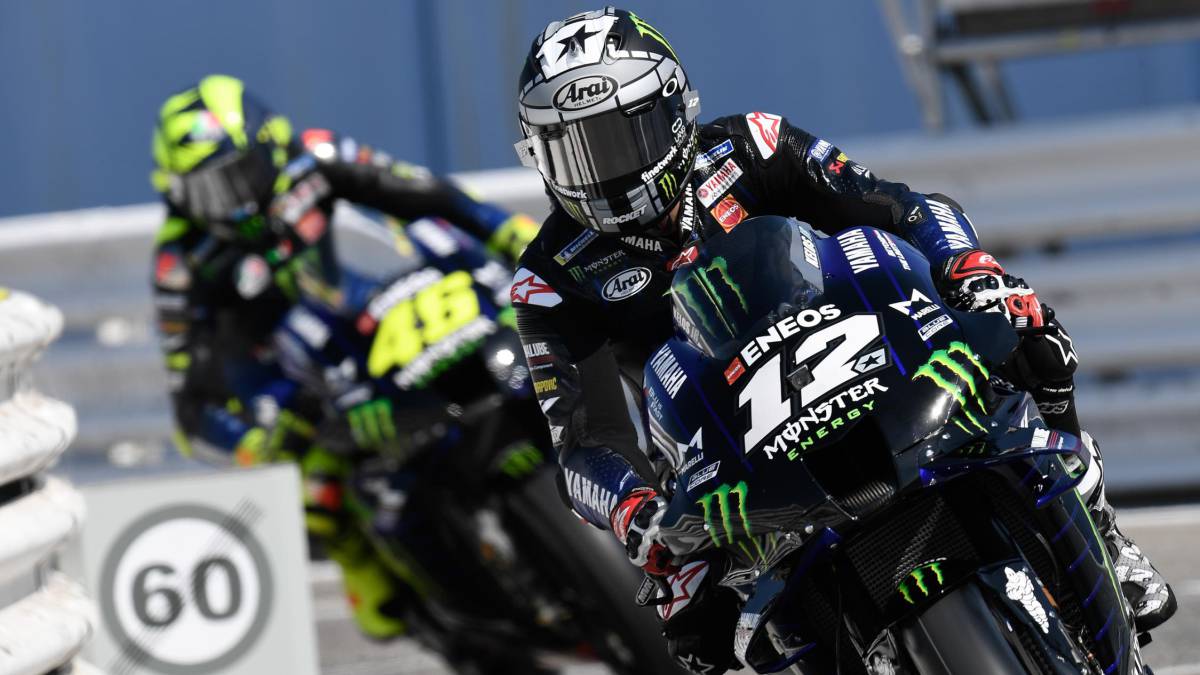 Spectacular Yamaha poker in qualifying for the San Marino GP led by a huge Maverick Viñales, who has broken the track record that Jorge Lorenzo had held since 2018, and who has succeeded in the planned strategy with his team , based on two pit stops to test with three new tires.
Up to seven position changes at the top of the time table were seen in Q2, with Maverick always the most insistent. He was the first to take the lead, then was relieved by Bagnaia, Rossi and Quartararo, until 4:50 from the end the Spaniard from Yamaha took the lead again. However, that 1: 31.787 still would not be final, because Morbidelli, already with the time fulfilled, put himself in first position, which did not prevent Maverick from scoring a spectacular 1: 31.411 in his next step through the finish line. With that time he left the Italian-Brazilian at 0.312 and shattered the previous record, set at 1: 31.629.
The first row has been closed by Fabio Quartararo and the second row will be opened tomorrow in the race by a Rossi whose new helmet with the blue Viagra pill has given him extra energy. His was the best time in FP3 and he was then in the official at 41 years in the fight for pole. In the end he had to settle for that fourth place that will make him start behind Maverick and with Miller and Bagnaia at his side in the second row. The third has been reserved for Rins, Mir and Dovizioso. That is the two Suzukis ahead of the second overall, who has shown no sign of danger so far this weekend with his Ducati, but who must always be taken into account. And the fourth row has been for Zarco, Pol (he suffered a fall at the beginning of Q2 that did not prevent him from returning to the track) and Oliveira, the winner of the previous race.
Behind will come Aleix (13th), Rabat (17th), Lecuona (18th) and Álex Márquez (21st). The Repsol Honda player will start last, just behind his teammate, Stefan Bradl, who continues to replace the injured Marc Márquez. The role of Honda since the champion was injured is being historical, due to the negative, and his bad situation has been joined by the loss of Cal Crutchlow. The Englishman can not run due to the operation recently suffered from compartment syndrome in his right forearm and he goes home, to recover with rest and using the hyperbaric chamber. His team has already announced that he will also miss next weekend's appointment, again at the Marco Simoncelli in Misano, and that they hope he can race in Montmeló on September 27.

Photos from as.com