Maverick: "We have to do something, we cannot continue like this"
"The only explanation they can give me is that we are going after Moto2 and it doesn't seem like a reasonable explanation to me either," says the Yamaha.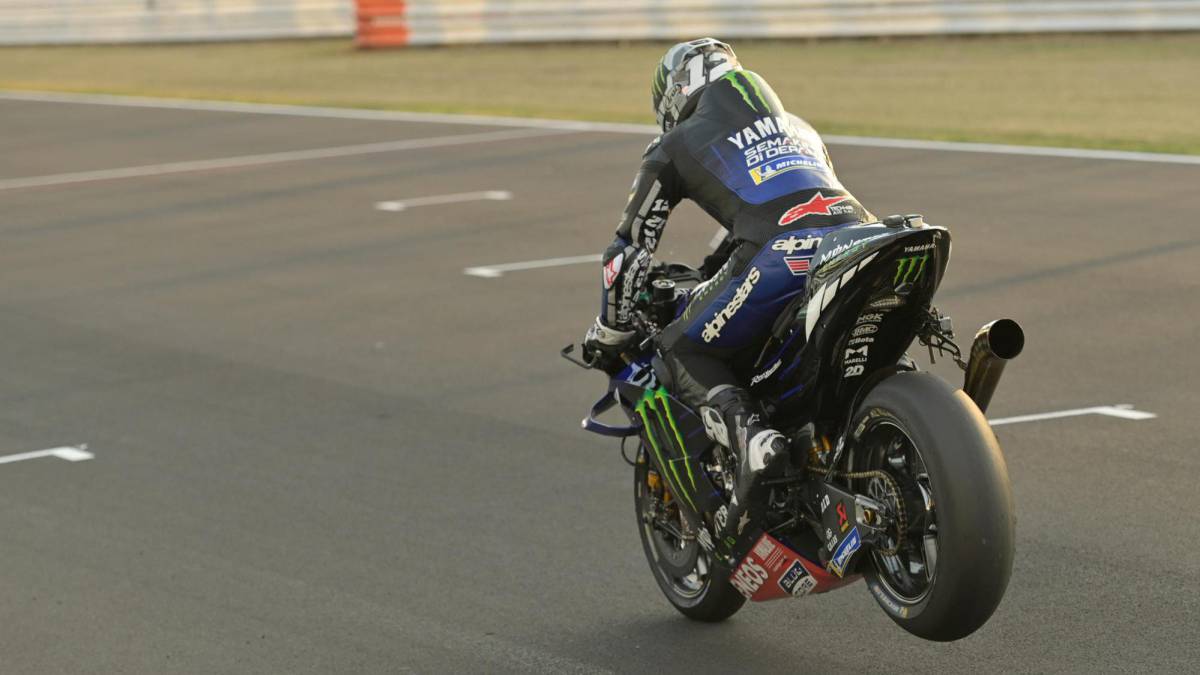 Maverick Viñales will try again to fight for victory this weekend, at the Emilia Romagna GP. He took pole last Saturday at the San Marino GP, then wrecked in the race with a weak sixth and on Tuesday he led again in the test. Yamaha's is the first that doesn't explain these ups and downs ...
-The other day it was not surprising to see him in front of the test, but I don't know if it is something that is already taken as a joke because of what happens next.
-Of course.
-Do they make jokes with that in the box? I say this because later in the race it is different.
-In the end, it is very rare for us. Honestly, nobody has a certain explanation. The only explanation they can give you is that we are going after Moto2 and it doesn't seem like a reasonable explanation to me either. It is necessary to look for and to inquire more. In the test I am ahead, in training I am ahead and I have the best rhythms, but later in the race I go backwards and it does not seem normal to me. My motivation and my mindset is there. I leave as if it were the qualification. I go out to bite, so we have to improve in that aspect. Something has to be done, because we can't continue like this.
-What can you say about the experiment of radio communication? Did you receive a message in the middle of the curve?
-Yes, I got a message in the corner and it didn't really bother me, but I don't know what it will be like when I'm concentrating on a race. The most important thing would be for the messages to arrive on the straight, but I don't know how they are going to do it with as many riders as we are, because one can be in the straight and the other in the curve. What I do believe is that for security it can be one more step if it is done well.
-You were able to do eight or nine laps in the test with this system, did the wind or noise bother you like Pol and would you like the communication to be bidirectional?
-I would like to try that. I always join in with new things and I think that would be brutal for the show, but always prioritizing safety. I was not bothered by the air, because the headphones fit me well and covered a lot of sound, but you will have to use some that cover the entire ear and are perfect, like those of F1. Hearing aids can be greatly improved. And about the messages, they always reached us. They were every 30 seconds and sometimes they came to me in a curve and others in a straight line. It didn't seem bad to me.
-Would you like that, if the pilots could also communicate, they could be heard on television?
-Safety is paramount. If it's safe, it would be a good show for the fans, because in a race you're not one hundred percent quiet. It would give a lot of play, but always with safety ahead.
-Going back to your problems, what improvement do you ask Yamaha for and say if they can simulate those race problems using excessively worn tires?
-I am a very logical person and, if I don't understand something, I keep insisting and searching. The reasoning that there is no grip after Moto2 does not convince me at all, because that is for everyone. 95% of races are like this and we must have a reaction now. No matter how fast I go in training or make the perfect qualifications, it is useless if we go backwards in the race. And on the tires, Michelin won't let you use tires with more than 30 laps, and the other day with 28 laps on the tires I did 32.6. That is what is not understood, because with a new tire I should do 32.2 in the race, but it is not like that and I am slower. Later, when there is Michelin rubber, I go faster. The other day I saw it and I was very angry, because in the end I did 32.7 pace when at the beginning with 33.3 I was really falling in each corner. That is beyond my logic. It is not worth telling me that there is less grip. You have to look for something because others suffer less.
Photos from as.com