Marc Márquez reunited with his Honda in Montmeló
The champion was visiting the paddock of the Catalan track: "I've seen my bike again! There was a part of me that definitely wanted to ride again."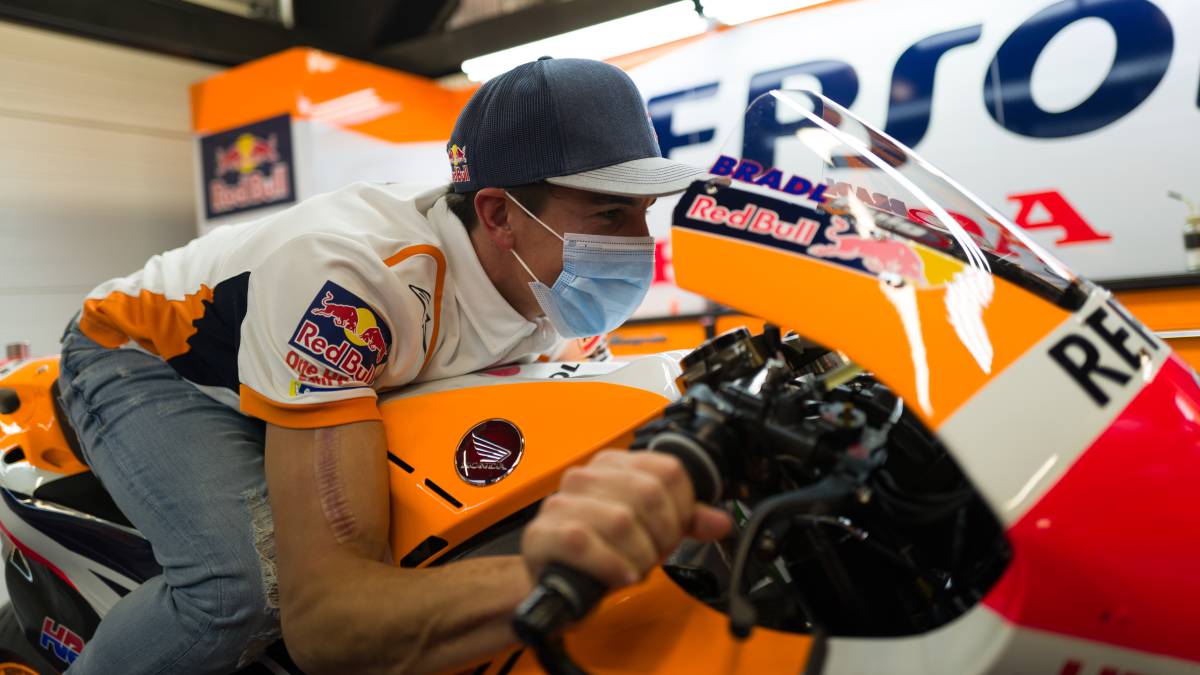 A fleeting visit, but after all, Marc Márquez's visit to the MotoGP paddock. Taking advantage of the fact that the World Cup caravan stops this weekend in Montmeló for the dispute of the Catalan GP, the champion, after passing the PCR test to detect that he does not have COVID-19, has been reunited with his team, Repsol Honda, and his motorcycle, the Honda RC213V, before returning home to Cervera. There he will continue with the rehabilitation for the second operation of the humerus fracture suffered in the right arm and the displacement of the first plate to fix the wound. His physio, Carlos García, lives in his house and is the one with whom he crushes himself every day to return as soon as possible, although this time when he is one hundred percent recovered, so that the error of his reappearance in Jerez 2 is not repeated, only four days after being operated on. The doctors told him to go ahead and he did not hesitate. The rest of the story is already well known ...
Now, for now, he has had to settle for seeing his team and his mount again: "It was great to return to the MotoGP paddock and see my team and HRC again. Of course we've been talking on the phone, but I've really missed them a lot and it's been great to watch. Also, I have also seen my bike again! There was a part of me that definitely wanted to ride again, especially after sitting in front of her, but now is the time to be patient. It was good to come here to talk not only with the team, but also with the people at Honda as we begin to map out a plan for 2021. I wish I was here at the home race, but I will enjoy watching it on television. "

Photos from as.com