Madrid beat the champion with Campazzo in command
The point guard started after resting against Betis and scored 14 points. The whites came back with good defense. Tavares was absent. Garuba and Deck put the energy on.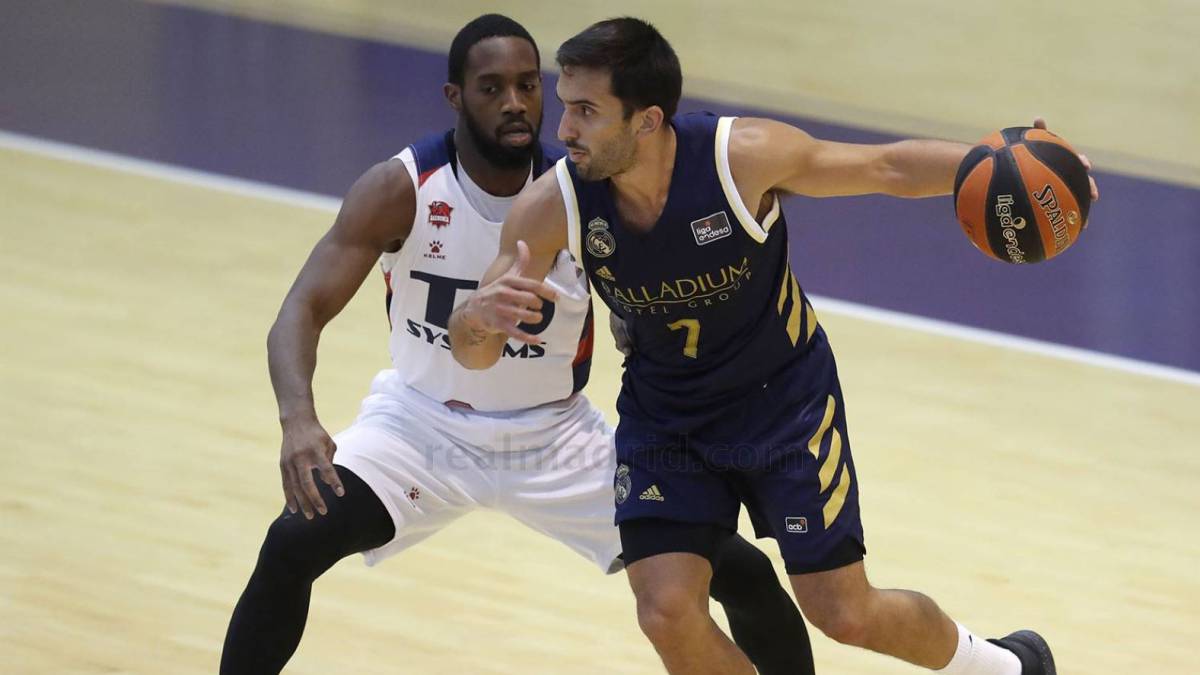 The brand new league champion, Baskonia, who knocked Barça down in the Valencia bubble two months ago, visited Madrid in Valdebebas with half a new squad. A Euroleague duel. The whites chained their third victory of the preseason (88-73), all the games in their sports city and without an audience, while the balance of Dusko Ivanovic's with this setback is 2-2 so far this summer.
Real won without Tavares (on Wednesday against Betis he suffered a sprained ankle and was low) after recovering 12 points. And he beat Campazzo as the leading scorer (14) and committed to the team until the NBA opens the doors for him in a few months. Baskonia led by 12 in the first quarter (11-23), in which the Lithuanian forward Giedraitis, the star signing of the Vitoria and closely followed by Madrid in recent months, added 12 of his 15 goals. Abalde and company could not with him while in attack Randolph had entered a loop of precipitations in the shot that he would later amend with a good attitude behind.
Facu started again, as on Saturday against Estu and after resting against Betis, and a robbery of his with a gallop closed the first half: 45-46. Inertia changed. Baskonia had come out like a plane that flew even higher because of the weak Madrid defense. That varied in the second quarter, that of the local reaction. Accurate Llull and, in the climactic stage, Rudy (well with Giedraitis), Abalde and an outstanding Deck shared the track, with Campazzo in command and Randolph as pivot.
The replacement of Tavares
As Tavares has no substitute, and apparently so far, Laso prefers Garuba more than four than five, in the absence of 2.20 they exercised in his place from Thompkins, holder in his summer premiere (Causeur, with some annoyance, he is the only one who has not yet debuted), the aforementioned Randolph and also Felipe Reyes. Brilliant start to the captain's last act, in his 17th season, the first ever club player to remain active at the age of 40. In just 13 minutes, three baskets, a triple without failure and a free throw plus 5 rebounds.
By then the clash had jumped through the air (75-57 and then 85-65), broken because in the third period Baskonia gave up 21-6, when Garuba pushed with everything. Defense, rejects, blocks and good continuations. This time, in addition to Causeur and Tavares, Alocen and Tisma were missing. And the youth squad Tristan Vukcevic, who had debuted on Wednesday, did not repeat. In the ACB champion, Giedraitis was turned off (or was turned off), Vildoza acted depleted with a mask to protect his nose, and Henry showed up late. Fall was not there and the Jekiri tower must go into dynamics. Also Carrington. While the sniper Alec Peters, a power forward who comes from Efes and before CSKA, had a good time that he spoiled with several losses. A lot of work for everyone nine days before the Super Cup.
Madrid will play again this Saturday at home, against Casademont Zaragoza (13:00) in their last friendly, and TD Systems (new Basque sponsor) will receive Burgos next Wednesday the 9th before traveling to Tenerife to meet him Barça in the semifinals of the Super Cup. The countdown.
Photos from as.com