Madrid 1x1: Campazzo leads and Rudy resolves
The Argentine guard was immense in the last quarter and repeats as MVP of the Super Cup. A robbery of Rudy to Hanga, decisive for the seventh Real Madrid Super Cup.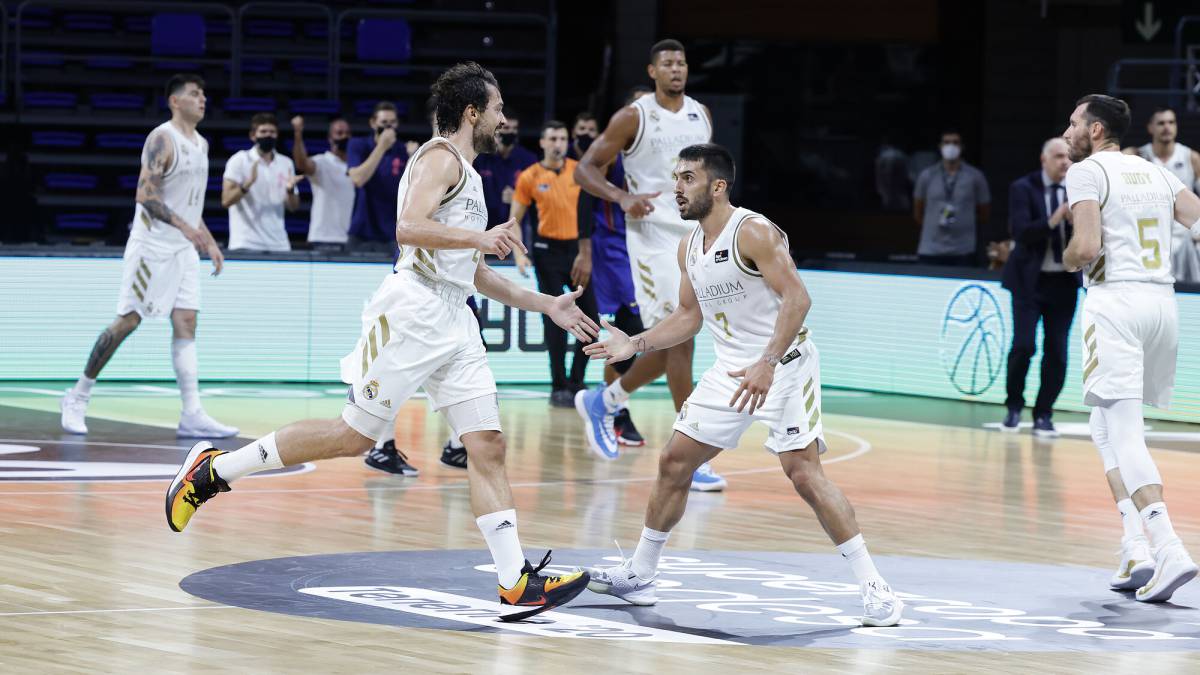 Alberto Abalde (outstanding, 15 rating). His first shooting failure in this Super Cup came just before half-time (up to that point he had 14 points and no errors). One of the best in Madrid in the final and throughout the Super Cup. In the third quarter he led his team's reaction with 8 points in that period.
Anthony Randolph (Pass, Rating 5). He did not play much (less than 13 minutes), but he opened the field somewhat. Made a triple.
Facu Campazzo (outstanding, rating 19). In the last four Real Madrid titles he has been the MVP. In the first half, he was a bit late in various actions from Calathes, but he was the hero of the final round. Although he missed several free throws that could have been decisive, he scored the basket that made it 69-67 and finished with 21 points.
Sergio Llull (approved, 3 valuation). Although he did not start off on the right foot (a tangerine that did not touch or hoop), he scored five points in a row so that Madrid continued to command before the break. Then he was more or less disappeared until he put his team ahead in the fourth quarter with a triple (57-56) .
Walter Tavares (pass, 7 rating). Despite his superiority in centimeters, Oriola choked on him in the first half and was not at all comfortable. Good on the rebound (7), but a rebound that Davies stole in the last seconds could have cost Madrid dearly.
Gabriel Deck (outstanding, rating 6). Very well in the first quarter paired with Nikola Mirotic, who sat on the bench with two fouls and without having scored a point. In addition, the Argentine has gained weight in the attack of his team. He is called to be one of the leaders of this Madrid.
Jaycee Carroll (Pass, Rating 1). Starter, although without much weight in attack in that first quarter. He scored a basket and missed a triple.
Nico Laprovittola (unrated, 2 rating). He was not in the semifinal, but Laso counted on him for the final of the Super Cup (entered through Carlos Alocén). He played only a few minutes (6:13) before the break.
Rudy Fernández (good, 5 rating). He was not fine in shooting (0/4 in field shots), but he is still very important in defense. His robbery of Hanga was key for Madrid to lift the seventh Super Cup.
Trey Thompkins (Pass, Rating 2). He played four minutes in the first half in which he scored a triple and committed a couple of fouls. The last play of the third quarter was for him and although with more problems than expected at first, he scored and put Madrid ahead (50-49). Then he sat down early. Paired with Mirotic, the Barça power forward had five points in a row.
Usman Garuba (unrated, 2 rating). Worse than Deck paired with Nikola Mirotic, who took two 2 + 1s almost in a row (in the second, he missed the free throw). He didn't play anymore after that.
Jeff Taylor. Did not play.
Photos from as.com