Luis Milla emulated Luis Milla: debut in first and first goal
Luis Milla made his debut with Granada in the First Division with a great game and his first goal in the highest category to emulate his father, Luis Milla, who did it 26 years ago in a Barcelona-Zaragoza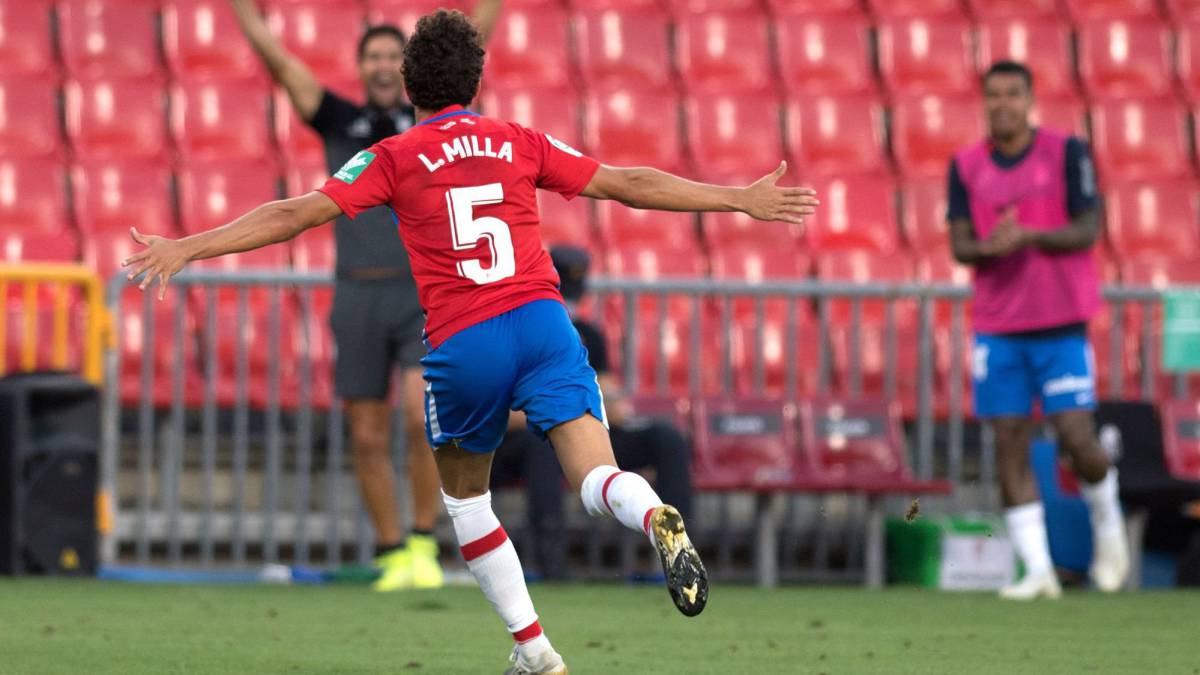 Luis Milla had the debut in Primera that every player dreams of. The most expensive signing in the history of Granada started and in his first game he already saw the door. His first goal in the top flight to emulate his father, Luis Milla. The legendary player made his debut in the First Division with Barcelona at only 18 years old and also did so by scoring. 26 years later, history repeats itself.
Milla was the great novelty of Granada in the starting eleven. The only new face that had earned the confidence of the coach to start from the beginning and, furthermore, being his debut in the First Division. And he did it with a great game. The midfielder showed great physical display, good vision of the game and arrival in both areas. And, above all, a lot of ambition. Thus, under high pressure, Milla stole the ball from Dani García in anticipation, he approached the area while the centrals regulated and did not think twice to shoot at goal and beat Unai Simón who could do little. Great goal in the debut to emulate his father ... 444 444
Luis Milla, the legendary player who passed through Barcelona and Real Madrid, made his debut at just 18 years old. It was September 9 with Barcelona, after passing through La Masía, against Zaragoza and he also scored his first goal in Primera. 26 years later, history repeats itself and a Luis Milla makes his debut in the top flight with a goal.
"They have sent me a message that they were a little nervous"
After I mourned him, Luis Milla was the protagonist at the Movistar microphones. "I am happy for the team and the image we have given. We have been successful in the goals. We have known how to suffer" .
After the break, Milla explained: "We had to go one more march in attack. Yángel's goal is also Rober to put it in. We came out very well in the second half." "I'm happy to help the team, the goal that helps to give peace of mind and win the game. Happy for my debut in the First Division. This team makes it very easy for this team and happy to be here and be able to contribute to the team."
On the reaction of his father whom he has emulated, he said: "He sent me a message that they were a little nervous, they will be enjoying it, it was a dream he had and thanks to Granada for the trust they showed in me" .
The Granada player's father published a tweet after his son's debut with a goal in LaLiga: "In September 1984 I made my debut in LaLiga with a goal and today, 36 years later, you do it too. Everything happens for a reason and you do it. you have won hard. Tomorrow you will continue working to continue improving and growing as always. Proud of you. Congratulations Luis Milla! ".
Photos from as.com