Lo + and Lo- of Zarco and Bagnaia to go to the official Ducati team
Ciabatti assures that they will announce Miller's teammate after Montmeló and, although it looks more like the Italian, both have made merits.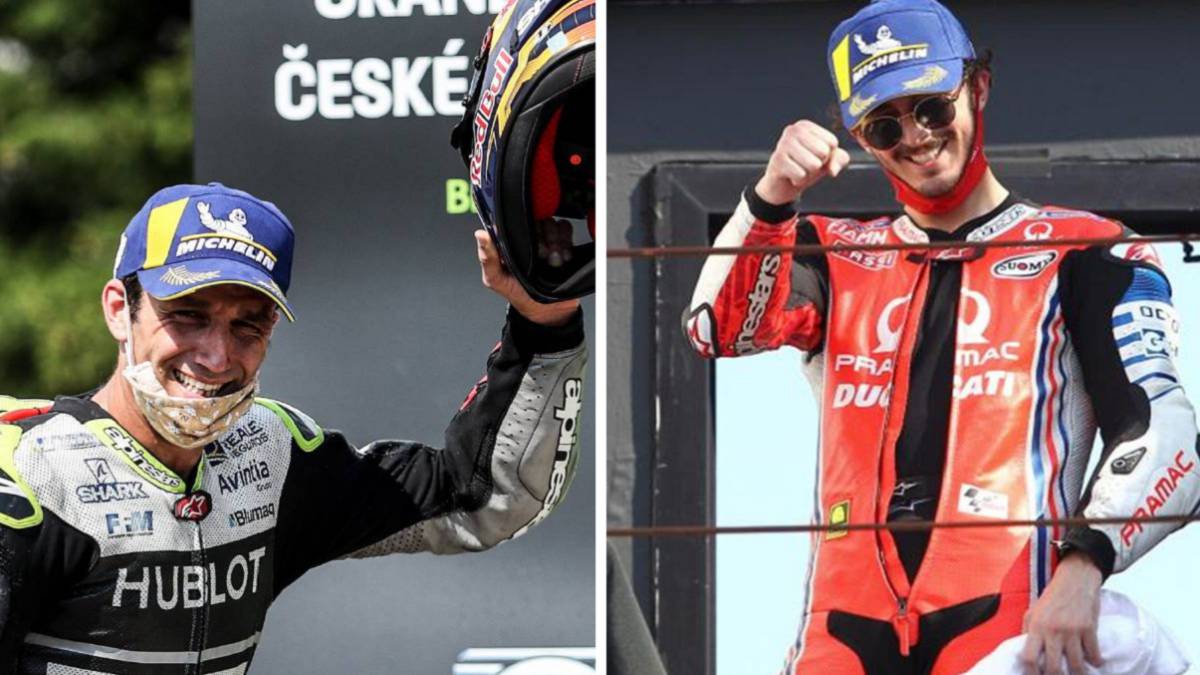 Paolo Ciabatti, Ducati sports director, has once again assured in Montmeló that it will be after the Catalan GP when they decide and announce who will be Jack Miller's partner in the official box of the Italian factory next season. Petrucci will leave that box, heading for KTM, and Dovizioso, it is not yet known where, and the aforementioned Miller and Zarco or Bagnaia will make a stop.It looks more like the Italian and, in fact, in the Pramac Ducati they are beginning to get used to the idea that they will lose their two riders at the end of the course, but both have made merits to a greater or lesser extent to make the jump. For this reason, here are the best and the worst in our view of each of the options.Lo + de Zarco
1 He has taken Raúl Romero's Esponsorama Racing team to another dimension, allowing him to celebrate his first podium in MotoGP, with the third from Brno despite a Long Lap Penalty that the Frenchman did to perfection, and a pole, also in Brno .
2 At 30 years old, he is hungry and wants to claim his life. He made an important name as soon as he arrived in MotoGP, with the satellite Yamaha, and that caused KTM to sign him with great hopes placed on him, but there he was shipwrecked and did not complete the first of the two signed seasons. He was honest and asked to leave the Austrian factory, despite having a contract. He came to race with Honda last season and accepted his arrival at Ducati with the most modest team in the factory, but with the firm intention of growing and earning a place in the official team.
Presents an important track record, with two Moto2 titles (with 15 victories and 15 podiums) and seven podiums in MotoGP (two seconds and two third with the satellite Yamaha and a third with the Ducati satellite) and six poles.
Lo + de Bagnaia
1 At 23, he has all the future ahead of him and already enjoys a radiant present. Only bad luck has prevented him from taking more than one podium in his second season in MotoGP, due to the breakdown at Jerez 1 and the crash at Misano 2, when he led seven laps from the end with a second ahead of Maverick.
2 Ride the Ducati with the ease of a Moto2. He is the rider who complains the least about the new rear Michelin that brings Dovizioso so upside down, for example. Perhaps it is because that rubber requires more cornering and he keeps that fresh from his recent passage through Moto2, where he was a brilliant champion in 2018.
He has shown that he knows how to suffer, because an untimely fall in the Brno internment fractured his right leg, thus missing three races. He reappeared in Misano 2, still in pain and needing to use a crutch to walk, which did not prevent him from going back to second place at Misano 1 and being close to winning the following Sunday.
4 The Italian passport that he possesses, being a native of Turin, is a very favorable point in an Italian factory where in 2021 there will be little Italian pilots. Only Bastianini are from Italy, because Miller is Australian, Zarco is French and Martín, who will be announced soon for the Pramac team, and Rabat are Spanish.
Lo- de Zarco
1 What in Bagnaia is an advantage in him can be a disadvantage ... It is his passport. Zarco is French and Bagnaia Italian and we must not forget that Ducati is an Italian factory.
2 His particular character can become a problem if things don't go his way. At KTM, he collapsed when they hit him badly, he closed in on himself and was unable to turn the situation around.
He has worse Press than Bagnaia ... Rossi and Morbidelli charged hard at him after the spectacular crash in Austria 1, when he left Morbidelli out of space and both went to the ground, directing their motorcycles like projectiles against Rossi and Maverick, to which they did not destroy by miracle.
Lo- de Bagnaia
There is absolutely nothing negative about Pecco.
Photos from as.com