LeBron wants his crown: beating, exhibition and goodbye Harden
The Angelenos passed over some Rockets that set a course for reflection. LeBron leads the Lakers to their first Western finals in a decade.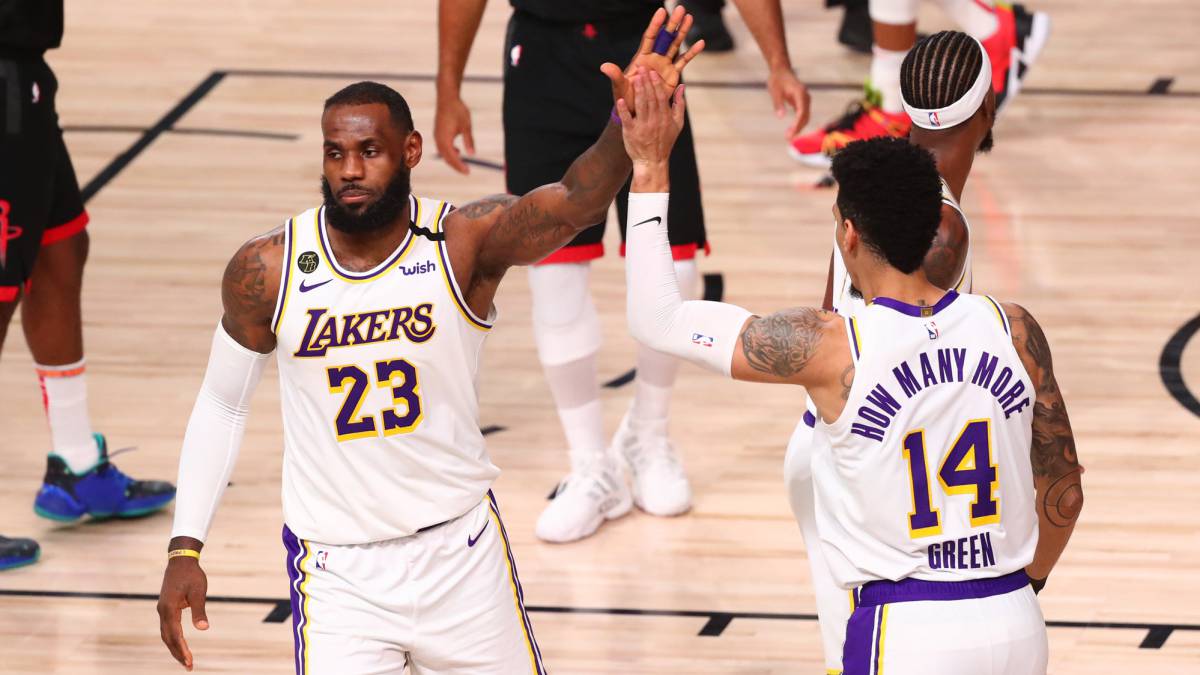 The Lakers see the light. Definitely now and as it ends, the most glamorous team in the NBA returns, perhaps not to the top (yet), but to its rightful place. The Conference finals seat the Angelenos among the top four teams in the competition and give them, statistically, a 25% chance of clinching a ring that never works with basic arithmetic but is closer than ever to the franchise. And that "never" means in a decade; This is how long the entity has taken to return to the last round of the West, a traditionally exciting tie (last year not so much, 4-0 from the Warriors to Portland) and that means being one step away from those Finals to which everyone they want to arrive and in which anything can happen. Whatever happens from now on, the Lakers have had a scandalous season, been fun, defended and witnessed the latest monster version of LeBron (the 17th in 17 seasons, whoops), before reaching the dream series, presumably against the Clippers (except for a capital surprise), that rival that has never been but now represents the penultimate stone on the way back to the top.And if for the Lakers this is the most anticipated return, for the Rockets it is the umpteenth failure that can end a season of much effectual experiment that is not at all effective and almost with a project based on the millimetric mathematics of Daryl Morey, in blind faith. from a D'Antoni who bet on something that only he saw and on the personalism and hyper-leadership of one of the greatest offensive talents in history: James Harden. That man not always loved (or almost always hated) who has managed to make scoring milestones with no luck at the end and who has been the standard-bearer of a way of playing that has not liked almost anyone and in which few have trusted to win. Always and without exception, the Rockets have been true to their style; and always and without exception, they have collided with their shortcomings, without changing their intentions or their way of expressing themselves on the court, knowing how to make a strong defense (before with Jeff Bzelik and now without him) and an attack based on the triple and on the shots in the zone and that has resulted in ignominious situations, such as having in the series against the Lakers an average of five shots per game from the mid-range. Of course, they have been stubborn in their style. And that is as certain as that they have not known how to win with him. Or the same, is that you can not win with it. Who knows.
It is very possible that the ring possibilities of the Harden project, the one that began in 2012 and through which Kevin McHale and a horde of talented players and established stars (Lin, Howard, Ariza, Paul, Capela ...) has passed, that have been falling almost faster than LeBron James' victims have in the last decade, evaporating on each of the 27 3-pointers the Rockets missed consecutively in the 2018 Western Finals. Possible solution when plan b consists of sticking with plan a, especially when it has stopped working and it has been a obvious one-dimensional game better than the average fan thinks and worse than a Morey has always believed whose intelligence it is inversely proportional to the number of rings your ideas have earned. Beating the Warriors playing like the Warriors did not pass away (in fact, it did worse) or when the Warriors stopped being the Warriors (this year). Not even so, Houston has managed to scratch something, with a season in which they took extreme style, they took Capela out of a rotation in which he did not fit with a Westbrook who is the only one who has used the mid-range and has run as only him knows how to do and they dedicated themselves to exercising the ultra small ball as if they had invented it. And they haven't done badly, but the inevitable end has brought back memories of the past. Those in which Harden forced the exit of a Chris Paul who received Morey's promise not to be traded, and who was together with two first rounds of the draft (and two that could come) ... in exchange for Westbrook. A base that is simply worse. And Paul, 35, has made it more than clear.
In these semifinals, the Rockets have gone from higher to lower, replacing their unexpected initial self-esteem with the appearance of a Rondo who pointed them and a LeBron who ended up sentencing. Each game has fallen like a slab on them and in the fifth and final the feeling that they had lowered their arms has even become shameful. Exhausted, the Rockets have seen how they were riddled at the beginning (35-20) by some Lakers who were having fun and who went to 13 of 19 in field goals, including 7 of 12 in triples, only in the first quarter, in the that caused 4 losses of his rival. The best at halftime for the Rockets was the result (62-51) with a final triple by McLemore (something he already did at the end of the first period) that left things better than many expected. At that point, the Lakers had 15 points on the fast break by 2 of their rivals, and LeBron had 19 points, the same as Harden. The calm that precedes the storm, or so it seemed in the next 12 minutes in which the Lakers sentenced with 6 of 9 on triples and leaving Houston at 7 of 22 in shooting from the field and 2 of 12 from outside. And 95-69, with a score that said a lot and ended up saying everything.
The last quarter was a mere formality, with a helpless Westbrook who faced Rondo (Vogel sat him to avoid greater evils) and for his brother from the stands. The point guard's season has been a wish and I cannot, and some may wonder what this man has done to collect the 130 million that still remain on his contract and that the Rockets will have to pay him instead of Chris Paul. 10 points today for Russ (4 of 13 and 0 of 3) and a lot to reflect on, for him and for the Texans, who will have to eat it. He and a Harden who can see how the years go by (he is already 31) and who scores many points in the regular season and not so many when they have to be scored. And 31 from Westbrook, 31 from Gordon, 29 from Covington, 35 (yes, 35) from Tucker, 34 from Jeff Green ... and there are 28 from Austin Rivers and 27 from a Danuel Hous Jr. who has been protagonist, by God, for what he has done off the track and not on it. Again, a lot to reflect on a project with no draft rounds for the next few years (they all sent them out with Paul, no one knows why) and slightly aged. And with a coach on his way to 70 years who ends his contract and who has sounded for the Pacers. He has been in the league for 17 years, with more than 600 victories (the fourth most among those who are active) and failures (some with bad luck, others without excuses) in the playoffs with the Suns or the Rockets, his two most ambitious projects. (We don't even talk about Knicks and Lakers). Morey said before this series (we emphasize the before) that he wanted to renew it at all costs. But the same thing he said with Paul a year ago and nothing. Of course, let's see where you can find a coach who assumes (and creates) a style that comes from the top of the vertical structure inherent in any franchise in the League and that has some good things and others that are not so much. Above all, you know, in the playoffs.
What about the Lakers? Well, to yours. Today, 29 + 11 + 7 for LeBron, who becomes the first player in history of 35 or more years to average at least 25 + 10 + 5 in a playoff series. He already did it in the first round; Davis today more discreet (13 + 11 + 4, all in the first quarter), averages 30 + 12 in the final phase throughout his career. Between the two, 542 points, 212 rebounds and 129 assists combined, the only pair with such numbers alongside Oscar Robertson-JackTwyman and Elgin Baylor-Jerry West. And the rest adds up and goes on, with Danny Green improving with each passing day (14, with 4 of 6 in triples and +35 with him on the track), a Markieff who is already waiting for his brother Marcus (16), a Caldwell-Pope who does everything (+32), and Kuzma (17), and Caruso, and Rondo (3 + 5 + 5, more discreet today) ... And 19 of 37 for the Lakers from the triple, a franchise record in playoffs. They would have beaten it at any other time in the triple era, but they hadn't qualified. Now, the glamor returns to Los Angeles (or Disney) and the Lakers move inexorably to the resolution of their destiny. And LeBron, towards the reconquest of his crown. One looking for a new owner. Or maybe an old acquaintance. We'll see.
Photos from as.com