Laso: "Campazzo is a Madrid player, I don't think about the future"
The coach, who won his 20th title with the white team, was proud of his team: "Those who have not played have helped us to be competitive."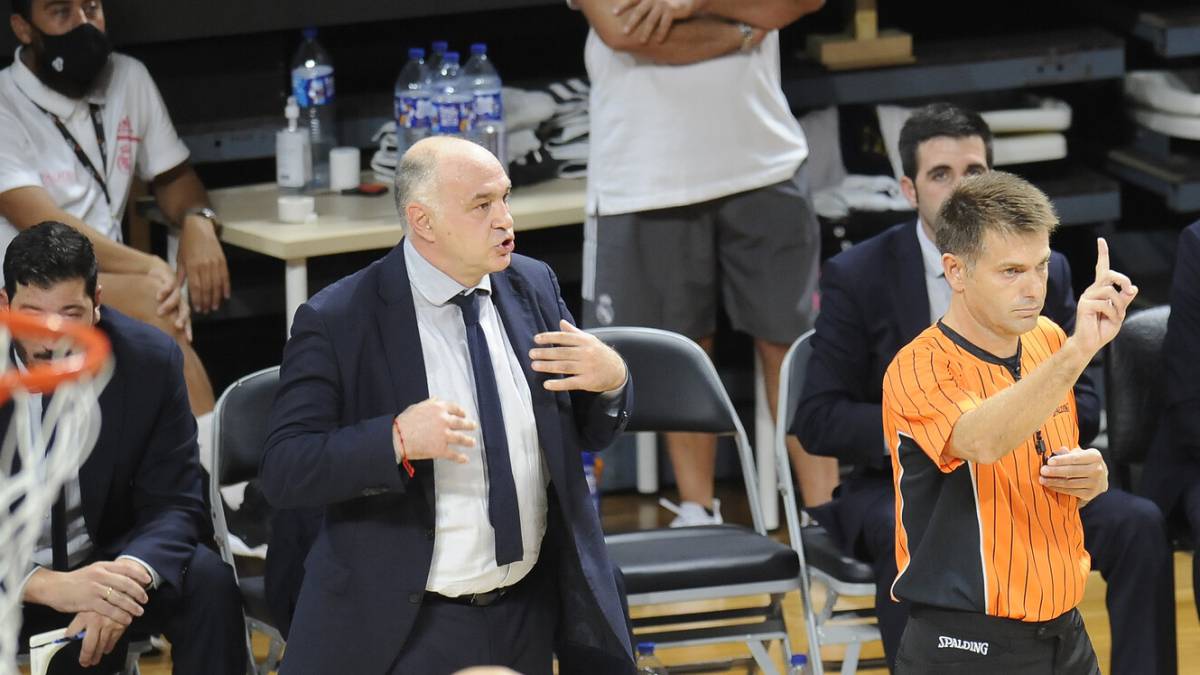 Pablo Laso began his tenth season at Real Madrid with his 20th title. "Another title. I am very happy for the Super Cup that we have done and for the entire pre-season. We started on the 11th with 19 guys who have helped us to be so competitive. Those who have seen the least have helped to give the best version of all. We knew it was complicated, but I'm very proud of these guys. "
Assessment. "The Super Cup is the first title of the year. This year we have arrived in the same condition, there are always people who join late ... The work this past month has been magnificent. I told the boys on Friday night , I told them that I believed that we were prepared to compete at the level that this Super Cup requires. We had two very difficult games if we wanted to be champions and that's how it was. The team has known how to adapt well to a closer match. Very proud as a coach, but knowing It has been a hard month, we have had young people. I remember a lot of those who have not participated like Fabien, Felipe or Boris Tisma, who has stayed in Madrid. With Tristan, Juan Nuñez, Matteo Spagnolo ... They have been every day training and they have made the team grow a lot in this time ".
Barcelona. "For us it is not a different team, even if it has a new coach. We have faced him many times with Zalgiris. They stopped the game and we have been able to adapt well. Defensively, we have both been good and the small details have been the ones who have made the difference ".
Abalde and Alocen. "We were clear that the additions should convey something new to us. When you want something new, it seems that the old is wrong, but no. What we have seen of them is what we had seen throughout the month. I am glad they won their first title. with Madrid ".
Campazzo. "He is a Madrid player. He has had a great Super Cup. I do not think about the future. He has helped us win and has shown his commitment to the club. We are delighted that he was the MVP, but he could have been anyone else" .
How these games are won. "At half-time I told them that we had played very well, although we lost by one point, but we were penalized by shooting percentage, losses and some defensive rebound. In the second half we played worse, but we were able to raise our level of concentration and improving these three aspects. This has been key to keeping us in the game in difficult moments and to knowing how to bring out our character in the last games. I am happy with the effort, concentration and work of the players ".
Choral game. "I really value work, effort, attitude and concentration. These are words that sound great, but the team has shown it. Facu said it, who has been the MVP, but I think Deck has been sensational, the last defenses of Rudy have been incredible, how we have been able to rotate people ... Everyone would like to play well, but that dark work is what I value, being focused and contributing to the team, and I think all the players have been fine ".
20 titles. "I don't have much to say. I don't live from the previous titles, now I enjoy this one and soon I will start thinking about the next one. It's my way of being. This year they ask me a lot because it is my tenth season at Madrid. And I I tell them that I am very proud, because I am in a great club and I have great players. Training fills me, it is my life. Madrid will be happy because I have been here for this time. I highly value the growth of players in this time, what is the The team, the coaching staff ... It is a lot of work, but on days like today, all that passes away and you are left with the pleasure of being champion ".
Endesa League. "We cannot think in the long term. We started against Gipuzkoa, who will start with great enthusiasm, promoted this year. I don't like to think beyond. Entering into the dynamics of matches, travel ... The start of the road has been good and I am one of those who thinks that this team has a lot of room for improvement ".
Photos from as.com