Kawhi dances with the Nuggets
Exhibition of the star, who handled at will some Nuggets who fought without conviction. The Clippers, one step away from playing their first Western finals.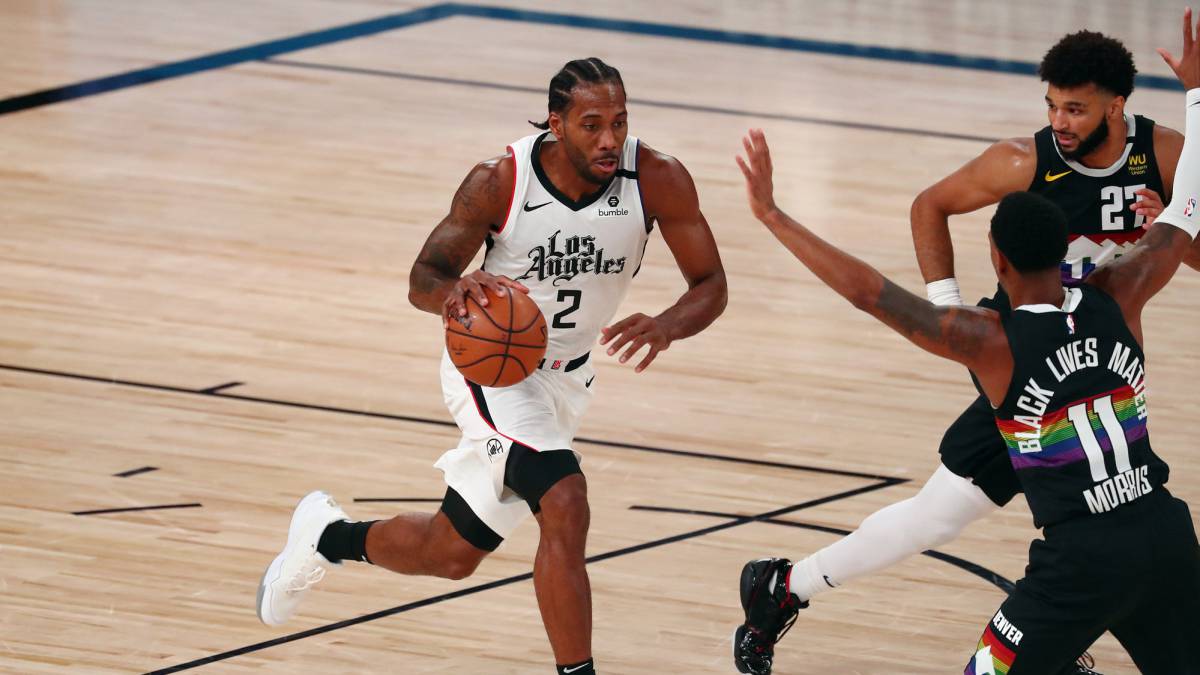 If anyone had any doubts, Kawhi has been in charge of clearing them. His level was already masterful last year in the playoffs and history is repeating itself in these, with a regular season at half throttle and marked by load management that only confirms that we are talking about a player who directs his season towards him. objective of the ring and, consequently, to the final phase. That is why last summer I needed a talented team in which I did not have to force the machine, full of talent and that won games almost by inertia. And yet, among all the defects that the Clippers have shown this year, they have slipped into the second position in the West (the best in their history after being third in 2014 and 2015) and continue to be one of the top favorites within a bubble in which nobody is favorite and, at the same time, everyone is. The one who least at this point (the semifinals) probably some Nuggets who suffered to eliminate the Jazz after coming back from 3-1 (for the 12th time in history) and showed an unexpected during a game and a half, but today they have certified that That was a mirage and that their fight will be with less conviction than they need to overcome a tie they have not passed since 2009, with George Karl on the bench and Carmelo Anthony as the star.
At that time, Denver fell 4-2 to the Lakers of Kobe and Pau in a fast-paced series that the Black Mamba was in charge of sentencing as only he knew how. Last year, the franchise almost reached the same round, but lost in the seventh (and at home) to the Blazers, with McCollum as the star and not Lillard, which is rare. Now, they face an infinitely superior rival and arrive exhausted from the first round, having started the second game from their rivals and having been in the fight for most of the third is already a gift. In this one, they stayed at 12 points in the first quarter and got up in the second (40-48 at halftime) but found themselves after leaving the dressing room tunnel with what is probably the best defensive version we've seen of these Clippers: all involved, in tension, reaching aid, closing passing lanes and harassing rivals. The outside trio that Doc Rivers' team is capable of putting together on defense with Beverley, George and Leonard is unmatched in the League and very few attacks will be able to attack it with guarantees. In addition, a center with reduced speed and explosiveness like Jokic is easier to control because of the inside of the Clippers (Harrell, Zubac, Morris work) who will have more difficulty against Anthony Davis (by profile and by talent, despite the good which is Serbian) in a hypothetical end of the West.
The Clippers arrived 10 up with 12 minutes to play (63-73) and they dedicated themselves to managing their advantage, without separating definitively in the light (they were 19 up) but always giving a sense of control and security against some Nuggets that They were not ahead at any point in the game and they fell to an ignominious 85 points after averaging over 111 during the regular season. The Nuggets lost 14 balls, threw with less than 40% on field goals and ate several possessions, haunted by a defense that did not let them breathe and that prevented them from finding free shots or throwing comfortable. In fact, they could only score 22 points in the zone (38 for the Clippers), equaling the fewest all season. "We have finally realized that our defense is there and that it creates things for us," Paul George said after the match. The forward was the protagonist of an attack in which he has returned to his old ways (10 points) but he was very involved in the collective defensively. In addition, the Angelenos lost only 9 balls and only allowed 5 offensive rebounds. Woe to anyone who has to face them in a playoffs in which they start to carbure and show their true potential. And then there's Kawhi, of course. We have said that he is more awake than ever, but not that it is his numbers (in addition to his game) that show it. Today, 30 points, 10 rebounds, 9 assists, 4 steals and 2 blocks with +7 with him on the court. His improvement in the distribution, almost an obligation in a team without generators, is an increasingly undeniable obviousness and has doubled the next one that has scored the most points (15 from Harrell) of his team. The Clippers had no more exhibitions beyond Leonard, but they had six players above ten points and mitigated the damage of a Jokic who follows his own and was the only light (with 18 points from Murray) of the limp Nuggets. 26 + 11 + 6 for the Serbian, insufficient numbers to stand up to a Kawhi who is already at 29.2 + 9.8 + 5.7, with 2.3 steals and 51.5% in field goals. I've been around last year (30.5 + 9.1 + 3.7). And we already know that that ended with ... Anyway. Well that.
Photos from as.com