Kawhi's Blur and 50 Years of Misery: Clippers Failure
The Clippers still don't know what it's like to play a conference final. They have not achieved it even in the year in which they brought Kawhi and Paul George together.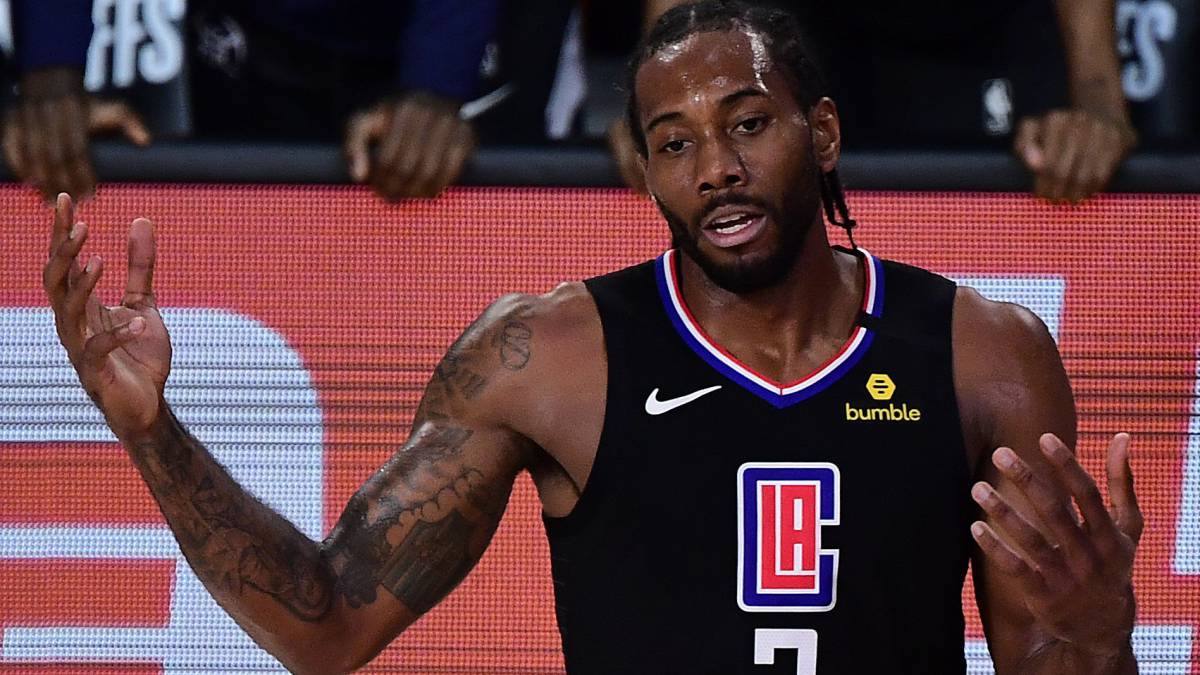 Fifty years later, the Clippers still haven't played a conference final. Not without being champions or without stepping on an NBA Finals: without-surpassing-the-second-round. Not in Buffalo, not in San Diego, not in LA Not like Braves, not like Clippers. Not with Chris Paul, Blake Griffin and DeAndre Jordan, not with Kawhi Leonard and Paul George. Not with Donald Sterling, one of the worst owners in the history of American sports (and a despicable human being, for all we know), not with Steve Ballmer, the godfather of Microsoft who has more than 70,000 million and that, fuss at the margin, has done everything that can be done to pamper, rehabilitate and relaunch a definitely cursed franchise by now.
2020 was the year. For many to be champions, although that can hardly be an obligation. But yes, of course, to overcome that second round that, you have to rub your eyes (or not, actually) has returned to be insurmountable. In half a century, the Clippers have only made the playoffs 15 times, and they hold the record for the most years (thirty, through 2006) without winning a first round. They have only played Western semi-finals, in fact, six times. In the last two, both with Doc Rivers as coach, they have lost after leading 3-1. The damn franchise (the worst in sports USA, according to Sports Illustrated a few years ago) may be a cliché, but it is a tremendously stubborn one. Six years ago, in 2015, the Clippers beat the Rockets 3-1. In the sixth game, at home and still 3-2 in favor, they led 92-79 at the beginning of a fourth quarter that they lost 15-40 on the basis of triples and heroics by, attention, Josh Smith and Corey Brewer. If that was scandalous and had a sadly comic point, this 2020 loss, 3-1 to 3-4 against the Nuggets, is deeply painful, absolutely serious, historically disastrous and from every point of view incomprehensible ... or not.
A debacle for NBA history
This 2020 loss is, especially when it comes to form, one of the biggest upsets in recent NBA history. Strategically, it's a massive blow for a franchise with very little room for error. And that, in the year in which he positioned himself to scratch something in the Los Angeles market, he has seen how the representative of the city in the final of the West is the obnoxious and everlasting neighbor, some Lakers who have risen from the worst stretch of their story at the most damaging moment for the tiny occupant of the other Staples Center locker room. In fact, we still don't have the Hallways Series (the two-team Staples derby, the LA duel) in the playoffs. It seems like another curse: in 2006 the Lakers wasted a 1-3 with the Clippers waiting in the second round and this time it was the latter who have lost three games in a row while waiting for the great enemy that never is. Neither by history nor by true rivalry. Nor this year.
To top it all, the team sold an image contrary to their rival's Hollywood aura with a preseason hype campaign extolling chemistry, resilience, authenticity, hard work. Finally, there has been a Los Angeles team that this season has embraced those values. But it was the Lakers. That also brought together LeBron and Anthony Davis and competed in an exemplary manner during a course in which, unfortunately, the tributes have followed one another after the tragic death of Kobe Bryant.
The first step toward a changing of the guard in Los Angeles basketball seemed distant but possible in August. Now it is once again a microscopic option, seemingly unattainable for the eternal poor neighbor.
A complete course with homework not done
The point is, this time there are no excuses. The Clippers have never had the fearsome defense they promised (Patrick Beverley, Kawhi Leonard, Paul George…). And in attack they have been a lot of talent accumulated to form a very tall but very unstable tower. The message, and something similar to a certain point happened with the 2018-19 Celtics, is again clear: not everything consists of accumulating good players and trusting him to press an imaginary switch in the playoffs. Potential is not enough, it is not gained based on load management, by cradling in we are still in the month of and this team has not lost when ... 444 444The breaks, the commitment to the insignificance of the Regular Season and the confidence that chemistry and systems will magically appear simply when the competitive level demands it are a very unreliable foundation for a very new team with two big stars (Kawhi and George) who do not have among their virtues a type of universal and vocal leadership. They are otherwise, especially Kawhi. So maybe you had to hope your team adapted to them in another way. And you just have to see, the example is just around the corner, what Nick Nurse did in Toronto last season. The Raptors, by the way, have fallen in the same place as the Clippers (the seventh semifinal game) after winning more in Regular Season and suffering less in the first round. There is a teaching also there.
As the champions of load management (the planned breaks of players during the season) turned into a dogma of faith often use resultist arguments, it is a good time to refute them with the same coin: the Clippers have lost against a team that played its 14th game in playoffs and seemed fused in the decisive moments. Doc Rivers emphasized that his team was "exhausted" and the journalist Marc J Spears said that several players asked for the change after just three minutes on the court in the last quarter and with the season on the wire. Something that has not been done well there either, of course. And it is surprising that this leak ran through the networks just minutes after the elimination.
The Clippers haven't worked their defense (a trompe l'oeil, finally) at any point this season. His solutions almost always involved throwing Kawhi (who could not defend both Jamal Murray and Nikola Jokic) on the best rival player. That is enough against many teams, but it is not the recipe to win the title. When the Nuggets began their final attack action, they had done so many things (with and without the ball) that they had weakened a defense that was already tenths of a second behind each decision, a death sentence against such an enlightened playmaker. like Jokic. In attack, the Clippers have never made much sense and have won a lot from crushing streaks from their excellent scorers. Without creators (neither George nor Kawhi are, really), without pure bases, without a good backup center… his rotation was not really the great marvel that was sold. Not for playoffs. Montrezl Harrell is a handsome and very useful player ... but his defensive gaps have been an essential sustenance in the comeback of some Nuggets that always looked for him, Landry Shamet ... and Lou Williams, a playground player who wins many in Regular Season Matches and in the qualifying rounds it remains in defense as much as it gives in attack. This time more, even: 4/27 in triples in the series. When things weren't quite working out, the Clippers added more and more and more: a potent trade by Marcus Morris, Reggie Jackson, even a coin toss by Joakim Noah. But it was not a question of more names, finally.
A plunge that signals everyone
With the season derailing, the Clippers signed in the fourth quarter four points and a basket in play during the first eight minutes. All four points were scored by JaMychal Green. With 90 seconds remaining, they had scored 82, which ended up being 89 after the 98 in the sixth game. On D-day, Kawhi Leonard stayed at 14 points with 6/22 shooting and 1/11 in the second half. He has suffered a lot against the defense of Jerami Grant (silent hero of the Nuggets) and has not been the best player in a tie ruled by Nikola Jokic. Paul George, with a long history of problems in decisive playoff games, stayed at 10 points, with a 2/11 in triples and more losses (5) than baskets (4). On the day it was all over, the Clippers had 24 points and 10/38 shooting from their two superstars. Doc Rivers had no other plan, he was overwhelmed by Michael Malone and dedicated himself to screaming for more defense, something that sounded hollow when players like Williams, Harrell were still on the court ...
With all their contradictions and their lack of planning and preparation, the Clippers were winning 3-1 over a Nuggets who had passed by miracle against the Jazz (another epic comeback) and who did not seem to have defensive arguments for anything other than winning a couple of total matches and make up his elimination against what was theoretically a superior rival, a great (the great?) contender for the ring. But in games fifth, sixth and seventh, the Clippers signed a meltdown for history. In the three second halves, they conceded partials of 49-67, 35-64 and 33-50. The total in the final three quarters of those games ended at 59-94 for a much safer, much more hard-working Nuggets, with players much happier to share jersey and court (and dressing room?). 444 444
With 3-2 in favor, the Clippers only scored 35 and 33 points in the second half of two games in which they could get into the West final for the first time. In their history, in fact, they are 0-8 when they have had a chance to advance to the penultimate round. The only similarity in sports USA are the nine losses of the Athletics (MLB). Kawhi Leonard was supposed to be the antidote to these disasters, the player who was going to change everything. He, who forces his idiosyncrasy (so particular) to permeate everything in his teams, also has to answer for not having been up to the task that corresponded to him.
Like Paul George… and like Doc Rivers, a great guy who tactically taught, again, very little. It is the third time in his coaching career (before 2003 with the Magic and the aforementioned in 2015) in which they have traced a 3-1 in favor. Their teams have lost 27 games in which they could overcome series, including the possible triumph in the Finals, with a very questionable balance: 14 wins, 27 losses. He has also lost more sevenths than any other coach, already eight.
There is no explanation or justification to lose the fifth game after having it 59-44 already in the second half. Much less let himself steal the sixth with 68-49 with 22 minutes remaining. Also in the seventh, in whose second half they never seemed to be better than the Nuggets, they threatened to strike before the break: 54-43. There is no explanation for letting yourself go back like this (beyond the enormous merit of some exceptional Nuggets when it was time to be), once everything was expensive ... but the truth is that elimination does. You cannot be tempted to fate, laze around, leave work pending, think that your team will grow simply because competitive demands will force it to do so. It does not work like that; And that's how the Celtics crashed in 2019 (now they are in the Conference final ... without Horford and without Kyrie) and, in a much more serious case, that's how the Clippers crashed in 2020. A team that has nothing to spare, that he has no history to cling to (in fact he runs away from it), nor a hobby with which to console himself. And that he could not pass up such a good opportunity to start a new era. And less so in the year that Kawhi turned down the Lakers and the champion, the Raptors, to sign with them. And less if, finally, it is the Lakers who, once again, do not stop talking. And they are, again, those who are in the final of the Western Conference. The one the Clippers have not stepped on in fifty years of history.
The dreaded countdown begins
Last summer, the Clippers went all out for Paul George. It was mandatory to get hold of him to finish convincing a Kawhi who was pressing hard, lengthening the shadow of the Lakers; it was both or neither. So, in a move then understandable, they gave the Thunder a top-tier player like Danilo Gallinari, a young star draft like Shai Gilgeous-Alexander (which they got rid of with too much joy), and, outrageously, top three. own rounds (2022, 2024 and 2026), two via Miami (2021 and 2023) and the right to exchange two others. A historic price for the great ordeal. The future, mortgaged to build a present without which, in reality, there would be no future. As the train was going at full speed and it was not going to be a question of running out of fuel at the worst moment, on arrival after Reggie Jackson another very inflated investment by Marcus Morris was added, in winter: Mo Harkless, the first round of 2020 and another exchange option in addition to a second round. They also sent Jerome Robinson to the Wizards, who finished the season with promising feelings.
With all that money could buy (of course with Ballmer nothing is going to be a matter of fear of the luxury tax), the Clippers built the consensus favorite to the ring in the year Kevin Durant was gone and Klay Thompson was not. he was going to play through injury: a hiatus from the Warriors. A priori, the winner of the summer (there is no ring or flag on the roof of the pavilion for that) but an unforged team, which had not shown anything and no one knew how it was going to play. An impenetrable defense and a hammer attack were sold quickly. A team to play fast or slow, defensive or offensive, with big or small players… finally, a chimera. To understand the skidding of September (it is a strange year) you have to remember the laziness and the excuses of November, December, January ... With no pedigree or big bag wins, the Clippers flaunted ugly gestures from Lou Williams and (many) Patrick Beverley, a player so consumed by his character that he seems incapable of playing without fouling. His celebration of the arrival of Kawhi traveled the networks, also his mockery of Damian Lillard already in the bubble, the critic's criticism of the Nuggets, Morris's ugly stomp on Luka Doncic ... with so much media apparatus, so many possibilities and so much swagger, He has only hit the Clippers in the playoffs to win in six games and with a couple of good scares off the Mavericks that added Porzingins' expulsion and injury to Doncic's sprain. Pyrrhic. Largely ridiculous. With the investment made to make precisely this luxurious mall team, the Clippers have to think about returning with the same project, we'll see if with the same captain. Doc Rivers comes out very touched but his figure in the NBA remains unquestionable. They are supposed to try to renew their free agents: Harrell, Morris, Green (he has a player option) ... But they should also try to form a team less than Playstation and more than actual playoffs, with more defined roles and more viable substitutes ... even if they score less points. The problem, and it is actually ironic, is that in the NBA everything is going very fast in these times that we have reached by, among other things, drives like the Clippers last summer. Kawhi has another year left on his contract before having a player option in 2021, just like Paul George. Due to the structure that they both chose, this project started from an initial window of two years… and the first one was thrown away. The pressure, is a recurring story in the current NBA and in Milwaukee they are in the same with Antetokounmpo, it will be unbreathable if next season the boat does not show early signs of straightening the course.
I insist: the matter of the damn franchise is a trite cliché ... but damned insistent. The Clippers had been signaling red flags all season. First that they weren't doing enough to justify their status as favorites, then they were more vulnerable than anticipated… but finally, no one could expect such a defeat. Against the Nuggets, after being 3-1 up, fitting incredible comebacks and with a finally despicable image. Everything, this season, was a house of cards because, finally, there is no ring or flag on the roof for the champion of the summer market. It has always been like this. And the Clippers, therefore, have just learned the only way to lose that was still alien to them: to do it from the position of great favorite and causing an astonishing, widespread and, I think, historical disappointment. Bad, bad thing ...
Photos from as.com