Jokic, Murray, the crown of LeBron and the glory of the Lakers
LeBron looks to restore the Lakers to their lost glory in a round in which he is 9-1. The Nuggets, his last stumbling block before the Finals.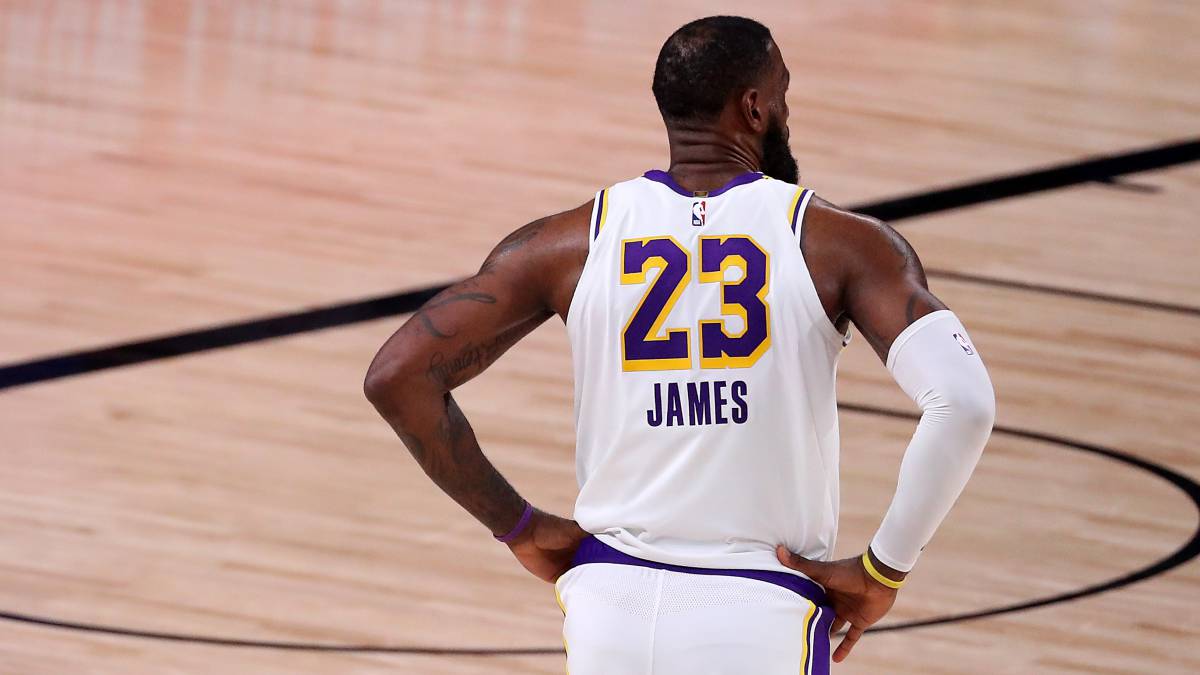 The Lakers are back. We do not know if they have done it to stay or how long they will do it, but they have recovered from the greatest crisis in their history and are among the four best teams in the NBA for the first time in a decade. It was there, in 2010, when they played their last Conference finals, adding the last ring to their incredible collection and then gradually sinking and losing sight of a glory they have partially recovered and to which they want to fully cling. Never has the Los Angeles team had to wait so long to fight for the ring. Be careful, not to win it, something that they have in mind since the season began and more so now, with an elimination, that of the Clippers, which makes them without excuses or palliative in the favorites for the title. But the fact of being there means that something has changed in a franchise that is always used to opting for the ring but that has had to suffer the passage of seven coaches, the departure of countless rounds of the draft, the resignation of managers and an internal civil war to return to the place they have always occupied. The one that they should never have abandoned but to which they have returned through the big door, with a course in which they have developed a group chemistry and have identified with a style, a year in which they have had fun on the track and in which they have remained united despite adversity. That, between the death of Kobe and the appearance of the coronavirus, there have been many.
The Lakers are back. That does not mean that they are champions, only that they have reached a Western finals in a situation that has made them go from candidates to favorites, thanks to unexpected eliminations and others that not so much (Bucks) and a bubble in Disney that has meant surprises for almost everyone except themselves. The Lakers have returned because they have fallen in love with the world again, they have a star as a reference that is going to rub shoulders at Olympus with many others who have worn the purple and gold jersey, they have known how to behave like a champion team and honor the story of a franchise that had forgotten its own. The Lakers have come back spurred on by a LeBron who appears to be 25 instead of 35 and averaging 26.6 points, 10.3 rebounds and 8.8 assists in the playoffs of his 17th season. And he is accompanied by a lieutenant that he has rarely had, an omnipresent Anthony Davis on the track who has averages of 30 + 12 in the final phase throughout his career. Between the two they average in these playoffs (10 games specifically) 542 points, 212 rebounds and 129 assists combined, the only pair with such numbers along with Oscar Robertson-JackTwyman and Elgin Baylor-Jerry West. Again, the Lakers are back. And they have done it, in addition to everything said, for having a very common duo to see in the history of the franchise and that imitates and even emulates the Kobe and Pau, Kobe and Shaq, Magic and Kareem, West and Chamberlain and West and Baylor.
Of course, returning is not worth it, you have to stay. At least to continue making a story that the Lakers and LeBron, together and separately, can conquer. The Angelenos, as a franchise, are fighting to reach their thirty-second Finals and their seventeenth title, which would tie them with some Celtics that are still in the fight and that can extend their advantage against the eternal rival. For his part, LeBron could reach his tenth Finals, something that no one has achieved since Kareem Abdul-Jabbar and, if we go to the prehistory of the League, the Celtics of Bill Russell and company. A spectacular number for a dimensionless player, who has spent more seasons reaching the Finals than those who have run out of them (10 for 7) and who continues to increase the legend as he tries to find his definitive place in the history of an NBA that allows him has belonged and wants to get back. After playing uninterruptedly in the last round of the playoffs from 2011 to 2018, El Rey lost his crown last year to a Kawhi who will not be able to sit on the throne this year. And he did it, in addition, missing the playoffs for the first time since 2005. The crisis did not last long, and when it seemed that he was getting on in years and that injuries were coming in search of him (last year he missed more games than ever). reacted with a season of MVP (25.3 + 7.8 + 10.2) and has put the direct while fighting against time (which seems not to pass through it) and against himself.
An unexpected rival
If the Lakers were told earlier in the season that they were going to play the Western Finals against the Nuggets, they would not have believed it. Neither they nor us, why are we going to fool ourselves. In the end, the logic has prevailed despite the fact that we all denied it, and the team that has not played anything throughout the course has not done it now, the Clippers. That switch they wanted to push to get into playoff mode hasn't worked for them, and that button that also works on a player like Rajon Rondo, resurrected against the Rockets (14 + 5 + 8.7 + 2.3 between the second and the fourth party) has not worked for them. And the Nuggets have emerged, that rival that has been unfairly said little but that comes from coming back from 3-1 in the last two playoff ties, something that no one has done in history. And from playing seven games in the last four they have played in the last two years, both having reached the finals at the hands of a Mike Malone who has given a review of Doc Rivers and has deservedly clung to a position that some they saw it in danger when the Jazz were about to sentence a tie that, as you know, ended in the most unexpected way possible.
Although, of course, the most unexpected thing has been the new comeback in the second round, one of an analysis superior to what it has in itself but that encompasses much more the defects of the Clippers than the virtues, which exist, of the Nuggets. Allowing yourself to gain advantages of around 20 points in two consecutive games and one of 12 in the third (which was the seventh) leaves the losers in a bad place, who have ended their season in failure. Of course, Jokic comes from averaging 24.4 + 13.4 + 6.6 in the series, with a triple-double of 16 + 22 + 13 in the seventh game; Murray, who lost to Utah, fired Kawhi and company with 40 points. A tremendous duo and a team whose quartermaster has something to say on both sides of the court with Jerami Grant, Torrey Craig or Gary Harris. And watch out for Michael Porter Jr., who can be a differential for a young squad (Paul Millsap, 34, is the oldest and the only one over thirty) who arrives with nothing to lose and with much to gain. And that he has never played the Finals, watch out. In fact, the last time they reached the West finals was against the Lakers in 2009 (4-2 loss with Carmelo against Kobe, Pau ...) and the previous time, also against the Angelenos, dates from 1985. A series that Magic resolved (12.8 + 7.6 + 15.6) against the Nuggets led by Alex English (30.3 points per game in that series) who was part of the virtual audience in the seventh against the Clippers and Calvin Natt , among others. The shadow of LeBron
A what the Nuggets will have to face, among many other things, will be LeBron. For that reason alone the series already seems differential and with a clear favorite such as the Lakers. It seems a trend to make the same mistakes and the forecast is similar to what we made in the previous round, when one victory for the Nuggets was considered a gift and two mission impossible. And yes, we already know how that ended, but that constant search for identity and that development of group chemistry that the Lakers have worked so hard to develop, with a defined but malleable game, as was already demonstrated against the Rockets, make it difficult to imagine a series-like development against the Clippers. If Denver wants to be in the tie it will have to keep it level, and tempting luck with another historic comeback seems difficult, as it seems that the Lakers lose comfortable leads in not one, not two, but up to three games. The game seems settled, Rondo has shown that he can be a differential factor and Caruso appears when his team needs him most. And Frank Vogel is far from the same coach who ran out of solutions at the Pacers and has adapted perfectly to Houston's ultra small ball how he is going to adapt to a series in which McGee and Howard can return to the rotation to help. in defense to a Jokic that Markieff can also help, a transfer that seemed like a small prize in February compared to Marcus, but which has ended up being objectively better.
And then there's LeBron. We have already said that he is fighting for his tenth Finals, but not that he will contest the Conference finals for the eleventh time in his long professional career. The record? 9-1. In fact, his only loss is in 2009, when Howard's Magic finished off the Cavs in an ode to basketball hosted by Stan Van Gundy, who has his greatest success as a coach in the tactical display he staged in that series. In which, by the way, LeBron averaged 38.5 + 8 + 8.5 in six games, Play Station numbers that reflect the trend developed in the Conference finals throughout his career. In total, he has played 59 games in this round, in which he has averaged 29.1 points, 8.2 rebounds and 7.1 assists. The last time he played in this round was against the Celtics in 2018, that epic battle in which he was alone against the world and in which he ended up eliminating the Celtics after endorsing them 46 + 11 + 9 in the sixth game and 35 + 15 +9 in the seventh. In other words: to win this series the Nuggets are going to have to overcome a legend who is competing for something that goes beyond even the ring: his definitive place in history. Although to find it the ring helps, of course.
There is little more to add. The Lakers have won the aggregate of direct games against Denver this season (3-1) and LeBron has played 3 of those games: 30 + 10 + 11, 32 + 12 + 14 and 29, with 12 assists. Another reason to worry within a dynamic in which everyone who faces the Los Angeles star does well to have the reverential respect that is almost unanimously saved for him. The Lakers are looking for their Finals number 32 and LeBron, the tenth. The Nuggets, return to a round they have never stepped on in the NBA (yes in the ABA) and build on their unshakeable faith, in Jokic's talent and Murray's points to face the most difficult yet and complete what would be one of the great machadas of history. They will not have it easy against a team that has returned but wants to fully recover its lost glory. And before a player who fights tirelessly against whatever it takes to regain an empty throne and get the fourth ring of his career. One that can catapult you, we'll see, to the top. Or at least, leave him very close. We leave that for another article.
Photos from as.com