Italy's golden generation, from the field to the bench
Camoranesi, Slovenian Maribor's new coach, joins the list of 2006 world champion players who are now coaches, led by Pirlo.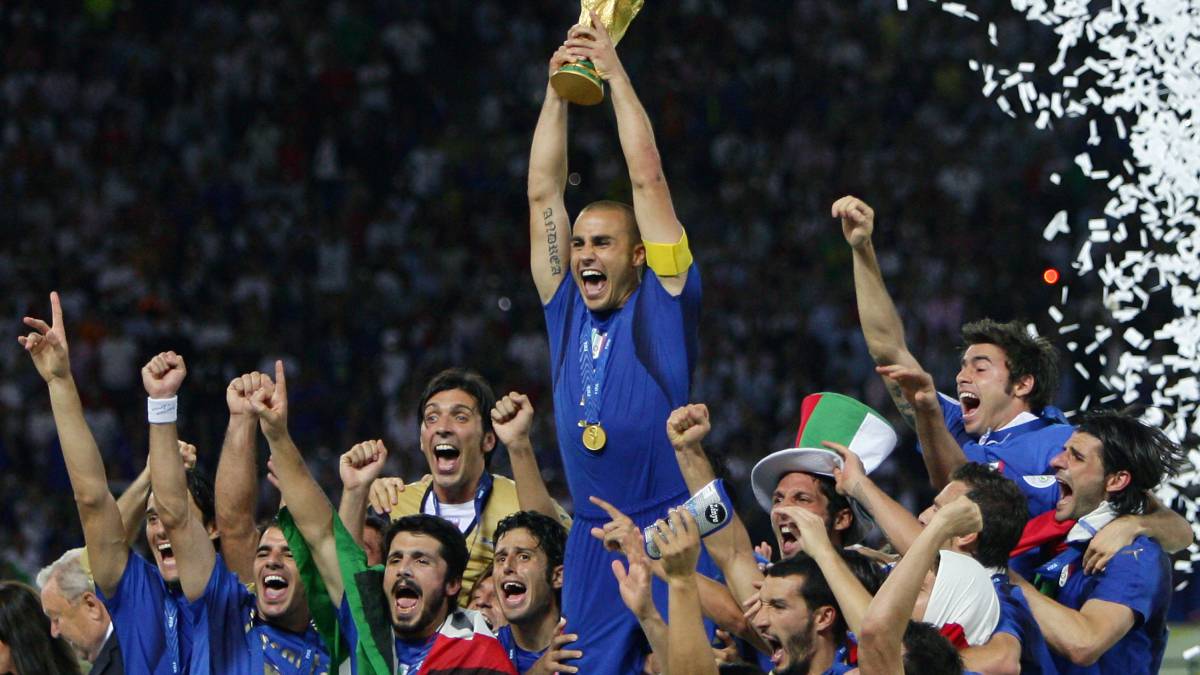 Italy's golden generation, those 23 footballers who gave the Azzurri their fourth star in Germany in 2006, have made the final leap to the bench. In fact, only Gianluigi Buffon, the eternal Italian legend, is still active, while the rest have already hung up their boots. 14 years later, most of them are still linked to football, many of them as coaches at the highest level. One of them stands out above all: Andrea Pirlo, the new Juventus coach after Sarri's dismissal. But he is not the only one.Andrea Pirlo (Juventus)
It is the most striking case of all and the one that has reached the most important bench. The former midfielder, one of the most iconic and beloved players in Italy, who played for the three great teams on the Italian peninsula, was announced at the end of July as coach of the Juventus U23 team, the last team he played for. in Europe before your adventure in the United States.
But on August 8, just 10 days after his announcement as coach of the bianconeri subsidiary, and after the elimination against Lyon in the second round of the Champions League, the Juventine club made official the dismissal of Sarri and the hiring of Pirlo as coach of the first team. In 2020-21 he will face the major challenge of winning everything with Juve in his first adventure as a coach.Genaro Gattuso (Naples)
One of the flagships of that world champion Italy began his career as a coach at the Swiss Sion, where he was coach-player, although it barely lasted a few months. After passing through Palermo, Crete and Pisa, the one from Cosenza took over the Milan subsidiary. Half a year later, he would be named as a replacement for Montella in the first team, whom he led to the Coppa final in his first year and with whom he fought to get into the Champions League in the second, although in the end he did not succeed.
At the end of that season, 2018/19, he resigned from his position as Rossoneri coach due to not being able to achieve the goals set. But he was not unemployed for many months, since in December of that same year he received the call from Naples to replace Ancelotti, after the club's worst run since 2007. With 15 wins and 5 draws in 28 games as a Neapolitan coach, he managed straighten course. Although in the league he stayed in seventh position, he was able to snatch Juventus from Cristiano the Coppa, the club's first title in the last 6 years.
Filippo Inzaghi (Benevento)
Although he only played 33 minutes in that 2006 World Cup, he was one of the great names that team had. Despite being named the best forward in the world that year, he was faced with the untouchable Luca Toni and Alessandro Del Piero, Italian legends. After hanging up his boots, he took over the Milan youth team and in 2014 became a coach of the Rossoneri first team. After finishing in tenth position with a team mired in a major sporting crisis, he was dismissed.
From there, he went to Venezia, where he was promoted to Serie B, and to Bologna, where months later he was dismissed with the team in relegation places to Serie B. I was replaced, as in Milan, by Sinisa Mihajlovic , who managed to save him. He currently coaches Benevento, with whom in his first season he has achieved the second promotion to Serie A in the club's history. He will face his younger brother, Simone Inzaghi, Lazio coach next year. Alessandro Nesta (Frosinone)
Milan legend, Alessandro has not yet had the opportunity to coach a great team, as if the previous members of this list have. He began his career as a manager in Miami, taking over Miami FC, founded by his friend and partner Paolo Maldini. In the NASL, competition that the club disputed, he spent two seasons. After that, he coached Peruggia and this season he was the Frosinone coach, with whom he was one goal away from being promoted to Serie A.
Fabio Cannavaro (Guangzhou Evergrande)
Captain of that Italian team and Ballon d'Or in 2006, the former defender of Naples, Inter, Juventus or Real Madrid, has developed his career as a coach in Asia. There, he began training Guangzhou Evergrande, which he managed in the 2014/15 season and where he returned in 2017, being his current team. In between, he had an affair in Saudi Arabia, with Al Nassr.
Despite failing both in his first spell at Guangzhou and in the months he was in Arabia, Cannavaro redirected his career as a coach at Tianjin Quanjian. There, he promoted the team to the Super League and then finished third, obtaining a passport to the Asian Champions League. However, he decided to terminate his contract in 2017 to return to Guangzhou as a replacement for Scolari. In his second stage, he has managed to win a League and a Super Cup.
Mauro Camoranesi (Maribor)
One of the few who remained at Juventus after their relegation to Serie B, and a key player in world champion Italy, Camoranesi has not had the passing of his teammates through big clubs. He has not done it because he has not wanted to. He began directing the Mexican Coras de Tepic and then went to Tigres, where he was only 7 games. Before returning to Mexico to direct the Cafetaleros, he said in an interview with Clarín that he had "many friends in Argentina", but that he refused to "beg benches", since he believed that he had made "enough merits" .
After passing through the South American benches, this year he embarked on the European adventure. An exotic adventure, as it ended up in the modest Tabor Sezana. With the Slovenian team he achieved salvation in a comfortable way and has become a giant killer, being the judge of the league title. His great role has earned him the award of training NK Maribor, the 'giant' of the Slovenian country, a news that became known today.
Others, such as Fabio Grosso (Hellas Verona, Brescia), Gianluca Zambrotta (Chiasso, Delhi Dynamos), Massimo Odo (Pescara, Udinese, Crotone, Perugia) or Marco Materazzi (Chennaiyin) have passed without pain or glory on the bench. De Rossi could be the next to join this list, as he has recently been linked to Fiorentina. Totti, for his part, chose another path: he is a footballers' agent.
Photos from as.com