Historic surprise: Denver takes out horrible Clippers
The Angelenos inexplicably collapse again and close a course to forget. Jokic and Murray complete another historic comeback.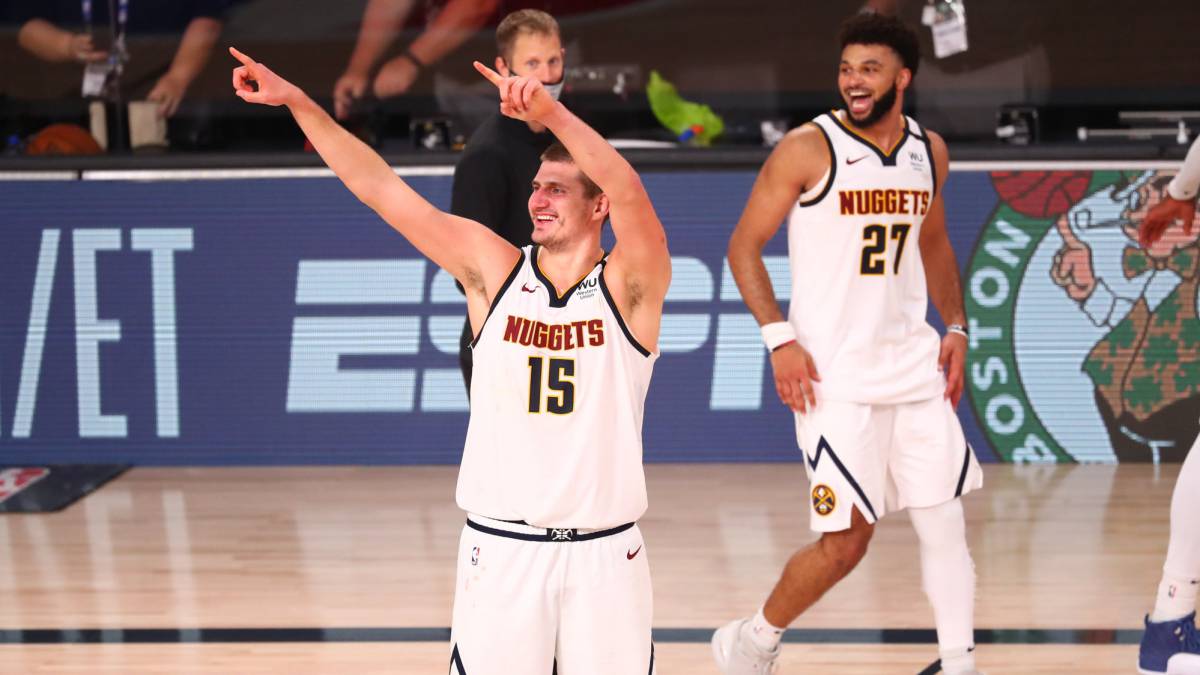 A season that never started is over for the Clippers. Neither the forced favoritism, the existence of Kawhi or the summer movements have managed to overcome something difficult for the fans to believe, but that responds to what this team has been all year: a cartoon of a champion project, with some players who they promised championships and a star with a crown he no longer has. A squad that has not been together, either on or off the court, for most of the year, and that has championed a load management that has ended up being dysfunctional and costing a group of basketball players who have rested a lot and have coincided. little, something essential to create a group chemistry that both the Mavericks and the Nuggets have shown, their two rivals in the playoffs this year and the only two they will have after an unexpected but clearly deserved elimination.
And, of course, some Lakers who identify with a style and have strengthened social ties in contrast to their nemesis, whose collapse has been absolutely historical and has been repeated up to three consecutive times, deciding the balance of a series that many described as a mere formality for a series that seemed to be destined (against LeBron), but that has remained where no one imagined. We said it, when they lost the fifth game, also the sixth. In the end they will win; also when they were ahead in the second quarter and behind in the third. In the end they will win. And look where, they have not won. In fact, they have been the protagonists of a historical embarrassment within a traditionally losing franchise whose dynamics they promised to change. Something that, you know, they have not done. But of course, it can be lost and lost. You can fall to an opponent of equal talent after a competitive series or see how they go back 3-1 inexplicably and for the 13th time in history (the last two have had the Nuggets as the winner) to send you home without know how something could have happened that you can no longer change.
Today the advantages have not gone to 20 points, but to 12, an income they had in the second quarter. Of course, Denver faced the game with nothing to lose and with much to gain, and faced a team that has raised the duel with the same attitude as the previous ones. Absolute apathy, almost indifference, and a feeling that at any moment they would flip a switch and take the victory that has not existed. That spot is reserved for a select few, like the 2018 Warriors (Durant, Curry, Klay, Draymond ...), and the Clippers have proven to be far behind them in talent, timing, and collectivity. In the first quarter they were barely tied at 24 despite the Nuggets' seven losses. Jokic, with 8 + 6 + 4, would support his team and Murray led a new comeback in the second period with 20 points (25 at halftime), which left Colorado with only two goals behind. After the intermission, a Zubac basket and a Beverley triple put a +7 that was more than a mirage: a 0-8 partial by the Nuggets gave them the lead ... one that they would no longer let go.
Denver came in eight up in the final 12 minutes, Grant's work on Kawhi, which has borne very mature fruits, developed further, leaving the forward on a ridiculous 14 points and an embarrassing shooting series (6 of 22). The Clippers went up to seven minutes without scoring a field goal in the fourth quarter, and by the time they did it was too late. Those of Mike Malone (superb in the series, he has eaten Doc Rivers) had a brief moment of doubt to later consolidate their advantage and gradually increase it until sentencing, with a triple by Murray just over two minutes to go, a already insurmountable advantage (80-98). The rest was a trip for a team that did not believe what it was achieving and another that saw a nightmare come true that they never believed but did not make an effort to avoid. The Clippers remain one of the few franchises to ever play in a conference final, and are 0-8 when it comes time to face qualifying games. And Doc Rivers, whose credit runs out, has fallen as many as six times when he has had 3-1 or 3-2 leads in a playoff series.
The faith of the Nuggets and the collapse of the Clippers
The pride and belief to the last consequences of the Nuggets has led them to a place where no one expected them, being the last team to reach the conference finals, something they do for the first time since 2009 meeting the same rival. Before, the Kobe Lakers; Today, LeBron's. They are the first team in history to come back 3-1 in two consecutive series, and have established Jokic and Murray as dimensionless stars comparable to the best. The Serbian, who already had a triple-double in the third quarter, finished with 16 points, 22 rebounds and 13 assists, to which he added 2 steals and 3 blocks. And Murray has gone to 40 points (+ 4 + 5), with 15 of 26 in field goals and 6 of 13 in triples. Jeremy Grant and Gary Harris (14 apiece) have accompanied and been a spectacular defensive pillar and not even Michael Porter Jr. has had to make his umpteenth miraculous appearance to save a team that needs no salvation and can be satisfied this season, which ended with an unexpected but well-deserved outstanding. And be careful, nobody relax and the Lakers less: if they are there it is for something. And that they are not favorites they do not care. They still have nothing to lose and knowing that everything that comes from now on is a gift.
What about the Clippers? To the thinking corner. We'll see what decisions a Steve Ballmer makes today whose faces of few friends could be seen even through the mask (is Doc Rivers' position really in danger?), But something will do. Last year's two first-round victories against the Warriors were glory, but this year the goal was the ring and a loss could be assumed against opponents of more theoretical caliber. We will see how the movements for the Angelenos go by in the coming months (Kawhi, we deduce, will remain untouchable), but we will have to rethink how to face the seasons, with whom and if load management is or not the best for a contender. Especially if it is practiced too much and not with just one player, as it happened with the Raptors and Leonard a year ago. Of course, the conclusions could be simpler. Maybe, just maybe, the problem for the Clippers is that Beverley is not as good as many defend, that Lou Williams has always punctured in the playoffs (7 points today and 5 of 27 on triples in the series), that Harrell gives very fair guarantees , Zubac is not the best center to win a ring or that Paul George stumbles on the same stone year after year with no remedy or solution. 10 points today with 4 of 16 in field goals and 2 of 11 in triples.
And maybe, just maybe, the key is also that Kawhi is not LeBron. As much as it seemed like bursts during the last playoffs (historical, let's not forget it) and that he has been designated as the heir to the throne and the owner of the crown. Because LeBron, with 35 years and 17 seasons, is still at the foot of the cannon, while his theoretical nemesis has not been the solution to a resounding and unmitigated failure, nor has he managed to throw the team on his back on those occasions in which the man called to be a hero is more than needed. Nor has he been able to resolve when his team had after the fourth game, remember, a 96% chance of qualifying. Maybe, just maybe, Kawhi is not yet rubbing shoulders with that horde of dimensionless legends with which some have placed him. He may still have a way to go in terms of mentality and charisma (and basketball ability, of course) to be compared with such players. At the end of the day, we are talking about a very (very) small group to which the forward, at the moment, does not seem to belong. Maybe huh. Just maybe.
Photos from as.com