Herro: from death threats to "I'm a walking basket"
The Heat rookie suffered a lot from turning Wisconsin down and is now breaking records in the Eastern Finals. There are 240 highest paid players.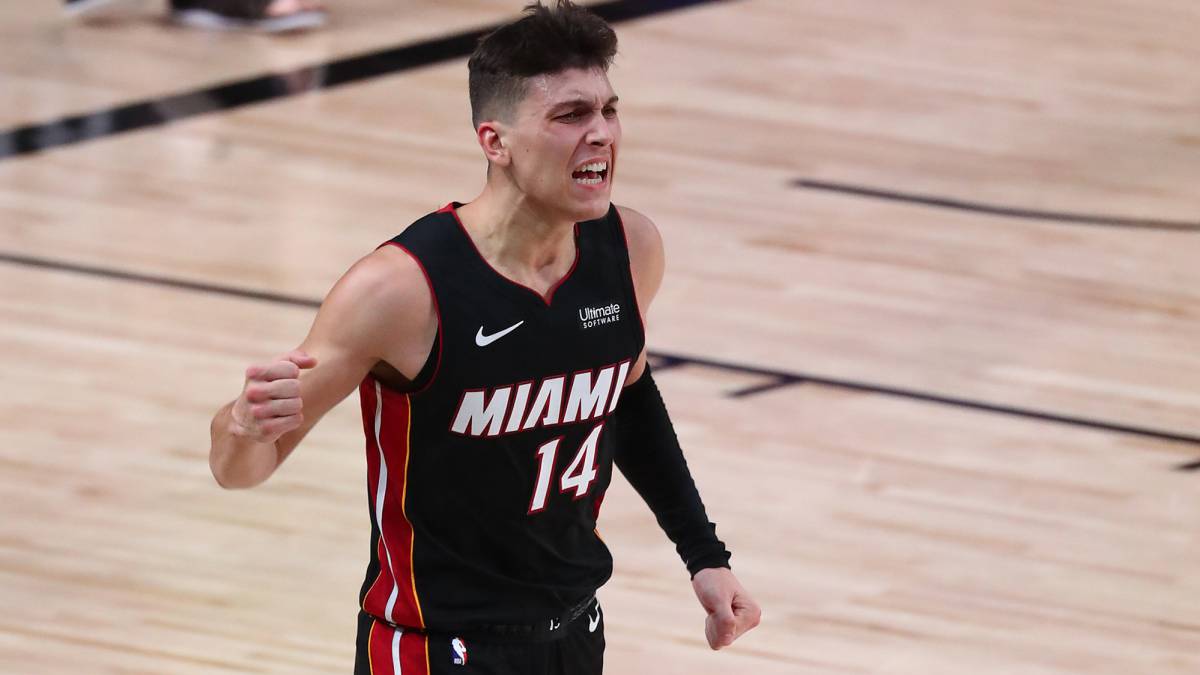 "Tomorrow we will crush him so he doesn't get too high," said Erik Spoelstra of Tyler Herro after the (surely crucial: we'll see) game four of the Eastern Conference final. Goran Dragic (who is 34) joked like this when asked about the age of the rookie guard: "Well, I really don't think I'm 20." And Jimmy Butler, while Dwyane Wade raved about Herro on Twitter, remembered the Bulls veterans (Derrick Rose, Joakim Noah, Luol Deng, Carlos Boozer ...) who helped him when he came to the NBA how he is trying to help Now to the young Heat that are, nobody counted on them that far at the beginning of the season, one victory away from playing their first NBA Finals since 2014, when LeBron James was scored.
"He's 20, looks like he's 16 and plays like he's 35," said Dan Wetzel, a Yahoo Sports columnist, after the game. Herro, in the clash that could clearly tilt the East final in favor of his team, scored 37 points with 6 rebounds, 3 assists, only one loss, a 14/21 total in shots, a 5/10 in triples and a 4 / 4 on free throws. Here are some of the records he reached on his big night: first rookie since Chuck Person in 1987 with more than 35 points and 5 rebounds in a playoff game; Rookie's highest scoring in conference finals (up to today was Andrew Toney's 35 points in 1981), second youngest (20 years and 247 days) to score 35 points in the playoffs (for Derrick Rose's 20 years and 196 days) ), first rookie since Toney in 1981 with two consecutive games of at least 20 points in Conference finals, only rookie with Donovan Mitchell with 35 points and 5 triples in a playoff game, second highest score in playoffs with under 21 years (42 for Magic Johnson) and the first player of 1976 to start his playoff career with at least 10 points in his first 13 games. Only Alvan Adams in 1976 and the legendary Elgin Baylor in 1959 have succeeded, by the way.Just a step away from being a Celtics player
Herro, Rookie Second Quintet in his first NBA season, he only played one year in Kentucky, in which he averaged 14 points and 4.5 rebounds. The Heat gave him the 13th pick in the last draft, the penultimate in the lottery (top 14, lottery picks) and he has responded with 13.5 points, 4.1 rebounds and 2.2 assists that are in playoffs 15, 5, 7 and 4. For now. Much more than a shooter, Herro is already an excellent total attacking player, better than many believe when he dribbles and creates for his teammates, capable of taking baskets from almost anywhere. And John Calipari, the Kentucky coach who has amassed so much talent by the NBA, recognizes that he is in the top-10 of players he has trained when talking only about clutch time, the decisive moment of even games. Ask the Boston Celtics.
For the Celtics, in fact, each basket by Herro (born in 2000) is a reminder of how close they came to having a player they were "in love" with according to the Boston press, one that caused a real fight on the device. of the franchise on draft night when he was chosen by the Heat at No. 13: The Celtics had No. 14 through the Sacramento Kings in a pick that lost a lottery tiebreaker with the Hornets (12) and Heat (13). Thus they were left without Herro and finished with Romeo Langford. What was Herro doing available on 13? Calipari often says his Kentucky players come out lower than they should. And it should be remembered that, from the blue factory, only in recent years Devin Booker has been number 13 (2015), Jamal Murray 7 (2016), Bam Adebayo 14 (2017), Shai Gilgeous-Alexander 11 (2018) and Herro 13 (2019) .
Pat Riley, by the way, was a player for those Kentucky Wildcats, who retired their number 42. One of the NBA's greats, whom Herro trembled when he had to shake hands for the first time, knows what he's doing: Adebayo and Herro are two successes, in the queue of lottery picks, of which they transform a franchise for a decade: this year they collect (respectively) 3.4 and 3.6 million dollars, with 240 highest paid players in the League. Herro will receive 3.8 next season, 4 in 2021-22, 5.7 in 2022-23 ... the unbeatable bargain of rookie contracts when they are received by players this good.
Public Enemy Number 1 in High School
Wade, the great Heat legend who has already blessed this incredible new litter (Herro, Adebayo, Nunn and Robinson under the supervision of Butler and Dragic), was born in Chicago but was a college star in Wisconsin , with Marquette. Herro was born in Milwaukee and was the great promise of the Wisconsin Badgers until in 2017 he broke their agreement and ended up in the hands of Calipari, who had come to watch him play, and chat with him, in person. By then he was the big sensation of the Whitnall High School, who could only boast of a quarterback who was cut six times without making an NFL debut, Joel Stave, and a playmate of the month in a 1980 Playboy issue, Jeana Keough.
That decision subjected him, at 18, to tremendous pressure: graffiti in the garden of his house, throwing eggs on his porch or his father's snowplow truck, death threats that jumped from social networks to real life, fans who filled the stands at their games with stuffed snakes and posters of snakes with their faces cut out and pasted. In his last year of high school he averaged 32.9 points, 7.4 rebounds, 3.6 assists and 3.3 steals. He stayed, for many inexplicably, out of the McDonalds All American and was a four stars and not five for the NCAA recruiters, but Calipari ("if there is talent the scouts will find you", they say) soon saw what he could having in hand, no matter how much it was thought that the guard, of 1.96 and 88 kilos, could suffer to end up being an NBA player or that he did not meet the one and done mold draft) which is routine in Kentucky. In just a few weeks of college seasons, Herro was already climbing the rankings and positioned as a selection of, at least, the first round.
In a game against Arkansas he yelled at an opponent who was insulting him with an already famous "I'm a bucket", something like "I'm a walking basket. He actually is, and a cool-blooded, stylish gamer who turns into a shy, non-talkative kid off the court. Those who know him say that that drink in Wisconsin, dealing with so much hatred and so many insults, helped him become the executor that he is now on the courts: "I play better like this, I like to have people against. Whoever is in front of him, I think I'm going to kill him. Again: ask the Celtics.
Photos from as.com