Hazard, in the hands of Zidane
The Belgian is far from his best form and with some doubt around his ankle. The technician must bet on rolling him playing or waiting for his moment.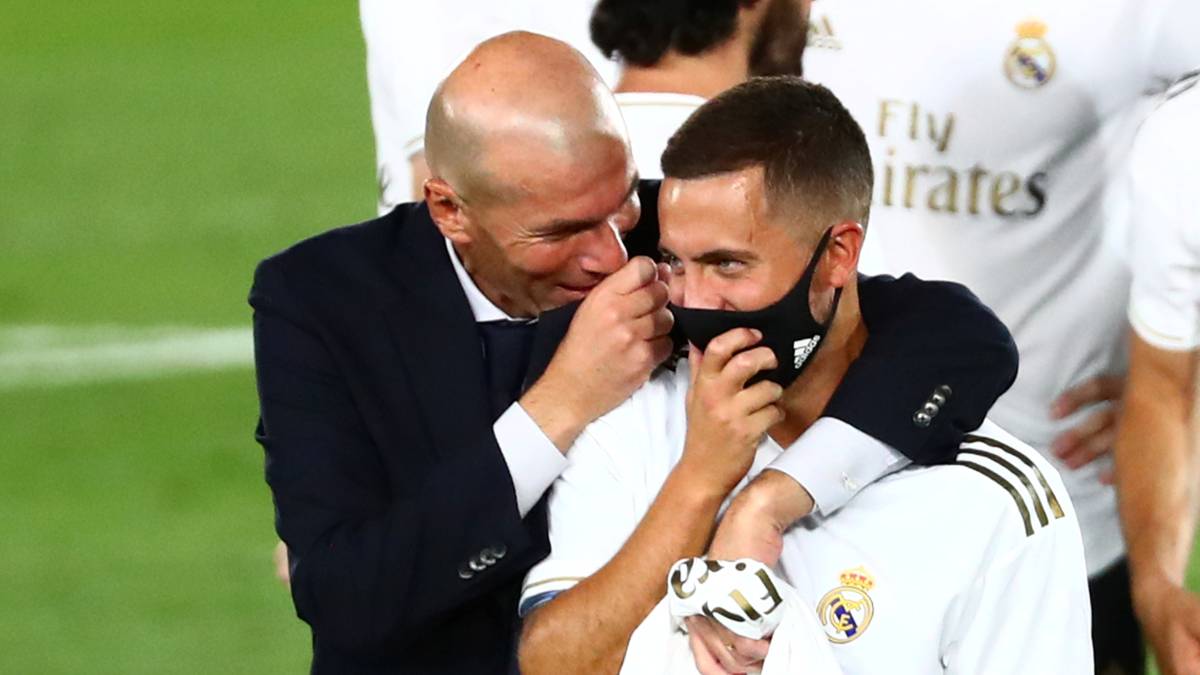 Eden Hazard joined the Real Madrid preseason yesterday after the national team break, in which he went with Belgium as he always does. Not only is he their flagship player, he is also the captain of the team led by Roberto Martínez. And as the leader of the dressing room, he was called up by Belgium for the two matches of the Nations Cup, as he stayed on the bench in the two matches against Denmark (0-2) and Iceland (5-1) . In this stoppage of national teams, which has coincided with the start of the Real Madrid preseason, Hazard's presence with his country so as not to participate for a minute has caused discomfort, understanding that he has delayed his set-up. That set-up with Madrid started yesterday and now Hazard is in the hands of Zidane, who must decide how to get the Belgian to reach his zenith: by playing or by training.
Roberto Martínez already warned: "Hazard is not at 100% yet, he is not in top form. He needs a rhythm of matches ". The coach did comment that the Belgian is medically full, but that is not the case at all: Hazard's first training session with Madrid in the 2020-21 season consisted of a physiotherapy and gym session to strengthen his right ankle, from which he He was injured twice last year to the point of needing surgery to change a poorly sealed titanium plate as a result of an operation during his time at Chelsea.
Madrid makes its official debut in the 2020-21 academic year on Sunday, September 20 at Anoeta, against Real Sociedad. With less than ten days to go, Hazard is unlikely to arrive at the meeting in optimal condition. Roberto Martínez considers that the Madridista needs between 45 and 60 days of training to reach that point, a long time in which Zidane must study how to face his case.
Last year, the Frenchman had it clear: that Hazard finds the way playing. The Belgian started the course with a muscle injury, but as soon as he overcame it, he was a regular in the eleven until PSG's visit to the Bernabéu, in which he suffered the first of the two serious injuries that his first year at Madrid gave him. The question this year is that Hazard starts with a much more experienced and empathetic squad, especially in the eyes of Zidane. Last year it was a matter of finding a companion for Benzema and Bale (who started the course as a starter, but later fell out of favor); now Hazard has to compete with Vinicius, Rodrygo, Asensio ...
Together with Hazard he was in the gym Bale, who started his work last Wednesday after being concentrated with Wales, with whom he did play a good handful of minutes: 135 'between the two meetings of the team that Giggs directs. The Welshman arrived claiming a blow to his right knee and he has been training inside the Valdebebas facilities for two days, also waiting for the situation to clear up for him.
From Wales he sent a message to Madrid about his future: "It is in the hands of the club. But he's making it very difficult ... ". In England it is already reported that Madrid is willing to pay a part of its card (14.5 million euros clean per season) in order to find a team in the Premier. An idea that does not displease at all to another Briton who wore the white jersey like Steve McManaman: "I hope Bale can return to the Premier and be a top player. He has suffered various injuries, in recent years he has not played much, but he should be fine. I don't know if he can leave the club, if Madrid wants to be paid for the transfer. But he has to play football, at Madrid or at another club. In England they want him to play and they would like him to return to the Premier . If it's not at Madrid, you should try another club ".
Photos from as.com