"We have to be proud, but that red flag ..."
Carlos Sainz, second in Italy on a podium that knows little: "Who would have thought we could end up disappointed with this position.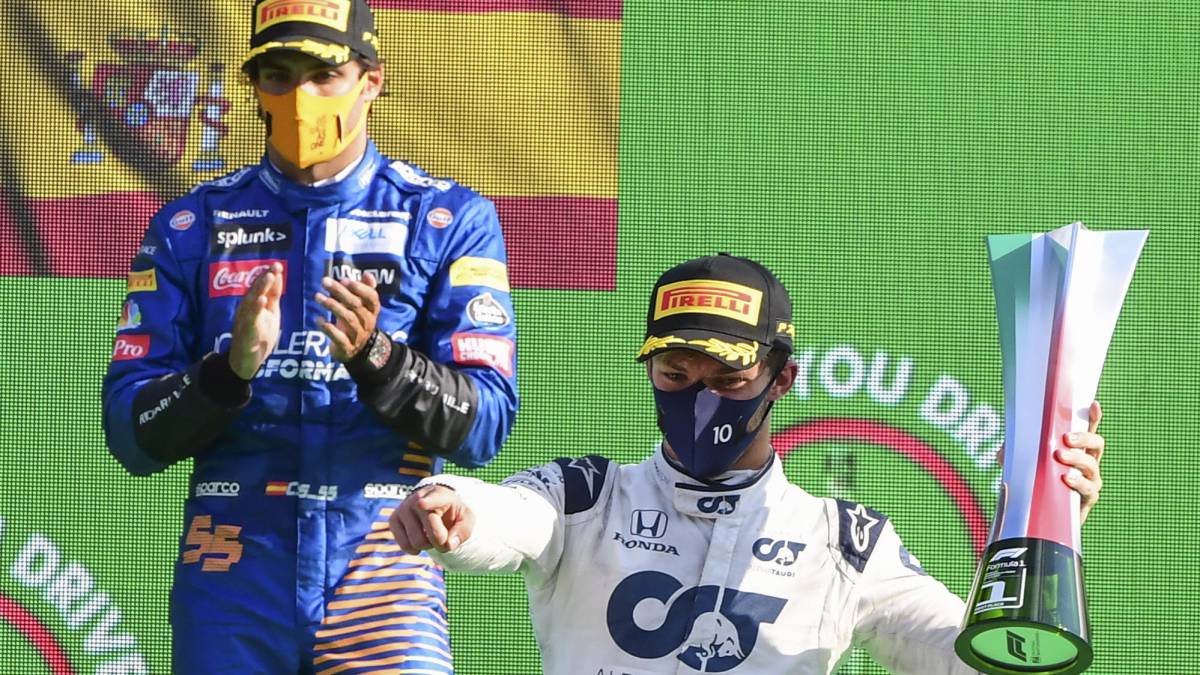 Carlos Sainz ascended for the first time, properly speaking, on the Formula 1 podium with second place at the Italian GP. In Brazil 2019 he missed it, because he arrived two hours after the race due to suspension against Hamilton. This time he was able to celebrate with champagne and with Gasly and Stroll.
-Sure second place is nice, but ...
-Who would have thought you could end up a bit disappointed with second place. But I had the opportunity to fight for the victory, we were very close. I think in a normal race I would have been second, behind Hamilton, we had a very good pace. But of course. We were unlucky with the safety car but then we did a good job recovering after the red flag. I'm very happy with the position, we were very fast throughout the weekend and I have to be happy.
-The McLaren had a lot of pace.
-Come back from sixth to second, and then chase Pierre and managing to finish three or four tenths. We have to be proud of that. The red flag ... I think it would have finished just as well behind Lewis.
-How were the last laps?
-It is difficult to explain everything that was happening, but since I started to get close to Pierre my only goal was to reach the DRS distance. We had been very strong this weekend on the straights, the only thing I hadn't done was take a slipstream because I know our car doesn't work well under those circumstances. As soon as I stayed at 1.5, the car felt like this, unstable, I suffered behind Pierre. The last lap and a half I saw small errors and I stayed within four tenths. It would have given me a great try if the race lasted one more lap, but he did a great defense and I know I didn't keep anything.
-What went through your head with the red flag?
-A roller coaster of emotions. Very disappointed at first, I was enraged because I kept thinking about the bad luck of this season and I imagined the highlight with used tires. At most I saw myself fighting for the podium, but victory, knowing how fast Pierre and Lance were, seemed difficult to me then. I focused, I tried to catch up with them, I had a good battle with Lance although then with the medium tire I was not so good.
-With tifosi, this podium would have been crazy.
-If there had been tifosi I would have ended up very happy and proud. That makes me excited for the future, although it's a shame it wasn't down there. I am excited, of course, I am looking forward to that future and I hope it will be my first podium at Monza, but not my last. That many more arrive with Ferrari, I am looking forward to them and I cannot even imagine what it would have been like to go out there with 100,000 people on the straight. We got on the podium in the best race of the season and there is no one out there to see it… (laughs) .
Photos from as.com