Hamilton escapes unscathed from Mugello butcher shop
Chaotic Tuscan GP with dangerous accidents, two red flags and three starts. Bottas was second, Albon third and Sainz abandoned at the start.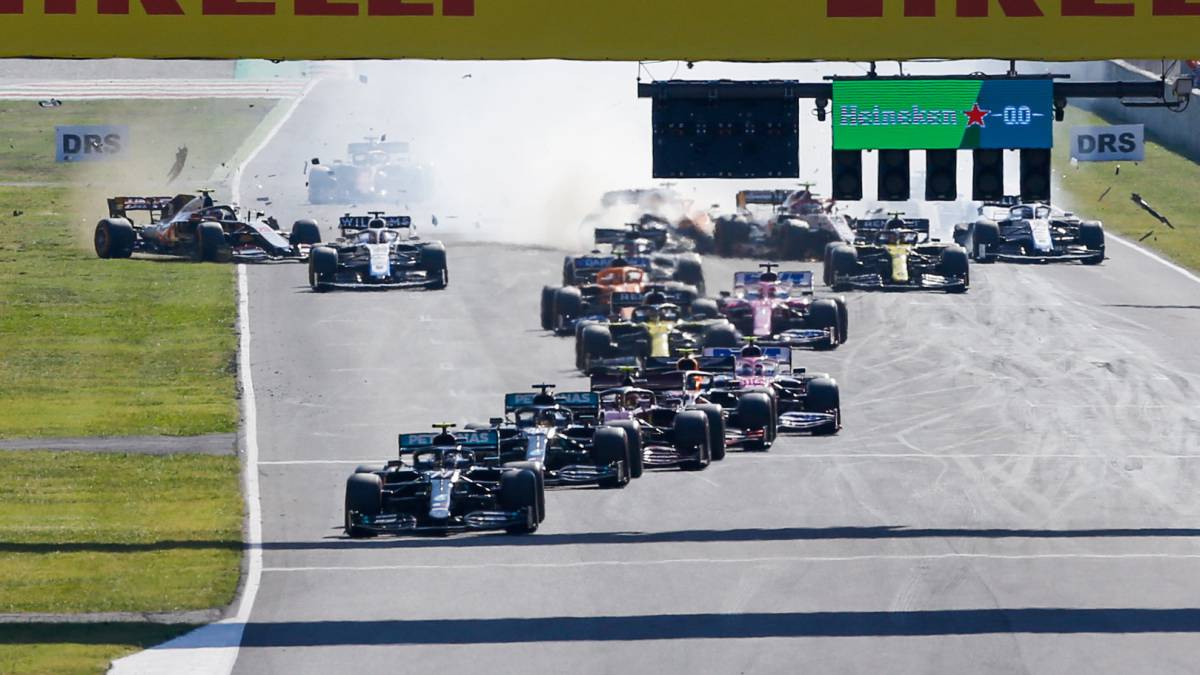 Sunday of the Brave in Mugello. Courage is presupposed in a Formula 1 driver, but after two red flags, three starts on the grid in the same race and seven cars ready for scrapping, putting up a hard foot on such a dangerous circuit is only within reach of the chosen ones. Hamilton made it out of the Tuscan butcher shop unscathed, though it wasn't a walk for him. There are victories and victories for Lewis, in some he is boring, in others he shows the champion that he is, and this time in Italy at least he had to regain his position against Bottas with the brakes burning and resist in the face of an uncertainty to which he is not used. He was followed on the podium by his teammate, unable to do more, and Albon, third with Red Bull. Sainz experienced the other side of racing and left after a chilling accident shortly after starting.
By order. At the official start, Bottas easily overtook Lewis. Verstappen was stuck because his engine did not work, they all passed him; and Leclerc fired up the stands by jumping from fifth to third. Sainz's great start from ninth to beat Ricciardo and Pérez in a spectacular parallel until attacking Stroll for fourth place, second corner, he spun after a light touch with Racing Point that would later pay dearly. Behind them, a carom between Gasly, Verstappen, Raikkonen and Grosjean sent the first two to the gravel and called the safety car. There was work for the red Mercedes.
The danger came when the race was relaunched, lap 6: Bottas slowed down the peloton so much until they reached the finish line that with so many cars in so little space, only the worst could happen: some warming up tires, others treading hard, and Giovinazzi stopped dead. Magnussen and Latifi ate it up and Sainz also crashed from behind. The four cars touched at high speed and were left for scrapping. The Madrilenian, to the garage with bruises on his wrist, but nothing important. Red flag and start over from the grid. On fire, second start
At the second start, lap 9, Hamilton arrived with the brakes on fire, literally, and even that did not prevent him from regaining the lead over a tame Bottas in the braking of San Donato. When he is behind he tries little and when he is in front, he defends badly. Against such a dominant car, only a Senna-Prost pair can make the championship fight exciting. Then began a new 50-lap race with seven drivers out of competition (Ocon joined due to breakdown) and the Mercedes escaping. Leclerc honorably defended third place (he got a standing ovation at the start), but his Ferrari is so poor that he was overtaken, one by one, by everyone who walked around. Stroll emerged as the leader of the second group, chased by Ricciardo and Albon, until Renault clearly identified the moment to change tires and overtook the Canadian from the pit lane for third place. The podium was deserved.
Stroll to the wall and final sprint
It seemed that the positions were consolidated, but there was still more. On lap 45, Stroll lost control of his Racing Point at Arrabiatta, at very high speed and probably due to a puncture, and smashed the car against the crash bars. No damage to the rider, with fire in the fairing, second red flag and ... third start from the Mugello grid.
After three consecutive races, hardly anyone is ready for three consecutive starts. Ricciardo did: he overtook Bottas, he placed second behind Hamilton, and made Renault dream for a moment. Too bad the tires fell apart in front of the big cars, because the Finn gave it back fast and so did Albon, brave with Red Bull, on his way to his first F1 podium. Valtteri was chasing Lewis with fast-lap attempts, but finished five seconds behind. Hamilton overcame circumstances and danger to add his 90th GP.
Behind, Ricciardo's fourth final, Pérez fifth, Norris sixth and Kvyat seventh. Leclerc finished eighth, a big prize for that car, and Raikkonen ninth, ahead of Vettel, despite the horrible stops of Alfa Romeo. He ran out of his first points Russell, eleventh with Williams, and Grosjean. But in a grand prix that only finished 12 cars, the present applause from the stands is justified for all.

Photos from as.com