Giannis did not serve as defender of the year and is bothered by being reminded of it
A question from a journalist after the defeat in the first game against Miami did not sit well with the Greek. The defense over Butler, in the middle of the thick.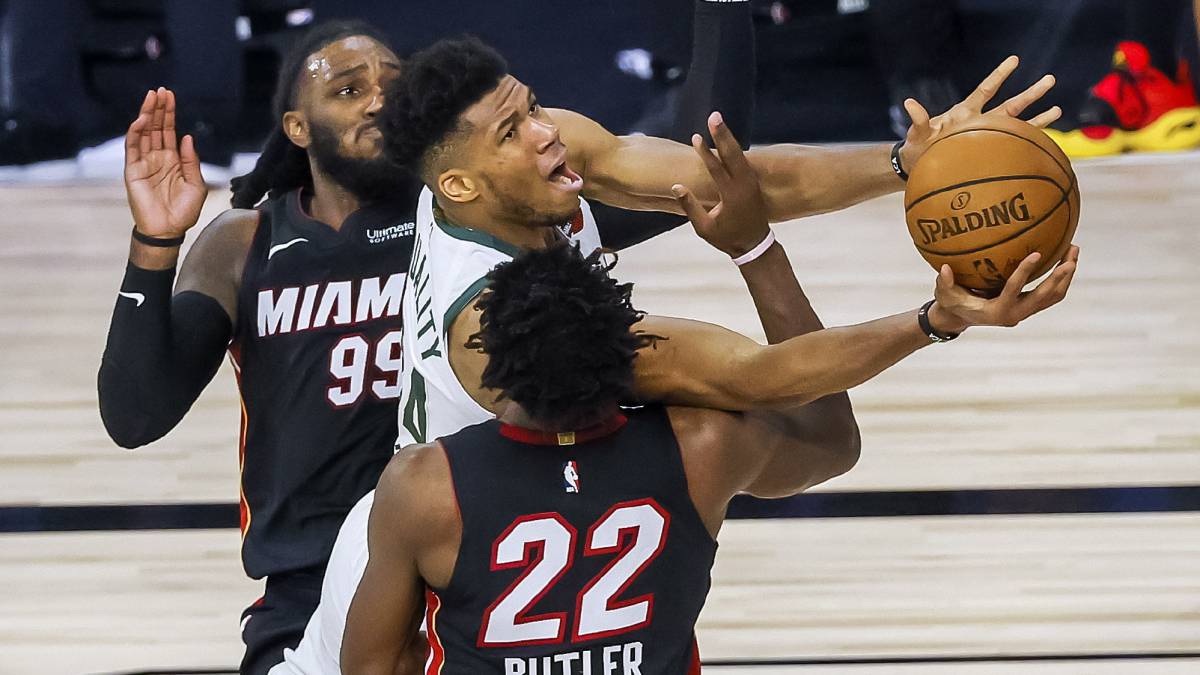 Tonight Milwaukee Bucks and Miami Heat play the second game of their conference semifinal. The first was for Florida, who surprised the leaders of the regular league by deactivating the rival star in attack (Giannis stayed at 18 points in 37 minutes, shooting only 12 times to basket) and with a spectacular Jimmy Butler. The Heat star went to 40 points, his personal best in a playoff game, becoming the third player in the franchise to reach that number after Dwyane Wade and LeBron James.
Butler, who played the entire match at a high level, was especially inspired in the fourth quarter, when he scored 14 of his 40 goals. The forward scored one after the other every time he threw to the basket in the moments in which the duel was being decided and he was, without a doubt, the MVP of the night. Another MVP, Antetokounmpo, but in this case the one from last season, did not once defend Butler. That situation caused a journalist to ask the Greek in the subsequent press conference if he had spoken with his coach, Mike Budenholzer, about the possibility of making a change in defense that would match him with his rival. Anteto did not like the question too much and replied to the journalist who did not understand why he was asking it: "Defend him? I have not asked. Why would you ask that? I do what my coach asks me to do" .
Was the journalist's question so rare? The truth is that no. Let's remember that Giannis was just named best defender of the year. When you have the best defender of the year in your team and in front of you there is an opponent who does not stop putting them in, it is quite logical to think about matching them to try to cut the streak. And although it is true that in principle it should be the coach who makes these tactical decisions, there are times when players of Anteto's relevance can suggest changes on the fly. The other day was one of those situations and the Greek, MVP last year, more than likely MVP also this and defender of the year, did not live up to his resume.
It wouldn't be strange if Butler continues to score in the same way tonight we see Giannis defend him on more than one occasion. His defensive ability is proven and his extra inches compared to the Heat player and his size would complicate Butler's offensive work. And in the playoffs, any victory or defeat can be decisive.
Photos from as.com