Gasly and the poisoned Red Bull
The Frenchman responds with a victory to his relegation a year ago. The mirror for him is Sainz, who succeeded outside the energy program.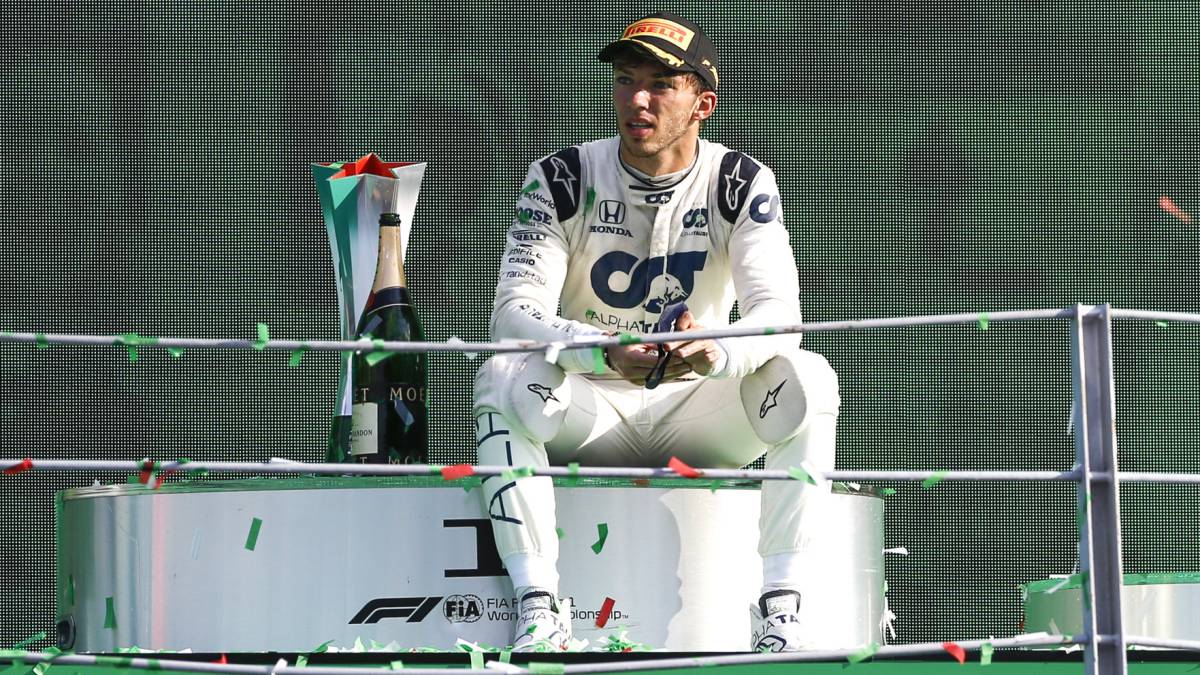 The postcard of Pierre Gasly sitting on the podium at Monza, smiling alone, mentally listing everything that has happened to him in recent months, illustrates well the cataract of emotions that can drag you down in Formula 1. He had a winning car in 2019 , Red Bull, but they fell because he did not achieve the expected results. He returned to Toro Rosso and it was inevitable to think that the train to success had already eluded him. On the contrary: in Brazil 2019 he made an incredible podium, he was second holding Hamilton to the finish line behind him, and in Italy 2020 he achieved the first victory for French motorsport since 1996.
At 24 years old, the Rouen rider is one of the most promising in this paddock, he belongs to that list of young talents who must give a show sooner rather than later, such as Verstappen, Leclerc, Sainz, Norris or Ocon. His first F1 campaign, 2018, was successful (he was fourth in Bahrain) and that is why Red Bull opted for him to accompany Max. It is true that in the first team he disappointed, always far from his teammate, and the trigger for his descent was a Hungarian GP in which he was not able to overtake the inferior McLaren, after spending the entire race chasing. It is just as true that Albon, his relief, has not improved Gasly's numbers at all. And while Pierre has regained his best level and has climbed to two podiums, the Thai has not made better use of his opportunities.
Helmut Marko, the architect of that decision, is not one of those who rectifies in any way and wants a guaranteed driver in his second team because sooner or later they hope to get a Japanese novice. Christian Horner, head of the Milton Keynes team, stressed a few days ago that Gasly is doing well in Faenza. Lewis Hamilton, champion and benchmark of this grid, left another message after the race: "Pierre is a great guy and has a lot of talent. They didn't treat him well when he was relegated. Build confidence in a team that is not necessarily that fast, and Having this kind of performance is not easy at all. I am impressed. He deserves the success and I hope he can progress. He beat the team that was relegated to him… ". They have a good relationship, in fact they have played a few games of Call of Duty together in recent times.
With a win that emulates Vettel at Monza 2008, Toro Rosso's only win so far, Gasly earns a comeback at Red Bull. But does he want to? "I think I'm ready, but it's not up to me to make that decision," he says. Paddock sources who know the protagonist well do not advise him and the mirror is Carlos Sainz, another driver who skirted the stalemate in the energy drink drivers program and had to bet himself outside, at Renault and McLaren, with successes that They will take him to Ferrari in 2021. Interestingly, Sainz and Gasly have coincided on the same podiums so far. There aren't many opportunities on the current grid, but Red Bull's second wheel is not as coveted as a race-winning car might brag about. There is a lot of turbulence around that car…
Photos from as.com