Garbajosa: "We want to be the best federation in the world"
The former player, who made his debut as FEB president in 2016, was re-elected this Monday. He will continue to lead the Federation until 2024.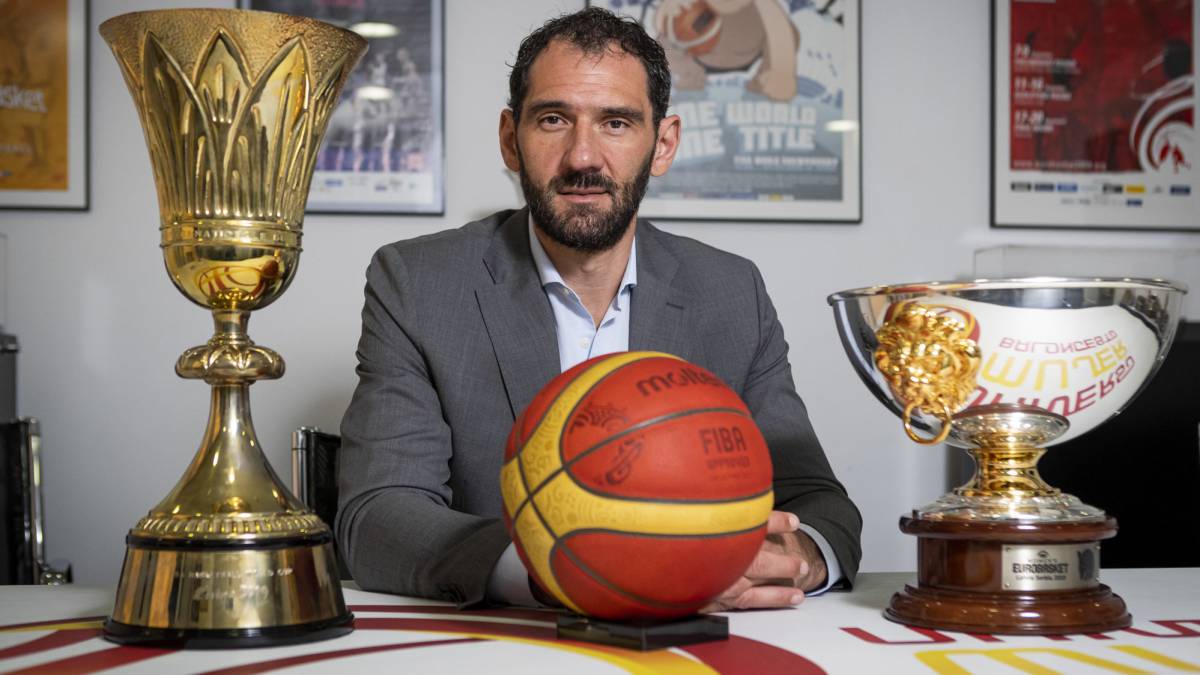 Jorge Garbajosa (12-19-1977, Torrejón de Ardoz) was re-elected president of the FEB on Monday. On Thursday he received this medium in his office to discuss his next four years in office.
In the last interview with AS, on the fourth anniversary of his election, he took a retrospective trip to his first term. What do you expect from these four?
Look, running for reelection sounds something like: "I've been there four years; things have gone well, so I'm continuing." But I didn't want it to be like that, I wanted to feel excited. This summer I decided to reflect for 24 to 48 hours with my family. I just wanted to continue if I was excited about the future. Talking about illusion, with which it is falling, can sound even frivolous. But I am excited about Spanish basketball in the next four years. And my effort is being to transmit this illusion to my team. Caution fits me, but pessimism doesn't fit.
Have you thought about leaving?
It is not that; I just needed to know why I was showing up. Sometimes they put a rail on you, you are a train and ..., many times you wonder if this new challenge has a reason. I needed to know what I wanted to do in the next four years.
66 votes in favor and only six blank. Have you done very well or have you been scared?
I can instill many things, maybe because of my appearance (laughs), but because of the way I am ... I don't think it's fear. What we have respected, I think, is the discrepancy. And we have even benefited from it. Loyal discrepancy makes you learn, and work. And get better. We have given everyone a loudspeaker. Having the support of 92% of assembly members who have expressly traveled to Madrid with what this community lives is appreciated. I am proud of the economic and sporting successes. But above all I am proud to be in front of the assembly members and to thank Antonio Martín, the referees, the coaches' college ... 444 444
Industries are transformed in these days of pandemic. How are you going to transform Spanish basketball?
Sports have a virtue or a defect: we need to play. At the beginning of everything, we said to play without an audience ... But the other option is not to play. And we all want to play. First, because we cannot disappear from people's lives. We see it with the audiences. We're overhearing, and I'm making up a word. Because people want to consume sports and you have to give them access, even with visualizations. Thanks to our communication and marketing departments, and to the help of the players, we have succeeded.
In the ACB, included within professional sports by the Government, it does not enter the public. In amateur sports, yes. What is the position of the FEB?
The main criterion is health, the athletes and the fans. It is non-negotiable. We would like there to be an audience on the courts, but the authorities are in charge. There has also been controversy over professionalism. Of course, a female Endesa League player or a LEB Oro player is a professional! But here the line is marked by the autonomous communities. We would like there to be a common denominator, but the country is structured like this.
A few months ago I was aiming for an 11-12% increase in tokens. Is it possible in this context?
People want to play basketball and we want to grow, but we need a pull effect. For this reason, one of the keys for the next four years will be, on the occasion of the centenary of the FEB in 2023, a calendar of major events beyond ordinary activity. Every time we have organized a big event, the licenses have gone up. In 2018 with the Tenerife World Cup, 20,000 more girls played basketball. The ambitious but real goal is for the FEB to be the best basketball federation in the world by 2023.
Does the COVID-19 era advise reducing competitions or even increasing them, as in women's basketball, to three national divisions? 444 444
Very few dates ago, two measures were approved in a delegated commission: one, the expansion for 2021 to three divisions; and another to expand Women's League 2 to 42 teams. There are those who had their reluctance ... and teams have been left out. It is an indicative. Ambition calls for ambition. We will make mistakes, but what I will not allow is immobility.
The FEB's economic working capital was positive in March. Is the situation still optimal? 444 444
If this pandemic had come to us in 2018, we would be talking about a more complicated situation. We have been able to undertake the Women's Super Cup, make an agreement with doctors from all over Spain, buy PCR throughout the country ... We are talking about 3,500 games. Efforts can be made to protect the health of athletes. And large projects can be undertaken, such as the women's Eurobasket 2021. Without that economic credibility, it would be impossible.
Three institutional questions. The first. Is the FEB better positioned than ever in FIBA?
I can only have words of thanks to FIBA. We feel represented. It is not a question of hoarding power and armchairs, but of being where decisions are made to help. I feel respected. The managers who are in the respective committees feel respected.
Second. Is the relationship with the ACB the best in years? 444 444
The relationship is extremely good. We are going to have disparity of opinions but I said it before the Assembly the other day. I thanked its president, Antonio Martín, for the open-mindedness to know that if the FEB goes well, the ACB will also go. And vice versa. And I have the belief that Antonio Martín and I see the future in the same way.
Third. The incompatibility of schedules with the Euroleague continues. Do you consider it impossible?
I have spent a lot of time in the Euroleague. I think it is time to think about our problems and our future. National team basketball is the great engine in the world. The stronger our ACB or our women's Endesa League, or our LEB and our League 2, the better our national teams will be.
Is a FIBA-Euroleague rapprochement possible in this crisis situation or is it impossible because of your knowledge?
There is always time to get closer. What is a certainty is that I feel very proud to belong to an institution that sets off a bubble in Windows to protect the health of athletes, or to organize a Basketball Champions League Final Eight ..., for me it is the important thing. FIBA is setting a tremendous example of modernity.
The renovation of Scariolo was left pending ...
You are on the right track in the sense that the relationship is extremely fluid. I have been in contact with Sergio during the playoffs. When he has won I have congratulated him; when he has lost I have commanded him; he wrote to me when I was re-elected. Sergio's desire to follow is obvious. He has said it publicly and he has told me privately. Mine that follow, and the board of the FEB, are also obvious. What you have to see is that he has a contract with an NBA franchise; that there are calendars in Europe. We have adjusted everything, but that does not add up saying we are going to sign and see how it is fixed. Everything has to be left square so that later the relationship is just as fluid.
Is the offer still four years?
Yes. Both for Sergio and Lucas Mondelo.
Forgive the question at the contractual level ... Is Scariolo's contract expired?
It is expired. I was unable to sign contracts beyond my term and my term ended on September 7. If finally, as I would like, Sergio continues to be the Spanish coach for the next four years, there will be no problem. By law, no president can sign contracts beyond his legislature. The contract ended, another begins, and it is an issue that needs to be resolved.
Taking into account that there are Windows in November, it is an issue to be solved now.
Without a doubt, it must be solved. And even if it was not, it would still be done as soon as possible.
There is no interview in which Pau Gasol does not appear, but this time we will start with Marc. Do you believe the rumors that he may return to Europe are well founded, would you like to, or is the FEB not your concern?
The only preference I have with Marc is to see him happy. I say it from my heart. The happier you are, the better your performance. The decision I make will be fine with me. First, I am not the one to have an opinion. And second, if I was someone, I'd say anything is fine with me. There are familiar themes. I know that in Toronto, on a personal and family level, I was happy. Then there are things that change.
You play more, you play less ...
That ..., the family, children. Marc not only plays basketball, he undertakes projects in basketball. I don't know if the rumor is real but I want it to be happy.
Pau is, without a doubt. He has been a father. But do we know if he is healthy to return?
I gave Pau the only advice when he told me he was going to be a father. I told him to take advantage of it to sleep because those of us who already are know that you miss him ... I see him happy, responsible. Keep working, but we talked about it before the Games. He has one more year to recover. You have to let him work. He has other concerns in other areas, but he continues to train and work.
The last two. What is going to be invented to surprise at the 2021 women's Eurobasket in Valencia? Because the Tenerife thing was a success. And in Valencia the conditions are, but the current situation makes it difficult.
Without going into detail, and I want to be well understood by the degree of sensitivity that there is now, I want it to be like a men's Eurobasket. At the level of organization, promotion, hotels, facilities, media. Really and finally. With the investment they deserve. For me, and I don't know if I'm going overboard, above winning the gold, I would like to see a pavilion, a Fonteta, filled to the brim. I want to see people overturned, involved, living women's basketball.
When he was elected president for the first time, he said: "I had been preparing to be president for 25 years and I had not realized it." Now that you've been in for four years, are you willing to be president 25? 444 444
Now I have 29 to be re-elected (laughs). No, I have no intention of staying in office forever. My closest people know. But I'm not going to fool myself. I have the feeling that we have lacked time these first four years and I am very lucky that they have given me another four to continue.

Photos from as.com