From Malone and Stockton to Gobert and Mitchell: What's Happening in Utah?
The Jazz continue to live off their past as they decide what to do after a year of fighting between Mitchell and Gobert and doubts about the future of the project.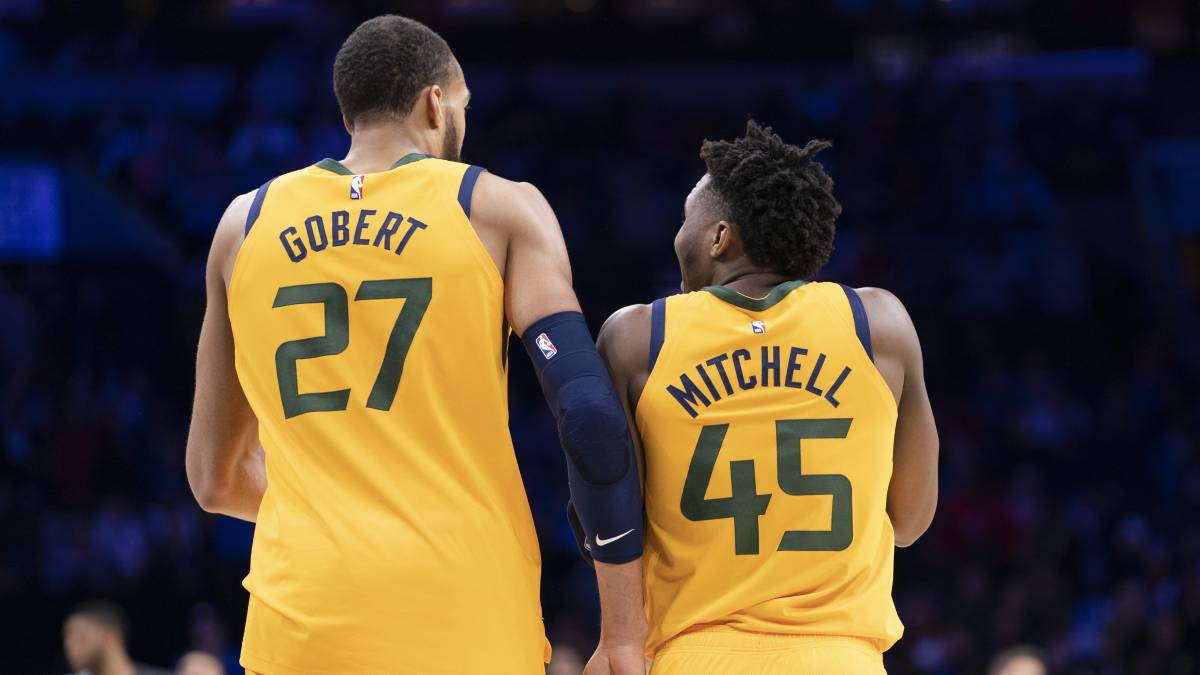 What started as a promising project is now a possibility whose ceiling is unknown, both sportingly and temporarily speaking. Because at the moment, it is obvious that the Jazz are far from being an aspirant, and it could well be early for it ... but what happens in the next two years may mark the future of a team that expected to make a qualitative leap with the signings of Mike Conley and Bojan Bogdanovic but has stayed in the same place as last year. And although the defeat has been in seven games by five that the Rockets needed to eliminate them in 2019, seeing how they come back from 3-1, something that has only happened 11 more times in history, leaves a flavor that goes from being bittersweet to being, entirely, sour. The kind that hurts to swallow and also knowing, or at least having a rough idea, that the sensations that the season had left you indicated that a victory against the Clippers in the semifinals would have been really unexpected, and that the real possibilities of becoming in a true aspirant they would have to wait at least one more time.
However, the seasons continue to pass and it does not seem that the Jazz have finished overcoming that past that marks them so much, the one that put them on the map and made them one of the most famous franchises of the 90s. John Stockton and Karl Malone still weigh heavily on an institution that still mourns the retirement, and now the passing, of a Jerry Sloan who left in 2011 and left a difficult void to fill, leaving Salt Lake City without that connection to the past that it has never wanted lose and without a clear plan for the future. Something that changed with the arrival of Quin Snyder but that now moves in tumultuous waters, without knowing very well what to do with the pieces that we have and how to manage the next years of a project that will enter its intermediate phase, which should be also mature. The one in which it is shown if you have taken the correct steps to become an applicant or if you have to settle for a gap in the playoffs, having good regular seasons but in no man's land and with limits that can at best (a lot) you lead to a Western final that is already difficult to enter.
One thing is for sure, Jazz fans are patient and loyal, and little given to swings. They give their hearts to a project and can't bear to live in the uncertainty, the kind they had after Sloan's departure and before Snyder's arrival. Karl Malone spent 12 seasons in the NBA before reaching the Finals, with almost 34 years. With 35 Stockton did it; and until 2003, the two were in the franchise. A small market in a Mormon city, away from the Hollywood spotlight and the idiosyncrasies and paraphernalia that surrounds the best League in the world, is happy to have a special connection with its players and feel them as part of its community. That's why they never over-demanded Stockton and Malone, and they remained one of the loudest hobbies in the competition even in retirement, with Sloan and her habit of collecting tractors as the watchword of a city that understands basketball and suffers from a enormous transformation when it arrives at the Delta Center and they become noise and screams, something inversely proportional to what the city represents itself.
You have to wonder if today's public has the same connection with their players as they did in the past. The tradition has been followed in the franchise by always betting on the same project, as was done with Deron Williams and Carlos Boozer until the situation between the point guard and Sloan became untenable and the technician ended up leaving months before the one who was his pupil. Tyronne Corbin was also tried on the bench until a playoff appearance in four years prompted a forced trade and the arrival of Snyder. And now they are trying with Mitchell and Gobert, an association that could bear fruit and to which a directive led by Dennis Lindsey has taken hold, knowing that in that market it is better to develop what one has to wait for a free agent than it will not come except a supreme miracle.
Continuity or change?
The Jazz are at a point where they have to ask themselves what direction they should take. In Snyder's sixth year on the bench, the project has gone from a good progression to relative stagnation. At the end of the day they are in a good position, established in playoff positions and with wickers that invite optimism, their two stars have gone to the All Star this year, they are always between 45 and 50 victories and have twice reached the semifinals of a Western Conference as tough as ever. And with a young team that suffered and recovered from the loss of Gordon Hayward before discovering the potential of a Mitchell who has become the jewel in the franchise's crown, and a potential star who with only 23 years in the player who has scored the most points in a first round of the playoffs in history or the player who has made the most triples in any series of the final phase of all time.Now, Mitchell ends his rookie contract in 2021, and he will surely ask for the maximum to renew, something that they will have to offer him as soon as possible if they do not want his exit to free agency to take effect. The problem then, is not the hypothetical offer that the Jazz are going to make to Mitchell, but what to do with the rest of the team. It is no longer an eminently young project, and the players with the greatest prominence are not old enough to do a long-term project and wait for it to bear fruit. Joe Ingles is leaving at 32 and has nearly $ 37 million outstanding through 2022 (including this season); Conley, also with 32, ends his contract in 2021, although he has the possibility of leaving before him (early termination option), something unlikely. And Bogdanovic has 73 million guaranteed until 2023, so he will end his current contractual relationship with the Mormon franchise with 34 years.
All this creates a series of questions that will be answered in the last year, but the greatest of them still remains: Rudy Gobert. His relationship with Mitchell is tense and was on the verge of breaking down due to the coronavirus, from which both were infected. The whole team got angry with the pivot and then mediated so that the situation was resolved, and it seems that things have improved in the bubble ... but nobody knows if this will be permanent. The Frenchman is no longer that promising young man who reached the best league in the world at the age of 21, but someone who is reaching maturity and who will be 29 when his current contract ends next summer. He will charge a little more than 25 million this year and 26 the next, and it is presumably that he will ask for a maximum or almost when this is over. This leaves Utah in a compromising position, beyond the salary cap. Relationships being tense, he could transfer him before the contract ends and try to get something for him or negotiate for him to continue with the Jazz and continue the project with him. All of this, assuming Mitchell continues.
This leaves the Jazz in an interesting dilemma, who will have to decide what project to do in the coming months. A priori, this year's signings were to seek a leap that has not been made (they are where last year but with better players) and now it's time to think about what to do (Clarkson, one of his best news, is a free agent). to the future. If they keep Mitchell, the ideal would be to transfer one of their current stars looking for interesting troops to surround the player or another star to complement him ... something difficult. It could also be transferred to Gobert himself, much liked by a Snyder who ignores his lack of fundamentals and takes advantage of his spectacular physique to make him indispensable in his system. Or you could continue betting on both, taking into account that Gobert still may have five years of great level left and that he has just been an All Star. But for those over thirty (Conley, Ingles, Bogdanovic) we would have to find a way out , not only to reinforce the template, but also to free up space and be able to offer Mitchell the most.
Many unknowns for the future in a project with a sports ceiling difficult to predict (Bogdanovic has not been in the bubble and the season has been essentially irregular, which is not bad) and with important decisions to be made between now and 2021, for which not so much left. Royce O'Neale (2024), Bogdanovic (2023) and Joe Ingles (2022) are the only ones who do not finish a contract within a year or less. And Mitchell will continue to be, barring a major surprise, the cornerstone of the project. And so ... what should the Jazz do?
Photos from as.com