From a caravan to the All Star: Adebayo is the soul of the Heat
He has debuted as an all star in the course of his total explosion: "I wouldn't be here if I had an easier life, the trailer made me who I am now."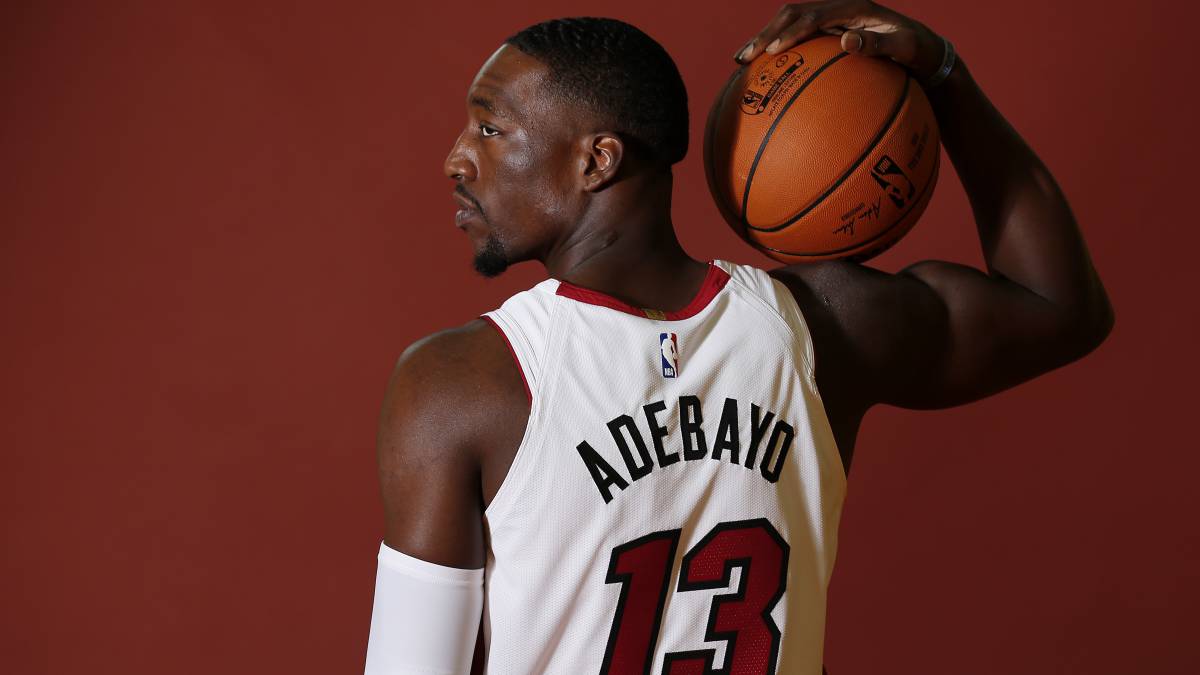 Miami Heat is three victories away from the NBA Finals, the ones they played four times in the four years of LeBron James (2011-14) and the ones that haven't been around since. In fact, they are finalists in the East (for now, at least) after not playing the playoffs and coming in at 47% wins last season (39-43). With Pat Riley as the constant top of the pyramid, and as a figure from which a perpetually winning aura emanates, and especially with the extraordinary Erik Spoelstra in the dock, the South Florida franchise has maintained its project concept and its idea of culture also when they have been badly given. It's not that they haven't made mistakes, everyone does and in their case they gave Hassan Whiteside, Tyler Johnson, James Johnson or Dion Waiters horrible contracts; is that in Miami they have preferred to maneuver in respectability and continue competing without abandoning themselves to tanking and promises of the future. A plan that is usually better; and that it is, of course and at the very least, healthier.
After their tremendous run through the bubble playoffs, the Miami Heat's emergence into the competitive foreground ahead of schedule is public knowledge. The transfer by Jimmy Butler, happy in an ecosystem like Spoelstra's (very few players are not); the presence of veterans like Goran Dragic, the ambition to go for Iguodala (whatever gasoline is left ...) and, of course, a young block that is already perfectly prepared for the great competitive scene. And if not, ask the Bucks or Celtics from the first game of the final. A lot, moreover, that has not needed wild tankings and prayers to fall to the top 3 of any draft: Tyler Herro was number 13 in the last draft, and a year before, no one chose Kendrick Nunn and Duncan Robinson. The first was a great talent who was questioned for his extra-sporting and behavioral problems, including a case of domestic violence. The second is a player who nobody counted on in the elite and who is right now the best shooter of three in the NBA (at least in this season of hiatus of Stephen Curry and Klay Thompson): almost 45% shooting more than eight per game.
Bam Adebayo, the new heart of the franchise
And, of course, in the 2017 draft the Heat chose Bam Adebayo with number 14. If Herro is on his way to being a scorer of highlights and posters, a more conventional star, Adebayo is the mainstay essential on which these new Heat are based, even more (by philosophy) than Jimmy Butler. And he is one of those new stars that the current NBA creates and needs, that of the revolution of the triple and the spaces and advanced statistics. He is, although it seems paradoxical, an old school character, a competitive and proud player who is 23 years old and showed that he was going to be the starting center of the Heat for many years, although he measures 2.06, as soon as the team was removed from in the middle the useless 213 centimeters of Whiteside.
Dwyane Wade, the great player in the history of the Heat, has asked Adebayo to surpass his marks and match his mark on the franchise. He, who has seen in the first person what type of player and partner the pivot is, passed the torch to him and challenges him with bets on his statistics such as those that he and Udonis Haslem, then-assistant Bob McAdoo, when they both gave their first steps in the league. Adebayo has responded to the challenge: he has gone from 8.9 points, 7.3 rebounds, 2.2 assists and 0.8 blocks in his second season to 15.9, 10.2, 5.1 and 1.3 in the third, in which he was second in the Most Improved Player award (behind Brandon Ingram) and fifth in the Defender of the Year vote (and a member of the Second Defensive Quintet). And in which, above all, he has been elected All Star for the first time.
Adebayo is an exceptional defender, with a physique and motor to work tirelessly and protect the rim and, this is essential, the ability to take care of any player, from point guard to rival center. An unpayable value in today's NBA. But he is also already a fundamental player in the attack of his team, which leaves many plays in the hands of his instinct as a playmaker. He is not one of the main scorers or the great generator, but the transit of the ball through him is key to making Spoelstra's attack flexible, modern and extremely dangerous, who opted to release the best version of Adebayo, a center with a soul of point guard, letting him rack up silly losses and mistakes in his second NBA season. Little by little, I was forging a new player, one whose evolution has been visible week by week for the last few months.
The unstoppable rise of the playmaker pivot
Due to his profile, both in attack and defense, it is impossible not to associate Adebayo with Draymond Green and the revolution that his irruption in the Warriors brought about, especially when Steve Kerr placed him as a center in a small ball that, not by chance, it ended up being called the quintet of death. Furthermore, its significance in the game (obvious in these playoffs) is one more demonstration of the rise of a new interior player, one who has transcended the stretch (the power forward or center who opened to shoot three): the point forward or point center, the interiors capable of being game creators, facilitators. There are obvious cases for their very visible virtues as passers: Marc Gasol, who closed the puzzle of some Raptors ultimately champions, and especially Nikola Jokic, the best passer center there has been in the NBA since Bill Walton. Along with them, there are others like Green or Adebayo, who also provide extraordinary capacity and versatility in defense. Kerr unleashed all hell when he took concepts from Phil Jackson's offensive triangle (he was champion as a player with Michael Jordan's Bulls) and renewed them: the same geometric but the interior no longer created from the post, but did it facing the rim and from beyond the line of three while moving and deforming any defensive strategy of the rival the two best shooters of all time: Stephen Curry and Klay Thompson, the Splash Brothers.
Spoelstra gives a similar freedom to Adebayo. He relies on his instincts, in his ability to improve what happens with each possession he touches, to make decisions when opponents have closed Butler and the ball reaches his hands. With traditional interiors, this required a reset of the attack. The shooters who arrived later allowed scoring solutions that took pressure off the attack by opening huge routes into the area. In this new NBA of spaces, movements and a lot of shooting, the figure as the anchor of a pivot who knows how to pass and who knows how to understand what happens on the court is almost a guarantee of success. A resounding success if that player also has the extraordinary defensive capacity and collective commitment of Bam Adebayo.
A 14 pick ... just in case with his attack
Adebayo fell to 14th in the draft due, in large part, to a paradox: he chose Kentucky for his college year (2016-17) because the coach, John Calipari, has a proven ability to converting your best players into top draft picks on the fast track. But at the same time, it was Calipari who limited him to blocking, finishing continuations and killing himself defending in the team that included De'Aaron Fox and Malik Monk. A team that lost in the Elite 8, at the gates of the Final Four, against North Carolina but that put Fox (5), Monk (11) and Adebayo (14) in the draft lottery places (top 14).
Because of his role with the Wildcats, some wondered (now it's hard to believe, of course) if the center could be a viable player in an NBA attack. That is why the Knicks ruled him out with number 8 (they chose Frank Ntilikina ... who for now is not a viable player in an NBA attack) and, among others, the Hornets, the team that Adebayo wanted to play for and who preferred his teammate in Kentucky, a Malik Monk who for now has given some lime and many sand in the NBA. The Heat had the pivot number 10 in their ranking, so they rubbed their hands: Detroit wouldn't pick him at 12 (it was Luke Kennard) because they already had Andre Drummond (who is now on the Cavs). The Nuggets had 13th left, so when they transferred the pick to the Jazz, who went for Donovan Mitchell, in Miami they smiled: they already had the player who had impressed them in the previous training sessions, in which they had even been faced with Pat Riley himself. Some would have seen those gestures as a red flag, but Juwan Howard, then Spoelstra's assistant, saw it instantly: "He has the makings of a Heat player."
In Miami, Spoelstra has recovered the player who in high school raised the ball, received triple marks and averaged 32 points and 21 rebounds in his first year. The one who rose to the category of 5-star prospect, fifth best player in the country for the 2016-17 university year, and second best power forward. The Heat valued the player, but also a model boy with studies and whom there was not a bad reference, and with a tremendous character but the ability, so young, to channel him into competitive commitment and involvement with his team. They even wanted to give Adebayo the story he had been fighting for years, one in which he lifted his mother, Marilyn Blount, out of poverty and distress.
From a Nigerian father who left home when he was a child, Edrice Femi Adebayo began to be called "Bam" by his mother after a character from The Flintstones (Bam-Bam, the baby adopted by Pablo and Betty Mármol). She raised him in a trailer, one of those lightweight mobile homes and caravans that end up forming strange slums in impoverished parts of the United States, in North Carolina (hence the desire to play in Charlotte Hornets). She worked as a cashier, and soon her son sensed her boredom, weariness, and anguish, and promised that he would get her out of it all. With his first salary, he took her to dinner at a Cheesecake Factory, and got her an apartment in the same downtown Miami tower where he lives, only 41 floors below (from 46 to 5: his mother did not he likes heights). The photo of that trailer in which they lived was the wallpaper on his mobile and it also accompanied him in the Heat, where he put the image in his locker and used to write the address on his sneakers: "I didn't want to be seen just as another child Poor, my ambition was forged in that trailer. If I had had a better life, maybe I wouldn't be here, that trailer made me who I am. "
His mother still recognizes that sometimes he sits in his apartment and cries, unable to process if everything around him is really his: "I still worry that my son has what he needs, if he has money with him when he goes on a trip with the team ... you get used to living pending that, with that anguish ". The Heat saw that connection in an extremely mature player for his age, a prodigious physique and an excellent work ethic. In the franchise facilities, the weight room is called "Zo's Zone" in memory of Alonzo Mourning, who accumulated all the records of kilos and possible repetitions. Adebayo set out to beat them and has already exceeded two, although the physical trainers told him that it would take five or six years to simply get close to the figures of the mythical pivot, from whom they also see something in Adebayo, the new great leader of a project absolutely emergent. So much so that he can be champion already this season: "He is the Mourning, the Wade of this team, he is the one who sets the bar for what we have to be" .
Adebayo endured the frustration when Spoelstra didn't put him on his first weeks as a rookie. He kept working and hired a chef, although he didn't plan to do so until the first big contract came along. Based on quinoa, vegetables and advice even when he is on tour with the team (he sends his chef photos of the restaurant menu) he has lowered his body fat index to below 7%. On that great contract, there is no doubt that it will come. A maximum, in fact, as Jimmy Butler himself has predicted, happy to have him as a partner. A bargain this season (3.4 million) and the next (5.1), the Heat did not count on signing the mega extension to have (they would earn an extra 13 or 14 million) more salary margin in the market of 2021, when it is an open secret that will be launched for Giannis Antetokounmpo. The initial plan was to sell out another season and wait for him to be a restricted free agent to match any offers for him. Now, given the level he has reached in such a short time, perhaps the Heat will rethink their strategy ... unless the player himself agrees to wait to see what happens in that promising 2021. One way or another, the future of Bam Adebayo (cut for the 2019 World Cup but in the pre-list for the Tokyo Games) is in a Heat winners. For many years.
Photos from as.com