Four new directors to consolidate Bilbao in 4 years
Pablo Allende, Asier Guezuraga, Xabier Caño and Alfonso Santiago join the council, which will be chaired by Isabel Iturbe, the third president in the history of elite basketball.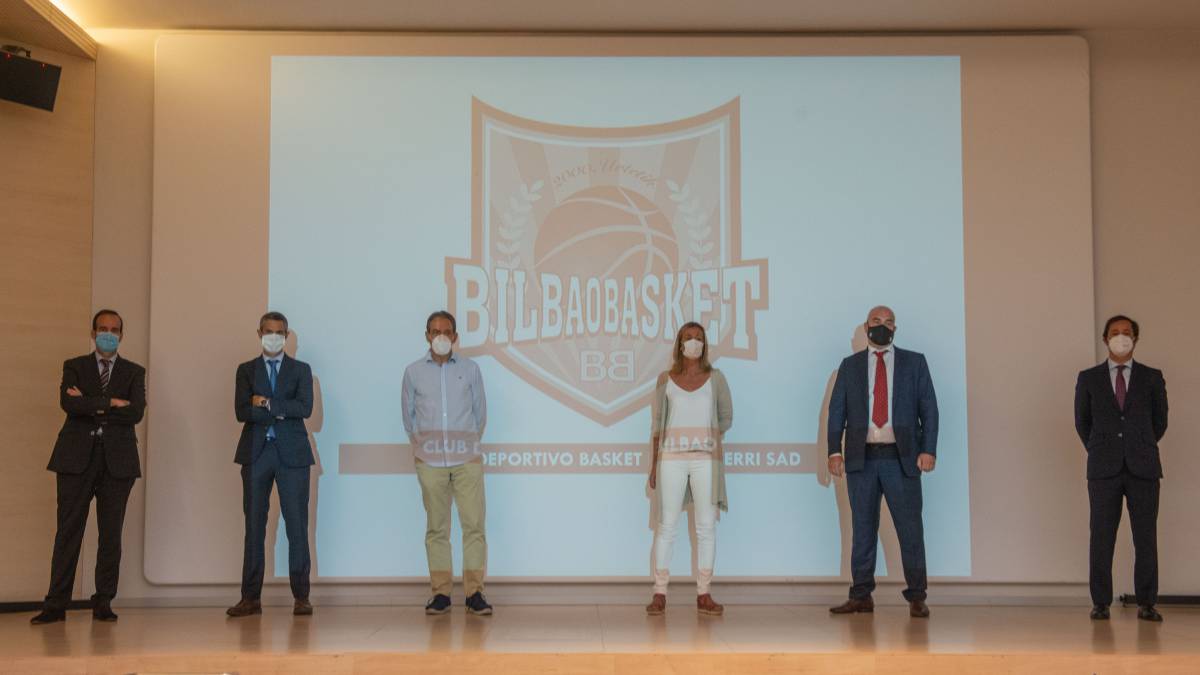 Bilbao Basket already has a new work team, four incorporations that join Isabel Iturbe, Carlos del Campo and Óscar Zabala, the only survivors of the previous board, to face four years in which they propose to economically stabilize an entity that was in bankruptcy six years ago. Xabier Caño, Pablo Allende, Asier Guezuraga and Alfonso Santiago join the council, which will be chaired by Iturbe, the second woman in charge of an elite club in Spanish basketball. They leave the governing body Koldo Mauraza, a president more virtual than anything else, Sofía Fernández, Nahia Egaña, Henar Arestizabal and Javier Larrañaga. The secretary is still Martín Echévarri.
"This new council has been formed with the incorporation of shareholders with a business profile, professionals from the socio-economic fabric of Bizkaia who do not seek a return on investment but rather long-term stability for the club," Iturbe underlined in the presentation of his fellow board members. . All this derived from the last capital increase, which started at the end of last year and closed in June with 428,000 euros. There was no more entry of money because, according to the council, the threat and withdrawal of former player Salva Guardia, who tried to have control over 51% to impose his government and in the end what he managed was to reduce the cake to distribute. "It is like the dog in the manger, neither does nor lets do", dedicated Del Campo. As a consequence of this expansion and the acquisition of the shares that rested in the club of the previous owner, Gorka Arrinda, there was a reduction in the value of the securities.
The leaders highlighted that the entity is up to date with all its obligations with third parties, creditors and club workers. "The most difficult part of the road has been covered," said Guezuraga, founding partner of the Euskaltax consultancy, which will largely lead the new council. "The situation is idyllic compared to where we come from. We have not breached anything," he added. Of the gigantic debt left by Arrinda of 6.5 million, 2.2 remain. This year just ended, a budget of 3.9 was handled, of which 700 were to contribute to debt funds and 440,000 to pay the participation fee in ACB.
"We want to flee from single-owner structures. It is a choral project linked to people who do not seek an economic return or media exposure. The maximum asset of this club is its social mass and it has to be done in front of them," said Guezuraga , who added the intention of consolidating "their own label (brand)" and for this they will seek to become "a basketball tractor in Bizkaia" supported by a "established, exciting and constantly growing sports project". The contract with RETAbet is in force and its support in a complex time is highly valued, although the new law on bookmaker sponsorships causes it to falter.
The counselor, looking to the future, recalled that the health situation has led to a new context that will affect cost overruns and restriction of income from tickets and advertising that, in the absence of quantifying their impact on budgets, make foresee a tough and difficult year . But there is a "consolidated financial structure." The club will participate in the Champions League and specifies that "Europe is not in deficit". A partner campaign will be launched next week, "others have wanted to do it for weeks, but we wanted to be as honest as possible." The motto is once again "transparency". Let's see if this time it is fulfilled.
Members of the board of directors
Isabel Iturbe Mach Graduated in Biological Sciences. More than 20 years of experience in consulting and management
Asier Guezuraga Ugalde Degree in Law. Lawyer and Tax Advisor with more than 25 years of practice. Founding partner of the Euskaltax consultancy, very active throughout the bankruptcy process and one of the club's sponsors. He played at Askartza. Owner of Sader, a firm based in Zorotza dedicated to the management of hazardous waste, and shareholder of Laboratorios Agrupa in the Zamudio technology center.
Xabier Caño González Degree in Law. PDD IESE. More than 20 years of experience in the field of administrative law. Entrepreneur. Son of the ex vicelehendakari Javier Caño, with Garaikoetxea. Owner of the Agaleus group, specialized in industrial waste management. He is president of ACLIMA, the Basque Environmental Industry Cluster Association.
Alfonso Santiago San Vicente Entrepreneur in Cultural and Creative Industries.CEO of Last Tour, the firm that organizes BBK Live.
Pablo Allende Villanueva Bachelor of Business Administration and Master in Economics, with more than 35 years in financial, control and reporting work, and in business plans and management.
Carlos Del Campo Vidaurrazaga Entrepreneur of the Social Assistance Sector
Oscar Zabala HerreroIng. Industrial Tec. More than 30 years in management. Businessman.
Photos from as.com