"At first I did not assimilate it; the normal thing is that you do not win"
The 18-year-old from León relives with AS his great debut in single-seaters with a double victory at Ímola and comments on what he expects from now on.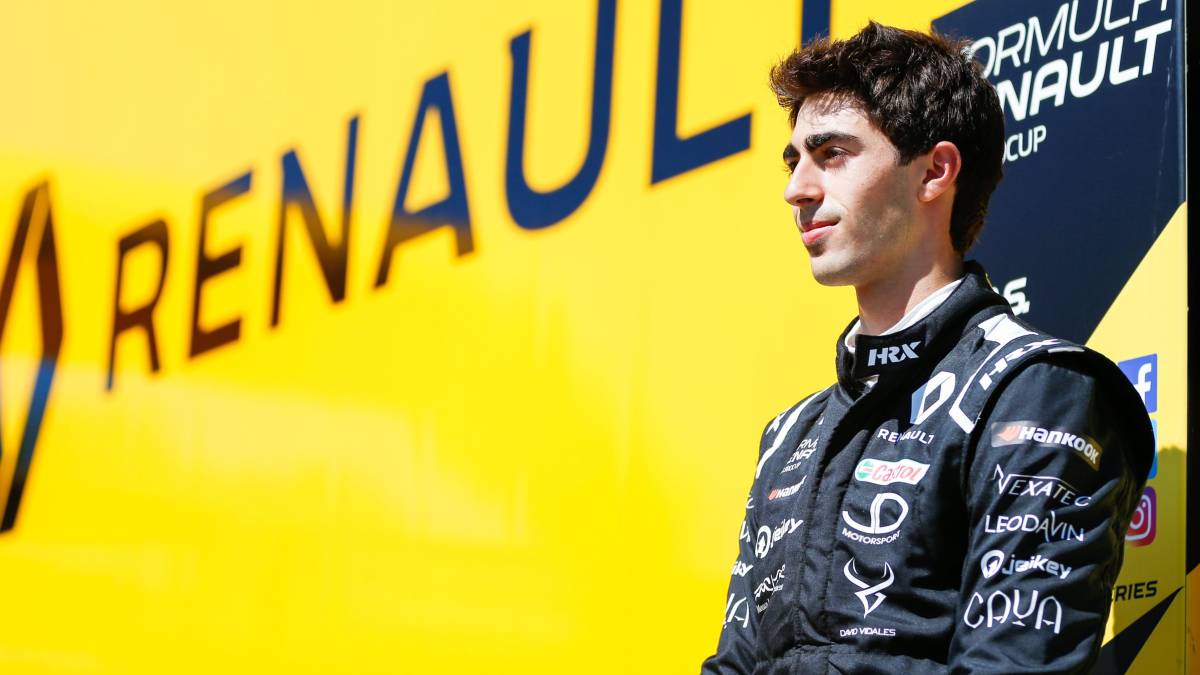 He did something that many dream of and only a few can achieve ... Win the first time, and twice. That was what David Vidales (León, 01-05-2002) achieved in his single-seater debut in the Formula Renault Eurocup at Ímola: one pole and two victories. AS relives with him how it was before this weekend's meeting at Nurburgring.
— Have you been able to assimilate the Imola already?
— After a few days, you realize what you have achieved. At the beginning, it is true that two or three days after the race I did not assimilate it because I was still a bit in 'career mode'. You're working with the engineers, the mechanics… and you don't even know what happens outside the team, you're just focused on improving. Now I begin to assimilate what I have achieved and what I have to do is keep working because in the end it is just a career and it doesn't mean anything.
— Well, there were two…
— Well, yes (laughs). Just two. And it is better to start this way, it is clear.
— What were your expectations? Because I hadn't tried that car before ...
— I had been training with another car, the regional F3, which has a similar chassis, but then Formula Renault has another engine, other wheels… I arrived on Thursday with everything a little new. Before the weekend you don't know where you're going to be, I wasn't expecting to get pole or win both races, neither I nor the team. Not only because you haven't prepared enough, but because I had never measured myself against those opponents or competed there. The normal thing is that you do not win. But as the weekend went by I was finding the limit to the car and already on Friday we saw that the pace was very good, and you change the mentality and the objective.
— Did you realize there that you could fight to win?
— More than for the victory, for the pole, because it is a matter of pace and the set-up you have achieved. With the race, since you haven't done any, you don't know how the start will go, I hadn't done a race simulation ... But in the time trial I did know that I could aspire to pole.
— What were your feelings as you achieved the best results?
— Satisfaction because the work has paid off, and you also take a load off your shoulders because, although I have done many karting races, single-seaters are something new for me and you don't know how it will go. So after that you already know that you are there and that the work you have done you have done well.
— Has your championship goal changed? Will you go for it?
— Now I am third, four points behind second, but I think it is a bit early to think about the championship, there is a lot left. If I do things well and be consistent, at the end of the year I will find myself fighting for the championship. But what I have to do now is keep learning and improving every time I hit the track.
— How did you experience the repercussion you had in the Spanish press?
— It is something that I value very much. As a pilot, you cannot be influenced by what people write, I have to do my job as well as possible regardless of what happens around me. It is clear that if they talk about you, well, better, but despite that I have to keep concentrating on my thing, it cannot go to my head.
— So, when you read that your start in single-seaters is compared to that of Alonso, what do you think?
— Well… Starting like this doesn't mean anything, but what I have done cannot be taken from me by anyone and it is data that is there. Comparing it with Fernando's, a lot of things come in there because it wasn't the same time and it's a bit complicated.
— We know you are a friend of Alonso, have you congratulated him?
— Yes, yes, he wrote to me after the two races. He sent me close messages like any friend would send me. So did Pedro de la Rosa. I've spent time with them and in the end it's normal.
— And any other congratulations that you have been excited about?
— None in particular. In the end, the people who have always been by your side, the family. No family member could come to that race because only one companion was allowed, my parents, my sister and the whole family followed the race from home. So after the race you're excited to talk to them and tell them how it went.
— That would be a bitter side of victory, having his family away in his first single-seater success…
— Sure. My father always worked as a mechanic for me until I was 13, so he has seen more of my races than anyone else. And the first race you do in single-seaters and no one is there, it's a bit bitter, yes.
— What did they tell you on the team?
— Well, being a new driver and never having raced in single-seaters, they didn't expect us to win. They were very happy. Since we started working together we have felt very well and have always been for the better. In the end, everything has to fit together for things to work out well.
— And what about your partner and the rest of the rivals?
— With Alatalo (his partner), very good. It is important that you have a constructive relationship in the team because there is always something that can help you improve. And with the other rivals, I didn't even speak. In the end, you spend all day with your team.
— How did you get the opportunity to race in Formula Renault?
— The idea was to run the regional F3 championship, but perhaps there were few drivers. And after the first Formula Renault races at Monza we saw that the level of the grid was very high, we decided it was the best because I need to face drivers who have more experience than me in order to grow as fast as possible and we spoke with JD Motorsport. It's a championship that many F1 drivers have been through and it's a bit of a stepping stone.
— You made the leap to single-seaters at age 18, why now?
— Basically, for a reason, because the opportunity didn't come before me. Thanks to Monaco Increase Management I started testing last year and this year I was able to make the leap. If there is no one to help you, like me, you have to stop running. So when the opportunity comes you have to make the most of it.
— Now may be a bit early, but what is your roadmap for the future?
— After Formula Renault, the next category is the FIA F3, but it depends on how I do this year. In motorsports there is no book that tells you the steps you have to take to get to F1. There is time despite the fact that you have not been able to make the leap before, and if you grow in the right way and are taking the right steps, it does not matter if you arrive at 20 or 23 years old.
— The big target is F1, right?
— Yes, it is, of course.
Photos from as.com