"If Ferrari has signed me, what else do I have to prove?"
Exclusive interview with Carlos Sainz after the podium at Monza: "May the fans re-engage and encourage the Spanish rider because I want to give joy"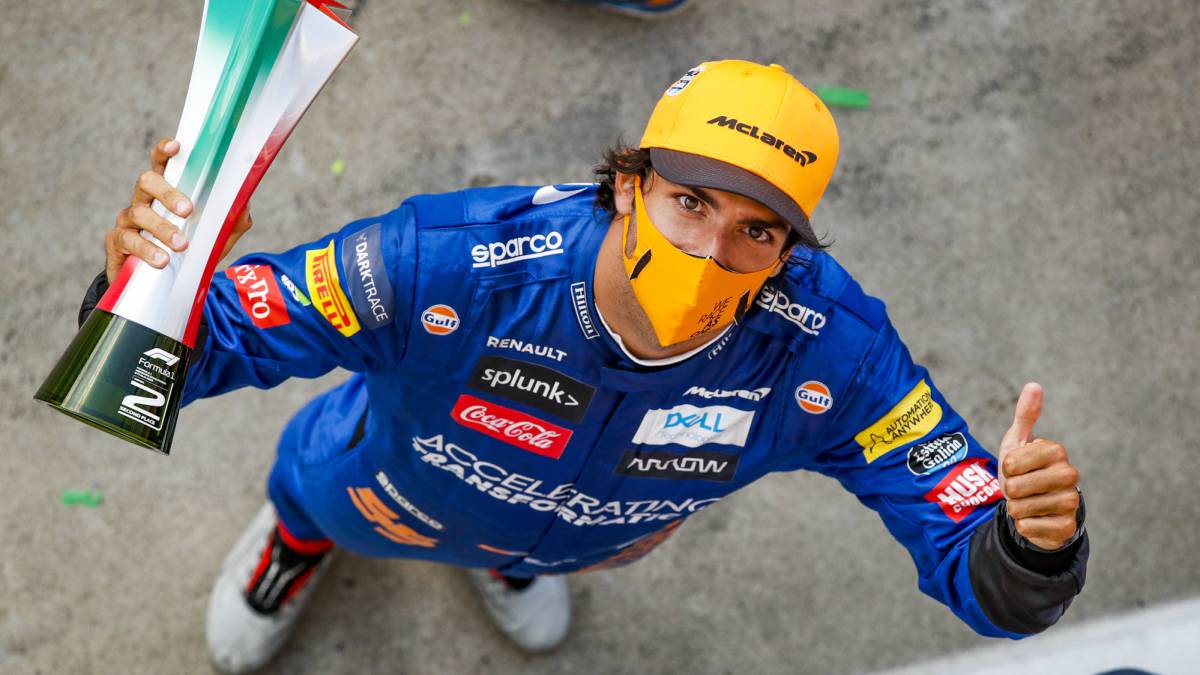 With the digestion of the Italian GP, the bitter gives way to the sweet. Carlos Sainz's second place is a joy for him, for his team and for Spanish motorsport, even if victory was a possibility. He has two podiums in his career (he was third in Brazil 2019) at 26 years old and at the gates of Ferrari, a team with which he will compete from 2021. In addition, he is intoned in the 2020 classification, he is ninth but the sixth is seven points. The Madrilenian spoke exclusively to AS a few hours after bathing in champagne with Gasly and Stroll at Monza.
-How was the digestion of the podium? A good second or a bitter almost victory?
-Well, it tastes better every time. The more I analyze the race and see with a cool head what I did and what we achieved, even in the face of an adverse situation, the more calm I am. I went to bed happy, what we did is very good, it is special, and it will not be stained by an unfortunate situation such as the red flag and those four tenths that have prevented me from winning my first Formula 1 race 1.
-Binotto came out of the garage during the podium and applauded him. It is not usual for them to do that at Ferrari with other podiums. Did you see it from above?
- (laughs). I hadn't noticed, thank you for watching it for me because I hadn't seen it. We will speak on the phone and I will appreciate it.
-What is left for you to prove as an F1 driver before you have one of those cars that can win races every weekend?
-Nothing. What I am left with is trying to continue demonstrating. The speed, the ingredients are there, but you have to keep fighting, keep improving as a driver, keep being self-critical. Then, when you get a race as good as the one at Monza, you also have to know how to admit that it was a good day and you couldn't do more. If the victory has escaped us it is due to circumstances, but I honestly do not think about what else I have to prove. Also, Ferrari has signed me! I don't have to say or do much more once Ferrari has laid eyes on me.
-After fighting for a win and finishing on the podium, does it get harder to get back into the routine of fifth, sixth or seventh this week at Mugello?
-No, we know perfectly what our position is on a normal weekend and it will be easy to readjust. What will be difficult, as the days go by, is knowing that I had a chance to win the race and it got away from us. That will be the difficult part, but it will not cost me to readjust myself to think that I have to finish fifth or sixth in Mugello.
-McLaren will miss you, the celebrations are heartfelt. What do you take away from this team?
-Everything, I take everything. Everything. From the first Zak Brown who trusted me in a difficult moment to the last mechanic or engineer that I have lived with, I am going to take it all into the future and I will have incredible memories and memories. For the feeling, for the job well done by everyone, for that good vibes that we have that I will never be able to forget as a Formula 1 driver. The podium at Monza will be another great memory.
-What do you say to the Spanish fan who got confused in these last years of Formula 1 and now he reads that Carlos Sainz made a podium at Monza?
-That is hooked or that is re-hooked, or both. Even if I can't fight for these positions constantly, there are still races where Formula 1 goes crazy, these races and these opportunities are generated and that is why the sport is worth pursuing. It is an incredible sport, which gives surprises even when it is predictable like now. And that they support the Spanish pilot, who is trying to give everything for his country and for his fans. Because I want to give you more joys.
-How many pizzas did you have for dinner to celebrate it in your main pizzeria (better not to reveal which one, because you could not return without the attention of the tifosi)?
-Well, on Saturday I got fed up. The engineers asked me to gain weight for Sunday, we were a little light and they wanted to compensate, that's why I had a pizza and a half for dinner. I ended up a bit stuffed with pizza, but on Sunday one fell, of course.
-Thank you very much and congratulations.
-Thank you very much, a hug.
Photos from as.com