The Celtics started soulless, but they scored 41 points in the third quarter, shot with pride and avoided elimination. Tatum and Jaylen, 59 points.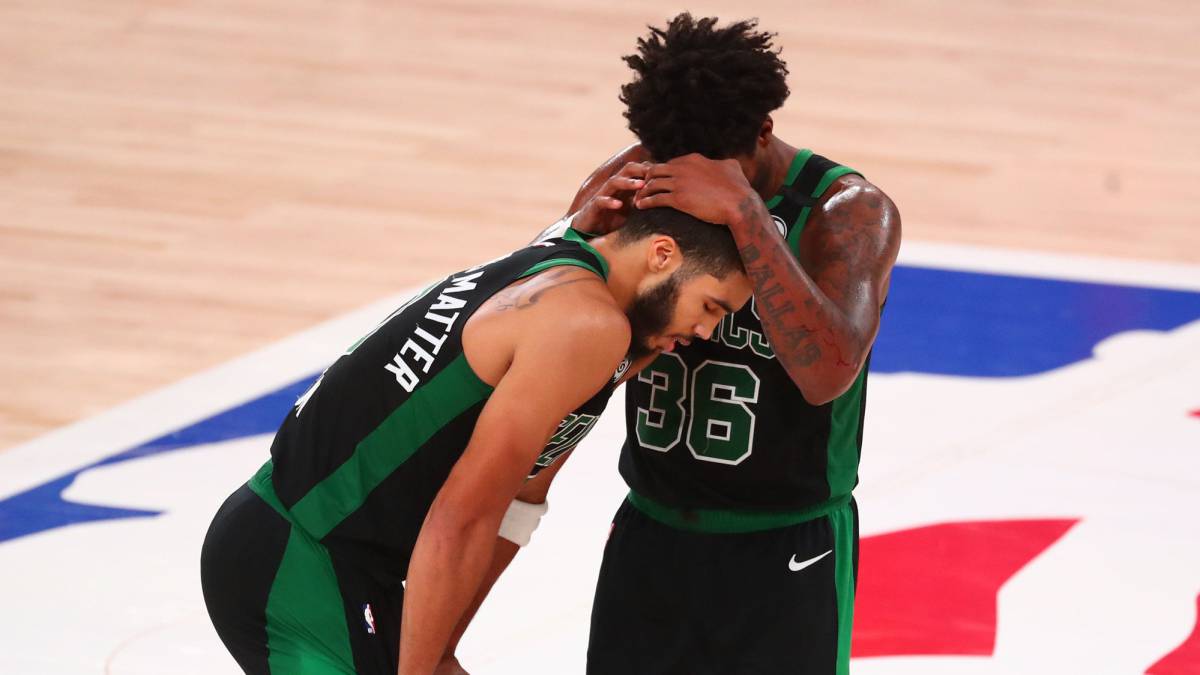 Eye, the Celtics are still alive. So some will think after a fifth game that has had it all, including constant rigorous refereeing decisions for both teams. Brad Stevens' team came out without a soul, as if losing the tie and scoring one of their first 12 pitches. In fact, eight of the first nine were triples, a tactic that did not seem to work very well and that it did not, against a rival used to exploiting the defects of the team in front of the maximum and that was like a fish in water against some players who punished themselves. With just over five minutes to go in the second quarter, the Kemba-Jaylen-Tatum trio added an ignominious 4-of-17 shooting from the field and attitudes outweighed skills as Miami held up to 12-point leads. Kanter's departure (8 + 4 + 2 in 10 minutes), a good first-half final stretch and the Heat's constant failures from the line of three (7 of 36, an embarrassment) left Boston in the game despite bad game (51-58). The best for them, the result; the worst for their opponents, not sentencing when they could have done so, leaving alive a team that had wounded pride, but not dead. And that he knew, in the second part, to bring it up after many gave up the series 48 hours ago. Something that now seems to have a very different story and that leaves a sixth game ahead in which everything can happen or nothing can change. In which Florida's return to the Finals or the greens survive the impossible by forcing what Bill Russell, their eternal (and eternal) star, defined as the two best words in sport: game seven.
In the second part, a radically different team flourished at Disney than the first. The Celtics came out to bite, squeezed back and multiplied in front, running and developing a counter attack that Spoelstra was unable to stop. The anger of Udonis Haslem, that man who has spent 17 seasons in the NBA (although now he does not play a single minute) and collects 3 rings, was not sufficiently sobering for a team that did not know where the blows were coming from. As soon as it started, the set was 13-2, it became 19-5 and ended with 41-25. It is the highest score received by the Heat in the entire bubble, supported by 17 points in the period of an exceptional Jayson Tatum, who was squeezed to exhaustion by Stevens (more than 43 minutes) and went to 31 points, 10 rebounds and 6 assists after not scoring throughout the first part of the fourth round. Suddenly, Boston had turned the score around, leading 92-83 with 12 minutes ahead, a feat supported by a good defense behind that was transformed into an effective attack on the other side, with a lot of counterattack and up to six players above 10 points. 59 between Tatum and Brown, leaving the second with 28 points and 8 rebounds, and working perfectly with his partner.
The dynamics did not change in the last quarter, despite the efforts of a Goran Dragic who ended up eliminated by fouls (23 + 4 + 4). He stood out until that moment with implausible penetrations, although denied from the triple (1 of 7) something that has been a trend that the Heat, sixth best team in the NBA in triples scored during the regular season and second in percentage (almost 38% ), they could not correct. Butler finished 0-for-2, Crowder 0-for-6, and Duncan Robinson scored, which is rare, more than two than three (4-for-3, in 11 attempts). The young guard was not the trigger despite his points, and although he went with 17 at halftime, he only scored 3 more in the rest of the game. Like Butler, who started out aggressive but went into the interval with 14 and finished the game with 17, a performance that he completed with 8 rebounds and 8 assists. The same, by the way, as a bad Adebayo, who also added 13 points without dominance and allowing too many rebounds in the opponent's attack, another statistic in which Spoelstra's men were damaged (50, with 13 offensive, to 38). This time, not even Tyler Herro was the illogical hero he came from in the previous clash, when he handcuffed his rivals with 37 points. This time he ended with numbers somewhat more in line with a 20-year-old rookie. And he does not detract from it, on the contrary: what is incredible is what he is doing, and nobody asks him to be the savior of a team that he has already rescued and with which he continues to add games of more than 10 points, 14 already. In this fifth game it was not the problem, but neither was it the solution.The Celtics cling to the series
Not another thing, but if the two teams have something to spare, it is pride, anger and pride. The Celtics did not want to say goodbye with the image of the first half and fixed it in the second by pulling on a well-executed plan by Stevens and courage. The coach was right by introducing Kanter on the court during the first half, with which he changed the dynamics of the game thanks to the fact that he scored the first four shots he tried (then he missed three) and began to create a danger that never went away on an allied rebound with the Bostonians. In addition, Kemba produced (15, with 7 assists) and went with a +21 in 28 minutes, few because of fouls. And Theis has a special mention in this game, with 15 points and 13 rebounds (5 in attack), in addition to 3 blocks and a hopeful dominance on both sides of the court, winning the individual duel to a shadowed Adebayo ("I played horrible" he said after the crash). And then Smart, who came from a fourth game denied in shooting (3 of 12 in field goals and 1 of 8 in triples) but he has known how to be, once again being the leader of the defense (4 steals), initiating many counterattacks and attending when it was necessary to do so. In the end, 12 + 8 + 8 for him, who ended up exhausted and with more than 40 minutes, just like the aforementioned Tatum. Hayward, by the way, is still in his 30-minute dive, and without attracting much attention, he breaks zones, helps circulation and runs when he has to. He finished with 10 points, but 0 of 4 in triples, a statistic that has not been particularly good for his team either: 12 of 38 at the end, although with two consecutive keys from Jaylen that gave them an insurmountable advantage of 12 points for their opponents.
So, the Celtics are still alive. Since Stevens arrived, they have faced a win or go home nine times, counting this one, and have won four. They will have another opportunity to do it on the night from Sunday to Monday, but they are still missing two victories for one of their rivals that they will surely adjust and have more fortunate days in the triple than this. Boston has been seen 12 times 3-1 against, and has been successful in two of them (1968 and 1981, both against the Sixers). A reference that is far away within its own history but that has good references in a bubble in which, remember, anything can happen. The Nuggets have already come back twice something like this and are facing the third, the Everest of the Lakers. The Celtics, in their particular tie, come from playing seven games against Toronto and, with their short rotation, they accumulate more and more minutes, which is noticeable in the legs, no matter how much youth reigns within a squad that has, eye, seven rookies in their ranks, although with little collaboration from any of them. Curiosities aside, it's hard to think that Miami is going to lose three games in a row. But giving an extra life to your rivals is not recommended, seeing who they are and what their history is as a franchise. The Celtics have a life. And, you know, while there is life, there is hope.
Photos from as.com