The Welshman took the win after Neuville and Loeb fell due to punctures, and Ogier retired after breaking the engine. It is positioned as a solid leader of the World Cup.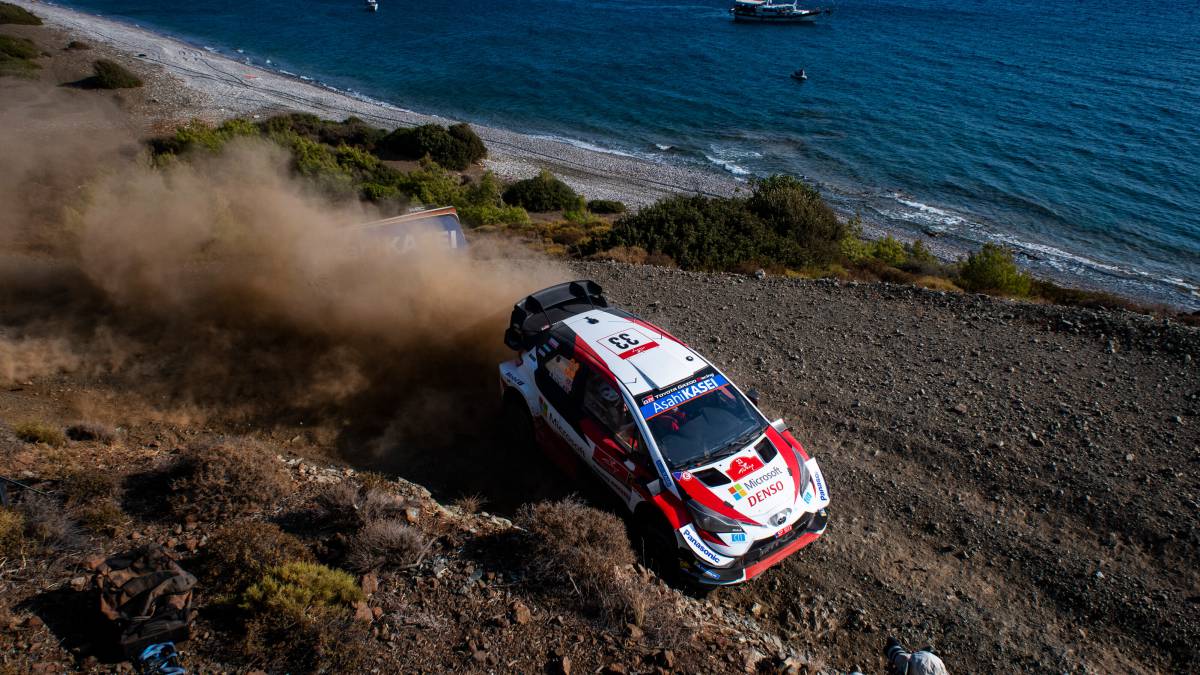 There are those who get oil even from hell. This is the case of Elfyn Evans, who went to bed yesterday without even dreaming of the podium in Rally Turkey, and today he has emerged as the winner of the third-to-last round of the World Championship and has climbed to the lead with a comfortable advantage. The harshness of the Ottoman sections took its toll on the leading men, in the form of a puncture for Thierry Neuville and Sebastien Loeb, and an engine breakdown for Sebastien Ogier, leaving the path clear for the Welshman, who in the absence of two tests becomes the top favorite to the title.
Evans started in fourth position to the final stage, which had breakfast with the longest stage of the rally, Çetibeli, a word that translated into Spanish means complicated. And its 38 kilometers made it clear that it lives up to its name. One by one, all the leading men poked, first Ogier, then Neuville, and finally Loeb. In the blink of an eye Evans went to the top of the classification, although there were still three stages left, one of them the repetition of Çetibeli.
And it was there that Ogier said goodbye to the race and the leadership of the World Championship, as his engine began to smoke and even fire, and left him in the gutter. A clear path for Neuville and Loeb to the two remaining steps of the podium, a nice farewell to the Frenchman if this is finally his last rally before making the jump to the Dakar. Neuville took the victory and 5 points on the Power Stage, and Evans was 18 points ahead of Ogier in the drivers' standings with two rounds to go. In Toyota brands, the advantage over Hyundai increases from 5 to 9.
Jan Solans sent a 'message' of those that his mentor Carlos Sainz likes, setting the best time in his category in Çetibeli, his first stage victory since he made the jump, a consolation for the accumulation of problems (electrical and punctures ) that have prevented him from achieving a good result.
Next stop, Sardinia, from October 8 to 11, a scene where last year Dani Sordo triumphed in the absolute general and Solans in junior. The Cantabrian returns to action at the Italian event, where he can become a referee in the fight for the title.
Classification
1 Evans-Martin (Gbr / Toyota), 2: 43: 02.7
2 Neuville-Gilsoul (Bel / Hyundai), at 35.2s
Loeb-Elena (Fra / Hyundai), at 59.4s
4 Rovanpera-Halttunen (Fin / Toyota), at 2: 35.9
5 Greensmith-Edmonson (Gbr / Ford), at 4: 08.3
Pilots World Cup
1 Elfyn Evans, 97 points
2 Sebastien Ogier, 79
Ott Tanak, 70
4 Kalle Rovanpera, 70
5 Thierry Neuville, 65
Photos from as.com