Villarreal stumble against Huesca and continue without winning in the league debut since 2014. Gerard equalized Maffeo's goal from a penalty. There were three goals canceled.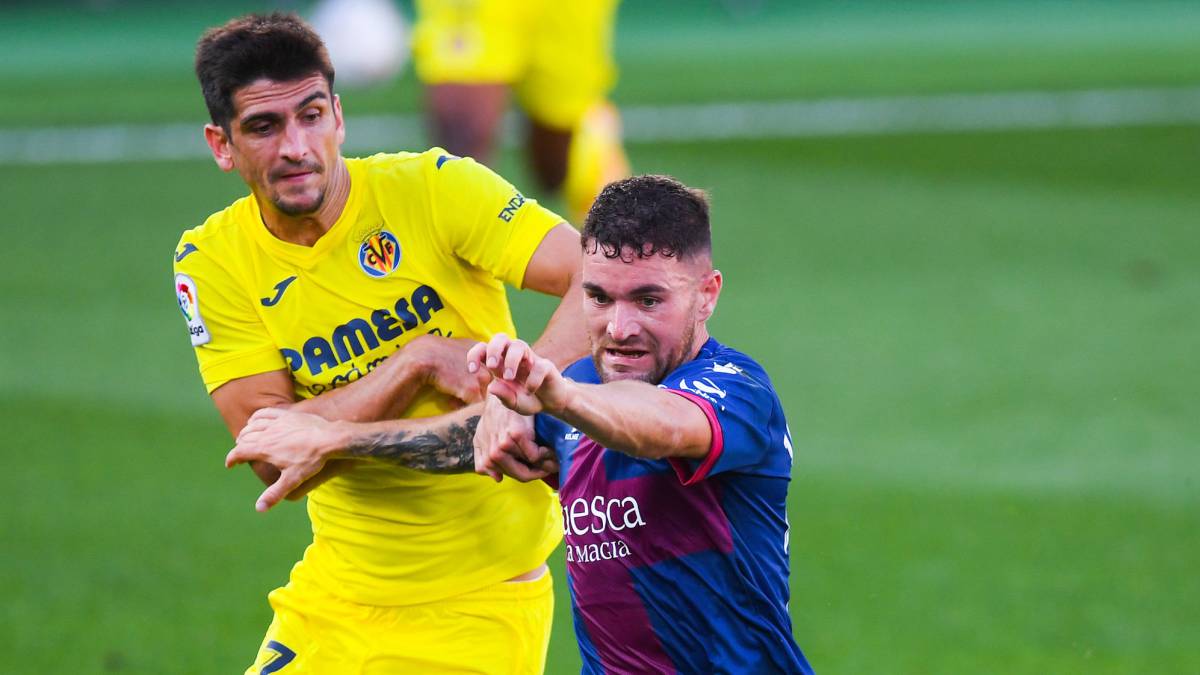 The fireworks around Villarreal de Emery came to nothing. The Submarine disappointed in its coming out. The yellow curse of not winning on the first day continues. Since 2014 Villarreal has not won on the first day. Huesca, recently promoted, fished in La Cerámica with a more than clean game. He took the lead, suffered to tie and was able to take the victory at the last moment after a goal disallowed by Pulido. Villarreal also had two goals invalid.
Emery has work ahead of him. The Basque has to start a machine full of individuals, names with talent, speed and goal. But for the moment, it is far from that. Coquelin (left injured in the knee) and Parejo disappointed in the engine room, the wingers suffered more than necessary and only the usual one was saved: Gerard Moreno. The Catalan appeared in all of them and only he rowed against all the elements.
Huesca, with the ascent block, did not shrink at La Cerámica. He took advantage of the expectations surrounding the Yellow Project to scare off an army of worker ants. Come on, a team. Andrés, with a yellow past, showed that he knows Gerard and Alcácer perfectly, with whom he has made the preseason, to make two good saves shortly after starting. Villarreal was uncomfortable and Maffeo, with only four days in Huesca, scored a good goal after drawing a diagonal and defining with class with his left foot. Juan Carlos and Ferreiro were demons. Before the 0-1, the referee had already annulled two goals against Villarreal, both offside. Alcácer and Albiol were hunted by a hawk-eye line. Huesca, with the goal, grew. It even dominated the crash until the break.
The second part was another story. Míchel was close to victory and preferred to tie up the result. He took Juan Carlos and Ferreiro off the field and that's where the party was over. Maffeo, who was going to be a hero, was immersed in a penalty for hands indicated by the VAR. Gerard, from a penalty, found the prize for his talent. The ending was crazy. Anyone could win. Pulido scored, but offside. Fer Niño, in the last one, ran into an Andrés who was key in the point that tied Huesca and prolonged the yellow curse in the beginning.
Emery: "This tie leaves us a bitter taste"
Villarreal coach Unai Emery said at a press conference after his team's draw at home against Huesca, that the result leaves him "a bitter taste" for not being able to start winning in his stadium.
"The first 30 minutes we have controlled, reached their goal, with two goals canceled and avoiding their setbacks. After the break we had a couple of losses and we received a goal, which has made us lose our rhythm. They arrive in confidence and have taken advantage of their moments. It leaves us with a bitter taste not to start winning at home ", he indicated.
The Basque coach pointed out that his team must improve some aspects such as "minimize losses so as not to allow cons, we must work on the strategy, we are not able to defend well and that is costing us goals."
"When we have the ball we must be more fluid and find lines with more facilities. We must look more for the long ball, as in the last play, so we must have these alternatives. The wing people must have more patience in the last pass , be more successful in the center and those actions should make us grow, "he continued.
"Today we have done more than them, but it has been insufficient. I appreciate that they have had a great preseason and are excited, and we are more demanding, there were many expectations and that has made us accelerate and restless. We must know how to improve that and grow, "he stressed.
Emery pointed out about the injury of Francis Coquelin, who left the field on a stretcher after an injury to his knee that "the doctor is going to do an MRI, but he does not see a serious injury, although after Alberto we do not trust. No there is a sensation of a serious injury, there is stability, but he has noticed something and we are going to see it ".
Finally, he referred to the possibility of the arrival of a new reinforcement, especially in the band after the serious injury of Alberto Moreno. "On the left side we have been injured the key player who is Alberto, with Pedraza who can be extreme, we stayed with Jaume, so we think we need someone on the left foot, and Estupiñán adjusts to that, we are evaluating different options, so if any of those options is given we close it ".
Michel: "I liked seeing the team work and suffer in defense"
Huesca's coach, Michel, valued at a press conference the tie to a goal achieved by his team in the visit to Villarreal and highlighted the work carried out by his players and how they knew how to suffer in defense.
"I am satisfied with the performance, we have known how to suffer with the ball, we like to have it and it has cost us a lot. But the team has worked a lot and well, we have covered the passing lines of the rival who is a great team and has great players. It may be that we have needed to do more damage above, "he added.
"I think the work has been fantastic as a whole and everyone has been good in attitude, intensity and work. We have all sacrificed, it is true that Pablo and Andrés have been very good, but the rest also. We are a continuous squad, so whoever has to come knows that they must be better than those who are, who have already shown that spirit, "he continued.
Michel highlighted the personality of his team and knowing how to adapt. "The most positive note is that whatever the rival does, we know how to adapt and compete" .
Asked about the improvement that his team showed after a first half hour at the mercy of Villarreal, he explained that "the players knew what we were missing, we were covering the passing lines, we have talked about being a team that lasted longer with the ball. to make them run backwards, we have done it and that has made it change. In the second part the fatigue has made it cost us more ".
Photos from as.com