Dovizioso: "It seems that the season starts now"
"It is a very crazy championship with many difficulties. That is the main reason why the average score is very low," says the leader.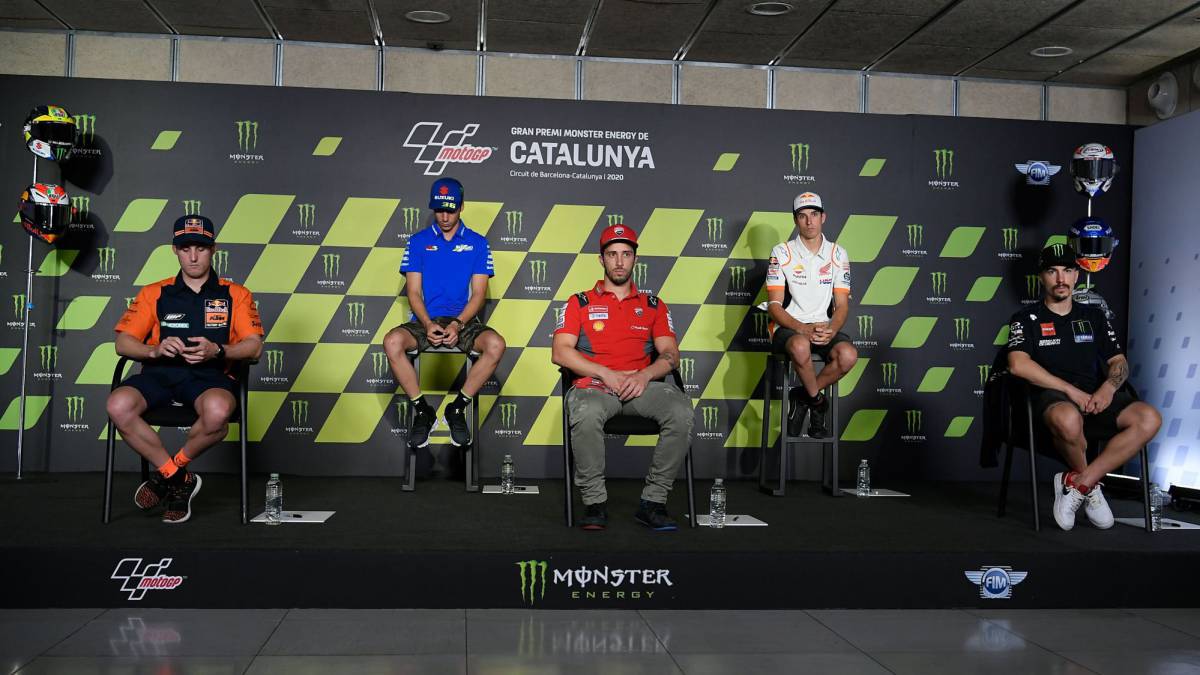 Andrea Dovizioso continues to be surprised at being the leader of the MotoGP general classification, a position he occupies with a single point of advantage over Quartararo and Maverick before the start of the GP of Catalonia.
-Surprised of your situation in the championship?
-Yes, very surprised but I think like everyone else, because apart from Austria or Jerez 1, I have not managed to be strong and fast as in the past and that is why I am surprised to lead it, but it is a very crazy championship with many difficulties. That is the main reason why the average score is very low since nobody is capable of being regular in all races and it seems that the season begins now, since we are all very close and although the sensations with the bike are not the best , but I think we have to change some things even though there are few races left. It's complicated, but they are small things that can affect us a lot, so I don't know if we can be very competitive in Barcelona as it will be very different compared to Misano. I like this circuit, but I don't know if we can be very competitive.
-Y Ducati needs few adjustments on this circuit ...
-Yes, on paper it is like that, but I do not know if it is like that in reality since the way in which I brake in my career, especially last year, is something that is no longer valid for me. I can no longer brake hard or brake the way I have to. I have to change that and I'm trying to adjust to that, but it's not intuitive for me and it's hard for me to come up with the perfect movement, the right approach to braking and that affects everything as it's the first thing you do to tackle a corner. I haven't really improved on that point yet, but it's where I need to improve.
-What will be the key to win this championship?
-Consistency is going to be the key without a doubt and in the worst case scenario you will have to fight to be in the top five, something that I have not been able to do until now and what we have to focus on to achieve it. It's not a matter of getting it just once and it's not going to be a single favorite. There is going to be a series of drivers who will stand out until the end of the season and we will have to be prepared to face that consistency.
-In Barcelona will you have more difficulties than in Misano or Brno with the grip ...?
-If I have more difficulties than in Brno I think it will be very difficult. I imagine that the grip will be worse than in Misano, without a doubt, but in the end it is not just a question of the degree of grip, but a mixture of different aspects with the tire that we have right now this season, because nobody knows how it goes to unwrap. I have to ride finer and smoother but it's easier said than done. I have to brake later, brake less and more smoothly, but it is something that is very difficult.
-Do you like any of the remaining circuits?
-I feel very satisfied to be in Barcelona. It is a wonderful circuit, as is Le Mans. At a theoretical level it is not a problem, it is more because of my feelings with the tires. It is in this sense that I have to improve and I have not been able to fight for the top positions for many races, and that is the problem. Obviously they are going to be very competitive at this circuit, but it all has a lot more to do with my speed. I have to be able to be at the head of the race and then see if we can fight.
Photos from as.com