Djokovic overtakes Nadal as king of Masters 1,000
Djokovic beat Schwartzman in straight sets after starting the match 3-0 and two breaks against. This Monday he surpassed Sampras in weeks as number one.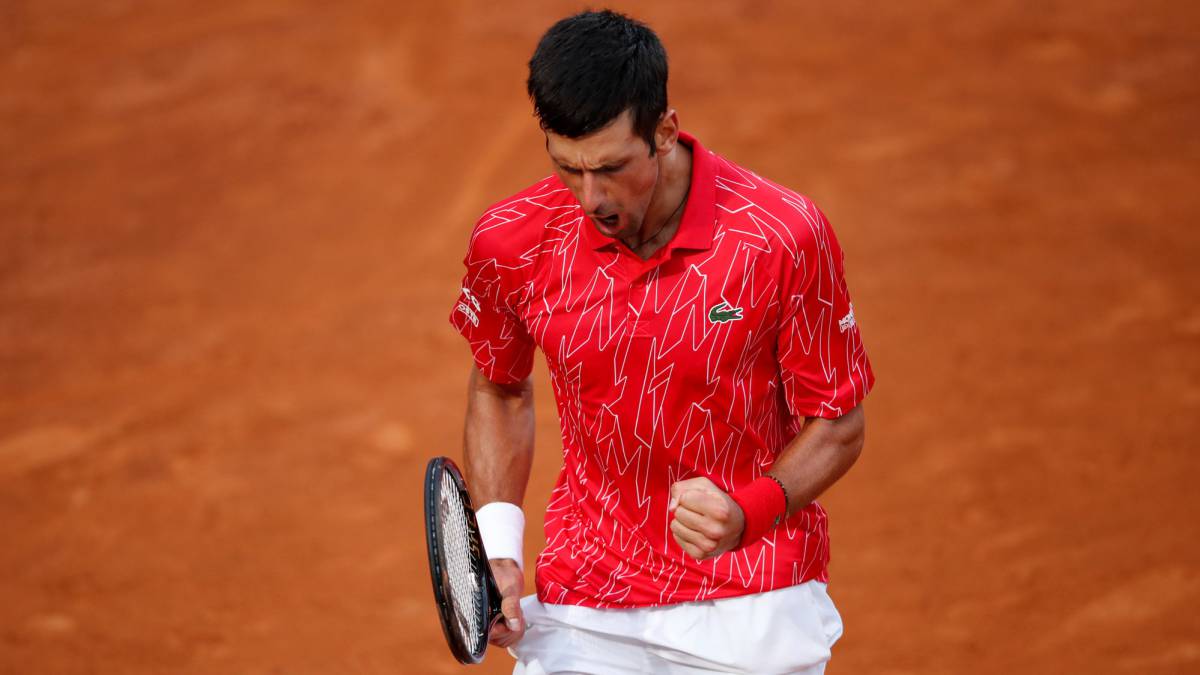 Without showing his best version, far from it, Novak Djokovic has the virtue of being a voracious winner in any circumstance. This Monday he proved it in the final in Rome. After a bad start against Diego Schwartzman, the Serbian woke up to win 7-5, 6-3 in 1h: 53 and took his 36th Masters 1,000 title with which he overtook Rafa Nadal (35) on the historical list. It is the 81st trophy of his career, the fifth in the Eternal City and the fourth of the season in as many finals (he also won the Australian Open, Dubai and Cincinnati). If he had not lost his papers at the US Open with that hit to a linesman that cost her disqualification, we could be talking about a pristine course that now has a mark of 31 victories and only one defeat, that of New York against Carreño.
Great day for the number one, who overtakes Pete Sampras (286) in weeks as world ranking leader with 287, and only behind Federer (318), and leaves Italy with 400 more points in the pocket in his fight with Nadal, since last year he was runner-up in the tournament. "I have not played my best tennis this week, but I have found it when I have needed it," he said after beating Schwartzman who worried him at the start, but ended up fused in his first final in the category for a demanding week in which for He finally beat Nadal, ending their duels 9-0 and achieved another even more epic victory on Sunday against Shapovalov.
Having a 3-0 lead with two breaks against Djokovic is a unique opportunity that few, very few times happens to a player against the world number one. Schwartzman had it and did not take advantage of it. The Serbian, erratic, especially with the backhand, and in a bad way, was not able to overcome the Buenos Aires as soon as the exchanges lengthened. In addition, the rain threatened the normal course of the game and bothered him. For any other tennis player, the comeback would have been impossible, but after the first break the Balkan came out ready to do it, put together his drive to get out of trouble and won four games in a row. Diego began to notice the fatigue of the beatings that occurred in the quarterfinals and semifinals and his few failures, including some very inopportune double faults, came at the worst moments for him. Djokovic had a set point with 5-4 and did not convert it, but he did the ones that were presented again to the rest with 6-5.
Relieved from roaring like he had after coming back on Saturday in the first set against Ruud, Nole was strangely caught on his serve and conceded a break out in the second set. The joy did not last long for his rival, who lost his next and from there at the end of the game he no longer saw the door against an improved Djokovic. He is left with the consolation of having beaten Nadal for the first time in his career and on clay, and the certainty that his tennis has returned. And what to say about the victor, well, that good or bad does not fail.
Photos from as.com