Disability is not an obstacle: the solidarity project of the Titan
For this group of cyclists, their disability is not an obstacle. And, thanks to the SEP Titan project, winner of one of the Titan Life by KH-7 Scholarships.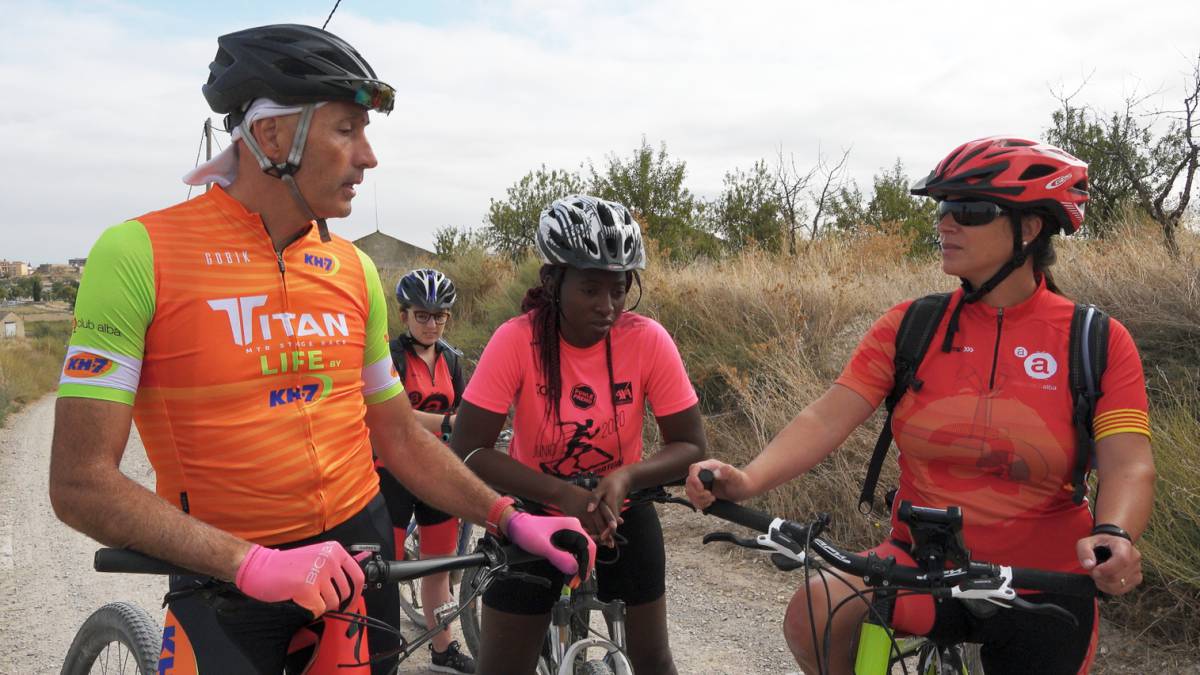 A group of enthusiastic cyclists pedal for a goal. Your disability is not an obstacle. And, thanks to the SEP Titan project, winner of one of the Titan Life by KH-7 Scholarships, they will be able to make their dream come true: make a long-distance route of several days. All of them are part of the Alba Cycling Club, located in Tàrrega. "I really like the Titan's character of solidarity because wherever it goes, it tries to help a territory in need. And when I saw the Titan Life by KH-7 Scholarships we didn't think for a moment. It fit perfectly with the part of the solidarity project I had. We decided to get down to work with the Alba Association to prepare our video. And the surprise was incredible when we were able to achieve it ", says Jaume Rovira, ideologist and visible face of a project that was chosen as one of the two winners.
For this, they had to pass a popular vote and be finalists. Among these, a jury made up of the CEO of RPM-MKTG, Jesús García, the president of KH Lloreda, Josep Maria Lloreda, La Vanguardia journalist Sergio Heredia, the Titan Legend Ramón Aranda and the former professional cyclist Joaquim 'Purito' Rodríguez, They ended up determining the two winning initiatives.A project with three concepts
The SEP Titan project consists of 3 concepts, as indicated by its acronyms. This is how Jaume Rovira himself tells us.
Solidarity: "Collaboration with the Alba Cycling Club. Association of people with disabilities who like cycling very much and train to be able to do some long-distance route every year. "
Educational: "I am a teacher in a high school and the values of effort, solidarity and cooperation are important to transmit to the students that I teach" .
Personal: "Participating in the Titan is a very important personal challenge, at the level of training and improvement" .
Said and done. "This scholarship has allowed us to obtain the necessary funds so that they can make a long-distance route and several days adapted to their needs. With their monitors, assistance cars ... But due to the current circumstances with the Covid at the moment it has not yet been possible, although we hope that they will carry it out soon ", indicates Jaume Rovira, physical education teacher and bicycle lover who does not stop giving them advice. It should be said that a score of cyclists train three days a week to be able to perform their great challenge. "In the background they are also doing a Titan with their training and their routes" .
We pedal for inclusion
This is the motto of the Alba Cycling Club. Cycling helps them a lot on a day-to-day basis to feel like any other person, even with a small problem. That is why the 'We pedal for inclusion' has been broadcast throughout the campaign. The Alba Cycling Club is part of the Alba Group, a social initiative entity that aims to offer comprehensive care to all people with disabilities. "The Alba Association has many sectors dedicated to helping people with disabilities: via job placement, via solidarity projects ... and the way in which I collaborate, which is sports, so that they can cycle", says a Jaume Rovira who will participate in the 15th edition of the Garmin Titan Desert, which will open fire on November 2. "I am preparing myself thoroughly to be able to finish it properly. By postponing, I have had more time to train: in summer I have taken the opportunity to do longer routes because the rest of the year, when you work, you don't have as much time. "
Photos from as.com