Corretja: "Davidovich does things typical of great tennis players"
The ex-player, a Eurosport commentator, says that Davidovich's appearance in the second round is "great news for world tennis and specifically for Spain."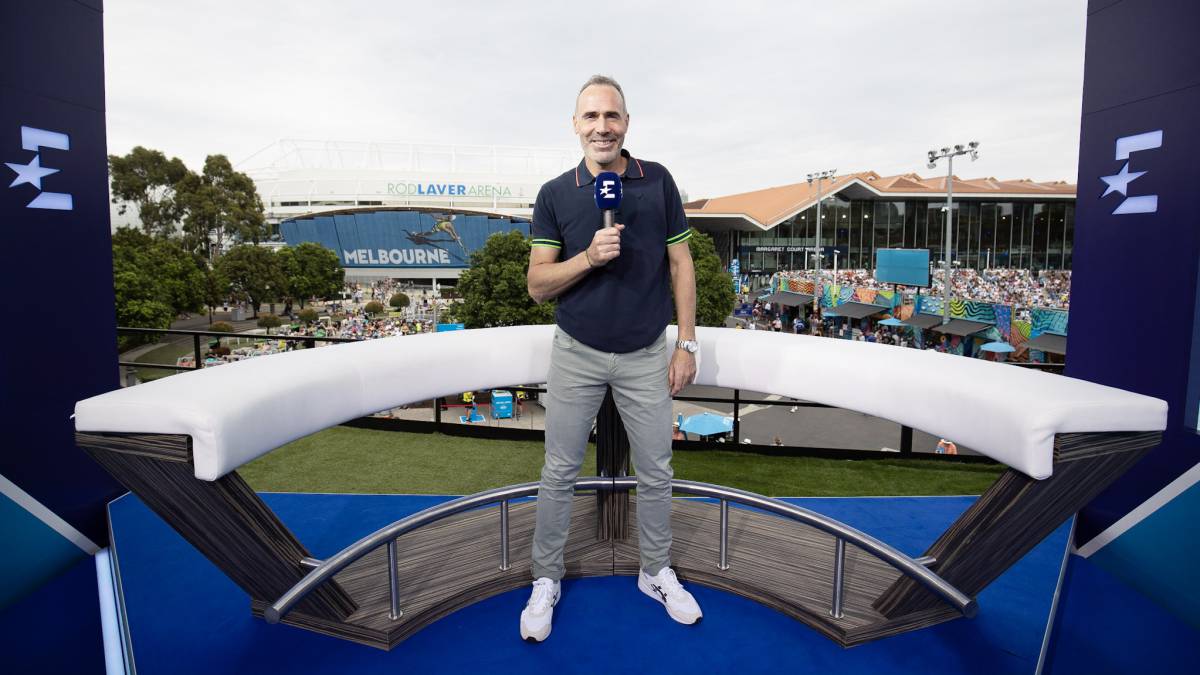 Alex Corretja is part of the Eurosport team of experts, which broadcasts the US Open live and exclusively with more than 300 hours of live tennis and the signal of all the courts available. Exclusively for AS, the former tennis player analyzes the first week of the tournament and speaks wonders of Alejandro Davidovich.
The second week of the tournament is almost starting… favorites for the men's and women's teams
"In the men's team I would continue to choose the same favorites as before the tournament started. I speak of Novak and Medvedev as top favorites. Then there is a group of players like Thiem, Zverev or Tsitsipas who can do great things in the tournament. In the women's tournament, I would highlight Osaka, Azarenka, Serena Williams and Kenin as the players with the most chances of winning this year. "
Muguruza and his unexpected elimination in the second round
"I was a bit surprised by the elimination, although looking at it in perspective not so much. He has not competed for many months and has suffered injuries. It is understandable that he was not in the best physical shape for this tournament, but I think he could still have surpassed Pironkova because Muruguza has an extraordinary level to achieve anything ".
Will Serena have another chance like this to finally break the record she is chasing ?: "It is certainly a great moment for Serena to achieve such a goal. Competing without people in the stands will take pressure off Serena and she will be able to play a lot more calm. She has already played some games, but I think she still has to live a game in which she suffers a little and grows from there. If she passes the third round, she will surely go far in the tournament, she is a brilliant player " .
Zverev and Tsitsipas are the players destined to dethrone Djokovic. Do you think they have a chance to reach the final and stand up to Nole?
"This global pandemic situation will make everyone's level a little equal and there will be fewer differences between players. But I don't know if it's time for Zverev and the others to go further. You have to know the physical state of each one where he is and how long they can hold out long matches against players like Novak. Thiem would say he's much closer than they are. "
Will we see Andy Murray at the highest level again?:
"Andy is a very special player. It will be difficult for him to recover from matches of great wear and tear and it is that whenever he competes he plays at the maximum of one level. Given his current situation, I think it is difficult for him to resist seven games to the best of five sets in a Grand Slam knowing the level that his rivals can have. I think he will recover a great level, but it will be difficult for him to win a Grand Slam again ".
The phenomenon Davidovich, a special tennis player
"He is a very promising young man. He has a bright future and an extraordinary present. We see him do great tennis things and play at a very high level for his young age. He is qualified for the round of 16 of a Grand Slam and playing really well. It's great news for world tennis and specifically for Spain ".
What would you miss the most if you played in NY without an audience?
"It's something I imagine you end up adapting to. It's better to play on empty courts than not to play or compete. When I competed I liked to feel close to people and I understand that the first few times it must be weird. We usually train without an audience like that. It could help us to compete, but I think it is a good option to continue enjoying tennis. Everything has its special side and you have to know how to enjoy it all. "
Does competing in empty stadiums have as much influence as it seems?
"If it has an influence, it does more to take pressure off the players. Let's imagine that I am winning 5-4 to win the game, the murmur of the people always accompanies you and shouts of encouragement for you to win the game. That generates extra tension on the game itself. Or if the fans support your rival to bring the game back. All that does not exist and the only thing that matters is yourself and your rival. It does not take away emotion, but a bit of tension to the players. Novak por For example, he has the support of the people, such as Rafa or Roger, and now in this situation he helps the one who is less favorite to grow a little in the game ".
Tell us about 'The Cube' ... how does it feel to be able to interact virtually with people from all over the world as if you were there physically?
"It is an unimaginable and inexplicable privilege. It shows how professional they are at Discovery and at Eurosport with futuristic technology. All colleagues show the desire to continue progressing and growing to improve and make coverage unmatched. I consider myself a lucky person for being part of this project on such an important television and with a worldwide repercussion since Eurosport is the sports reference in the whole world ".
It is part of the present and the future of the audiovisual industry. What complexities are you encountering when making these connections?
"On the set they have installed a green chroma with some markings on which I stand to interact virtually with Barbara, even though we are not really in the same place. I am a person who gestures a lot and moves my arms, and I have to be careful because it can be excessive and I can hit Barbara accidentally (laughing). It is an authentic experience, difficult to explain the magic that occurs behind the cameras that in the end is what the viewers see on their screens ".
It is a phenomenon that is sweeping social networks and the media due to Discovery's innovation by incorporating this technology into the coverage of this US Open. How do you prepare your interventions in 'The Cube'?
"The preparation of the speeches in 'The Cube' is based on the requests made by the Game, Schett & Mats team. I receive instructions on the matters we will discuss and I try to prepare the content of the best Sometimes I even prefer not to know the questions to improvise on the fly. It's a lot of fun because I finish narrating a game to appear in 'The Cube' and continue watching tennis matches with other colleagues in the newsroom. I'm having a lot of fun " .
What is the limit of all this great Discovery display? Where's the roof when it comes to bringing the best sport to fans?
"Discovery has broken many barriers because Novak at the end of the game is virtually with us analyzing the game and even more so with the circumstances of the pandemic explains Discovery's effort to offer the best product to fans. The next thing is that directly tennis players compete in our living rooms (laughing). Discovery's technological means allow unimaginable things like these and I have the feeling that it is only the beginning. The best is yet to come and it makes me happy to be part of all this " .
Photos from as.com