Chris Paul: origins and redemption
The point guard has not been able to take revenge on the Rockets in his return to the origins, but he has claimed himself as one of the best in history in his position.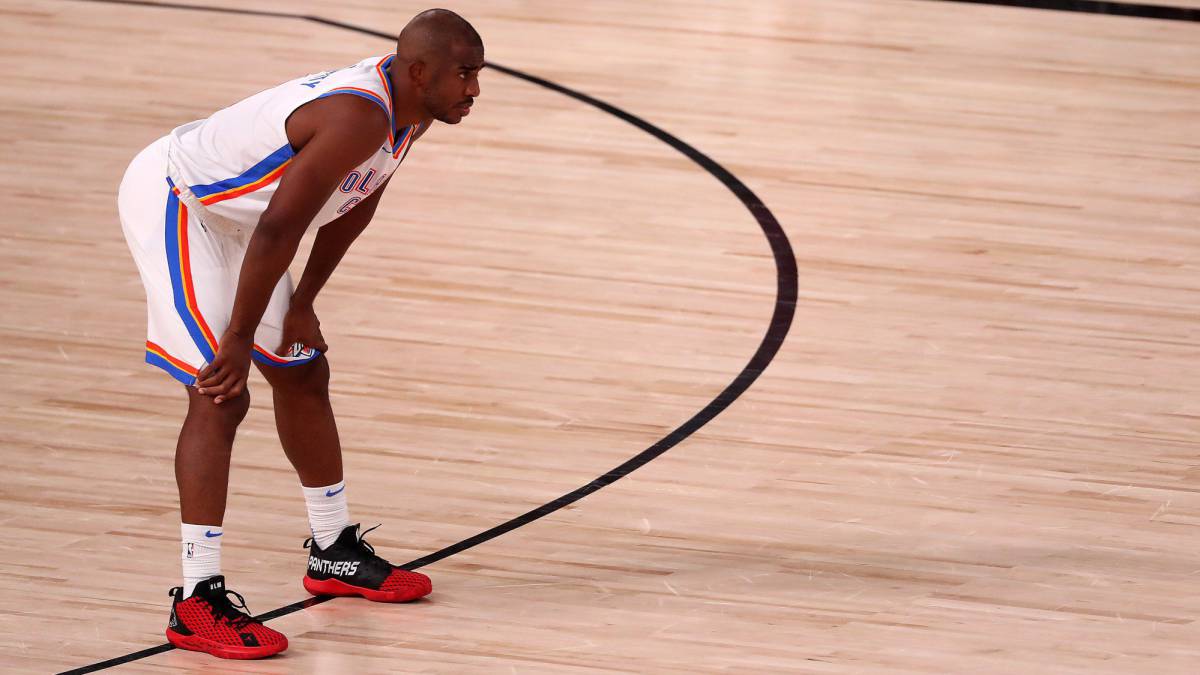 If there is something that stands out in a season in which there are countless things that, for better or for worse, draw attention, it is the figure of Chris Paul. Much hated in many levels of the competition, especially in relation to certain hordes of fans, the point guard has vindicated himself in a year in which he seemed to be doomed to failure and exile and has proven to be one of the best players in the league. story in your position. And it has not done so now, as much as certain sectors insist on making us believe that it is a recent discovery, but the new vision that is had about its figure allows us to observe everything from a different perspective and with a different prism than the one that has been done so far. Gone is that player with too great a talent for a very small franchise (the Hornets) who went through the Clippers without generating too much sympathy (fight included with Pau Gasol) and ended up being Harden's lieutenant in a Rockets that ended up dispensing with him when the hyper-leadership of his star expressed certain wishes derived from an argument that was leaked to the press and that ended with Paul being betrayed by a Morey who swore and perjured that he would not transfer him but who made him the scapegoat of defeat (s ) against the Warriors and, incidentally, took the opportunity to satisfy his franchise player.
It is possible that the average fan does not value Chris Paul in the most fair way due to some obvious but also debatable factors, and being carried away by a meridian sentimentality that is automatic and consistent with love but (above all) with hatred. Paul was never enemy number 1, even less so in a decade of exacerbated haters who have had constant victims (LeBron, Durant, Westbrook, Harden ...) and have quenched the desire for criticism from an audience that never conforms and develops your best feelings as easily as the opposites. Paul has never been overly appreciated by Spanish fans, either for executing Spain in the Olympic Games (2008 and 2012) or for clashes with Pau, but he has also generated that feeling of rejection justified by the abstract argument of "it is not a winner". Without specifics but with justifications, the sanbenito has persecuted throughout his career a point guard who before 2018 was the best player in history who had never played a conference finals and who, in which he played, was injured in the fifth game before leaving the Rockets 3-2 up to watch from the bench how the tie ended in seventh in favor of the Warriors, who took advantage of the collapse that their rivals had with their own style (27 consecutive triples missed) and they were left without the dream of a ring that they did not see so close since Hakeem Olajuwon, radically different from Harden in terms of the sensations he awakens in the fans, was in the franchise.
It has been 25 years since the Rockets won a ring that Paul has never seen up close beyond that year (as did Harden, on the other hand) and that he saw even further after his trade to the Thunder, when he was on his way to what It seemed like a forced exile after, aside from the aforementioned row with Harden, Houston fell (again) to the Warriors after drawing the tie at 2 and watching Kevin Durant get injured in the fifth. Not even then could they win and the consequent departure of Paul to bring Westbrook, with ultra small ball included, was the last coin in the air of a project that is beginning to lose light and which no one imagines lifting the championship next October. As much as they can, of course, beat anyone in a bubble in which it seems that anything can happen and in which, indeed, everything is happening.
Paul has not been able to achieve his particular vendetta with the Rockets, staying at the gates, also vindicating himself in that series and forcing the seventh game in a way that is as unexpected as it is deserved. The Rockets were favorites and they seem to be able to go further in the finals (by team, talent and timing of the project), but OKC has faced them as an equal and carried them to exhaustion. Something unthinkable when Paul himself came to the franchise after Sam Presti sniffed for the umpteenth time a golden opportunity that he has known how to take advantage of and has gotten rid of Westbrook and his cult of personality and a Paul George who happened to see how he celebrated a day with his name that was effective for just two months. Westbrook took over from Paul in Houston while George headed to Los Angeles; At that point, everyone thought that Presti would seek a transfer for the point guard and his mammoth contract (he started the course with three years and 124 million guaranteed), but his age and salary were a handicap of impossible exchange for a younger or older star rounds of the draft, in addition to the 15 they already have for the next few years.
In the end, Paul returned to Oklahoma, the city where he started on his arrival in the NBA with some Hornets who left New Orleans because of Katrina and in which he became known, being second in the voting for the MVP of 2008 (behind Kobe) and leading a project that successfully trained a Byron Scott better than what his last two projects (Cavs and Lakers) show and in which he shared a team with West, Stojakovic or Chandler, among others. Not even there he touched the conference finals, falling in the seventh game against the Spurs at home. A slab that became a farce in the Clippers and that 3-1 of 2015 that were traced, long live the coincidences, by the Harden Rockets and heading to Texas to look for an elusive ring that has not been approached in the Thunder. Of course, the redemption has come in the origins and Paul has shown that he is a legend of this sport. He has dispelled doubts about his physique by playing 70 of the 72 possible games, has returned to the All Star (the tenth of his career), has been the best in the League in clutch time and has averaged 17.6 points, 6 rebounds and 6 , 7 assists in his 15th season in the League, setting a scandal playoffs (21.3 + 7.4 + 5.3) with 35 years.
And the thing does not end there. Apart from records such as becoming the oldest player in history to achieve a triple-double in a seventh game, Paul has served as a mentor and spiritual leader of a dressing room that has followed him without hesitation, being an extension of Billy Donovan himself and letting his teammates play (he has assumed less ball than ever) to appear at the right moment. His exemplary demeanor has enhanced an ever-shaky reputation on a social level and reconciled him with a public he has owned. And sportingly, he has led the Thunder to a 44-28 record, a 61.1% win rate which is a higher percentage than the team has had in the last three years of the Westbrook system, with three first-round losses since Durant's departure, which is already four, but this year they have had the only real opportunity to pass the round.
The team ESPN gave just 0.2% playoff options last summer finished fifth in the West and led a (second-line) title contender to Game 7 in the first round, losing just by two points. The improvement of his companions around him (Schröder, Dort, Gilgeous-Alexander, Gallinari, Adams ...) has been superlative and the only thing that remains to be discerned is whether Presti will continue looking for that exit that he did not find last year or will take advantage of what He has basketball left (no one knows how long it will be) so that the young group continues to grow, with a star from his experience and a coach like Donovan who comes from university and is a didactic man who knows how to deal with the players. With the excellent work of the coach, the Thunder have been a physical and tough team in defense and lethal in the even finals, with the attack of the three bases that ends the games (Paul, Gilgeous-Alexander and Schröder) articulating the quintet with the best NBA net rating. A structural merit that goes from Presti to Donovan but that on the track has transferred a Paul who has taken over the team and has taken over when it was time to do so.
The Rockets couldn't afford to lose to Paul (what a story would have come from there) and they haven't, but they haven't stopped people from thinking that with him and not with Westbrook they would have a much better chance this year. We'll see how far they go and what the future of their nemesis in the Thunder is, that dimensionless base that drives anyone who doesn't play alongside him but is, and this is undeniable, one of the best players in history in your position. A great among greats, a generational star who continues to fight despite his age and who could have played at any time. Paul has returned home, he has felt at home and has understood an idiosyncrasy that he already knew, reading the moment of the situation and the role he had to take and that he has finally exercised with efficiency and wisdom. And in his return to the origins, he has reconciled with the public almost unanimously and has achieved an eternally postponed redemption. And finally, also deserved. That's for sure.
Photos from as.com