Thiem pulled up 0-2 to beat Zverev in the fifth set tiebreaker and finally win a Grand Slam. He is the first unprecedented champion of a major since 2014.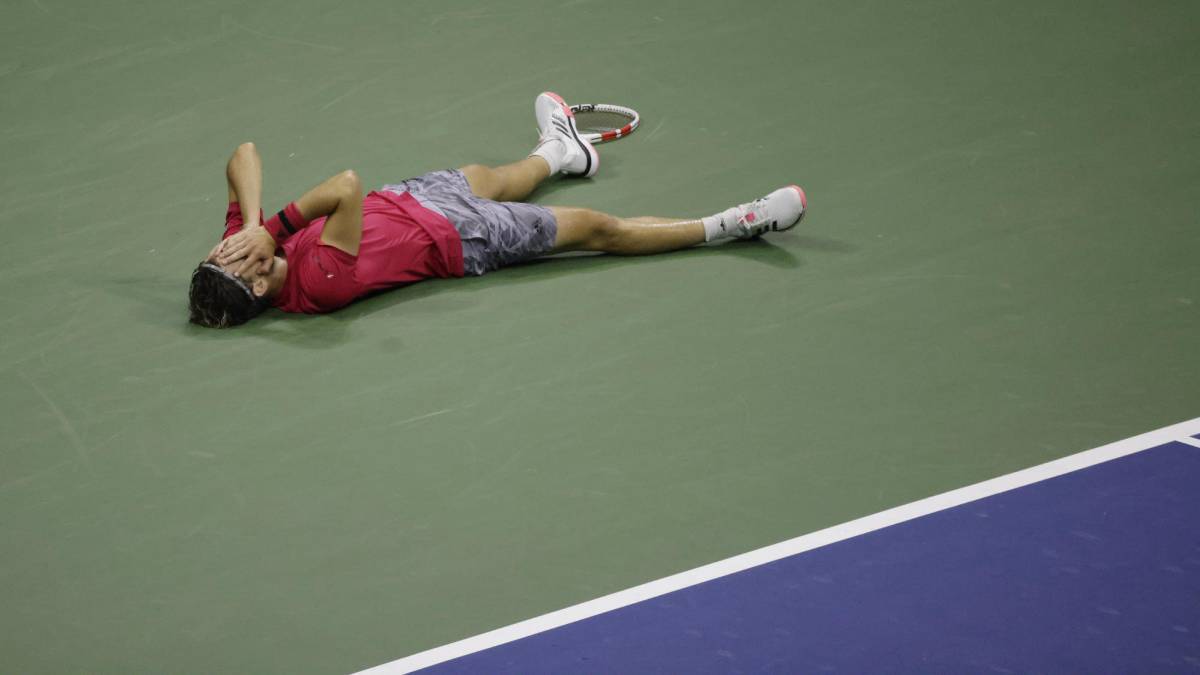 For the first time in four years and 15 Grand Slams later, neither Federer, Nadal nor Djokovic were in the final, but the US Open title match, which started in a low profile, did not disappoint because it finished in style with a historic and spectacular comeback by Dominic Thiem (27 years old). The Austrian, who had lost twice at Roland Garros and once in Australia, lifted his first major trophy to fourth after beating a brave Alexander Zverev (23) in 4h: 01. The German suffered in his flesh what he had done to Pablo Carreño in the semifinals: he won the first two sets clearly and nevertheless fell 2-6, 4-6, 6-4, 6 -3 and 7-6 ( 6). No one came back from 0-2 in a final of this event from Gonzales to Schroeder in 1949.
Thiem is the first unprecedented major champion since Marin Cilic at the 2014 New York tournament and the first non-Big Three since Wawrinka in 2016, also at Flushing Meadows. In addition, he is the second player from his country to triumph in a Slam after Muster (Roland Garros 1995) .
The first set was won by Zverev in 31 minutes, with a wonderful display and a great service that allowed him to lose a single point with first aces in that quarter (12/13 with four aces). Thiem's feelings were very bad. The barrel of his drive did not work and his shots were very often in the middle of the track. It didn't fail much because there were hardly any long trades.
The world number three faced the second set with an obvious lack of energy that caused his rival to quickly get to 5-1 and 0-15. Critical situation that Dominic extended but that in the long run he was unable to save even after taking the potion provided by his physical trainer. If anything, that cut to 6-4, with his first break in more than an hour of meeting, helped him to pick up some morale and try the comeback. But he was not at all comfortable and he did not feel the ball as usual.
The third set started in the worst way for him, with a break against in the third game. Luckily for Thiem, he regained the disadvantage immediately and was able to fight with a lot of suffering, yes. Long snorts, head down, despair. This is how the tennis player from Wiener Neustadt lived his way to the fourth quarter against a Zverev until shortly before consistent and sober that had significantly reduced his high performance. The service no longer took him out of trouble and he lost it just for 6-4 in favor of his rival. More game and more level.
In an almost miraculous way, Thiem regained power with his forehand as the Teuton missed more than necessary, did not make as many winners and the match was even in the statistics. The Austrian only lost one point with his serve until 3-2 in the fourth set (two in the whole set) and the rest won a long point that gave him wings and two break balls that he could not take advantage of. It was a warning. The more rallies, the more goals for him. And another break ball that this time did good. Fifth as in the 2019 Nadal-Medvedev final.
Thiem, in star mode, took the lead from the start, although he did not consolidate due to a tremendous backhand pass from Zverev and a double fault of his. The clash was beautiful, at the right height, with the two tennis players in their best moment. Sascha broke and served to win. He failed and Thiem grew to put the 5-5 and 6-5, but his rival forced the tiebreaker. With a conspicuous limp, the Austrian resisted and took advantage of the Teuton's mistakes (two doubles and a bad backhand) to win in an incredible way. He already deserved it.
Result and statistics of the final
Photos from as.com