Carreño: "It was a great game and I endured great"
The Spanish tennis player appreciated his victory against Denis Shapovalov in the US Open quarterfinals and highlighted how he managed to overcome difficulties during the match.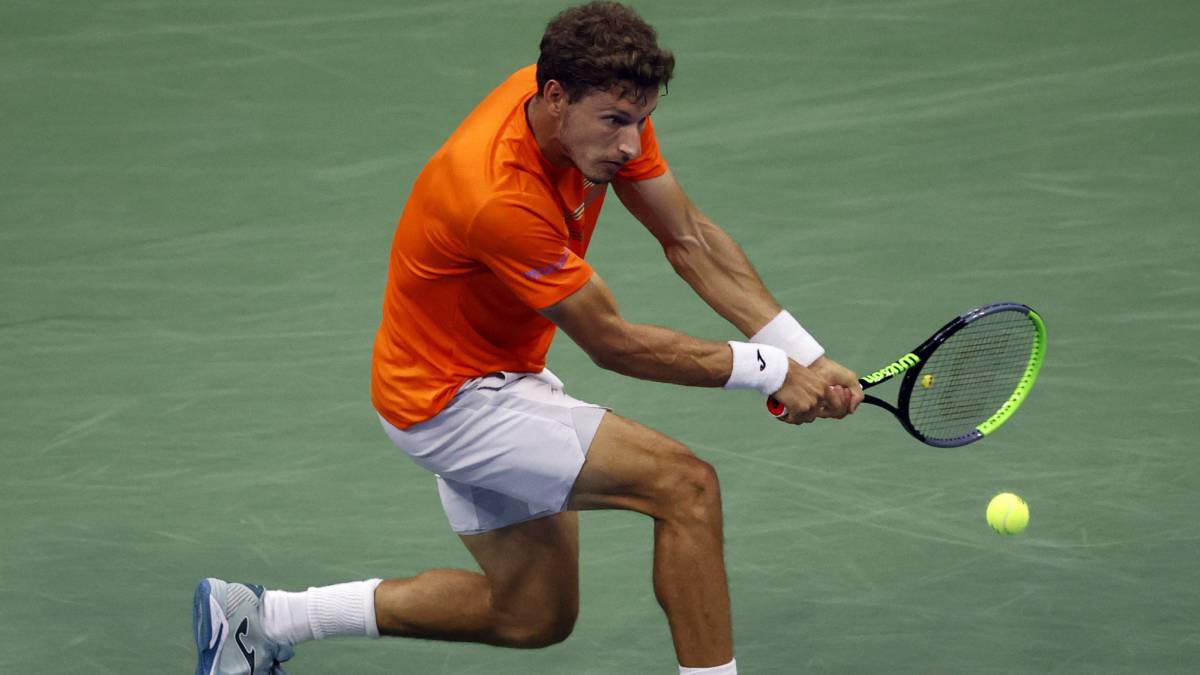 Pablo Carreño addressed the media after defeating Canadian Denis Shapovalov in the US Open quarterfinals. At a press conference, the Asturian tennis player spoke about the toughness of the match, how he managed to overcome adverse situations in the second and fourth sets and what he expects from now on in the tournament, where he will be measured in the semifinals with Alexander Zverev.
Evaluation of the match: "I'm very happy, it's an incredible feeling to be able to be in the semifinals again. I think the game was very good, I don't know if it was as much fun from the outside as I did on the court. I have given it my all I think Denis (Shapovalov) has also played very well, the level of play has been very high. Very strong and very cut ball exchanges. In the end it was decided in a fifth set and I think the match was very even. The first set I got a little nervous and it took me a little bit but from then on I felt more comfortable on the court, I attacked more. He played very well too. I had a bit of luck, I took both tie-breaks, which have been very important. Then I had a bit of a downturn, a bit of a high and in the end I got the victory ".
His best qualities during the game: "It was a game that had a bit of everything. I was nervous and he (Shapovalov) was playing in a way that made me quite uncomfortable lifting the ball backwards. I managed to get more on the court than it was what I needed to counter that ball, I have been more aggressive and he has had to stop doing it because he has seen that he did not hurt me as he did at the beginning. Every time he has gone up to the net he has volleyed incredible and that It has put him in difficulties. It is not easy to subtract him and if he covers the net very well, then everything becomes much more complicated. I have been very good in attitude. Headfirst I endured the nerves of the first set and having two breaks up and losing them in the second set. I played great both tie-breaks, then I had a bit of a downturn at the end of the fourth but I also achieved thanks to the physio, which has helped me a lot and made me feel like new again, and I managed to endure those first fifth games set where he is high and I am with uncertainty and I think it was a great game. The level of play has been great, I have had very good streaks and mentally I have endured great ".
First Grand Slam champion born in the 90s? "That data means that we have lived through a time in which both Roger, Rafa and Nole are real beasts. It is very difficult to beat them because three incredible players have coincided in the same era. They have incredible longevity, because they have been around for almost 15 years. at the highest level. It will be interesting for tennis to see new Grand Slam champions. Hopefully it will be me, but the players who remain in the tournament have a very high level, some with more experience than me in playing matches at this point in a Grand Slam but we are in the semifinals, it is something to celebrate and to continue dreaming about. I am very happy ".
Carreño previously answered the questions asked in English.
Reset before the fifth set: "At the beginning of the match I was very nervous and tried to restart. In the second set I started to play much better, but in the fourth I felt some discomfort in the lower back and the physio was incredible. I did not feel one hundred percent because I had also played for 4 hours, but I have been able to play my best tennis again ".
Nerves before the fifth set: "You are always nervous because you are playing to be in the semifinals. In the fifth set I enjoyed the moment. It is not easy to play these types of matches. It has been a great tennis battle and if we both continue to play this tennis , we will continue to play this type of game. "The importance of this victory in his career: "It is very important for me to return to the semifinals of the US Open. When I reached the quarterfinals at Roland Garros in 2017 it was incredible and reaching the semifinals here is too. If I have been able to do it, it is because I have the level. It is very important for me to gain confidence, keep working hard and keep going this week. "
Djokovic hit a linesman: "It was a tough moment for Novak, for me, for tennis and for everyone. The rules are the rules. Of course it was unfortunate that Novak hit the linesman, but you should try don't do this kind of thing. "
Results of the day.
Photos from as.com