"You can tell that people are looking forward to women's basketball"
The Women's League starts with 16 teams and uncertainty due to the pandemic. Despite that, the nationals return home. Of the champions in Belgrade, only Ndour will play away.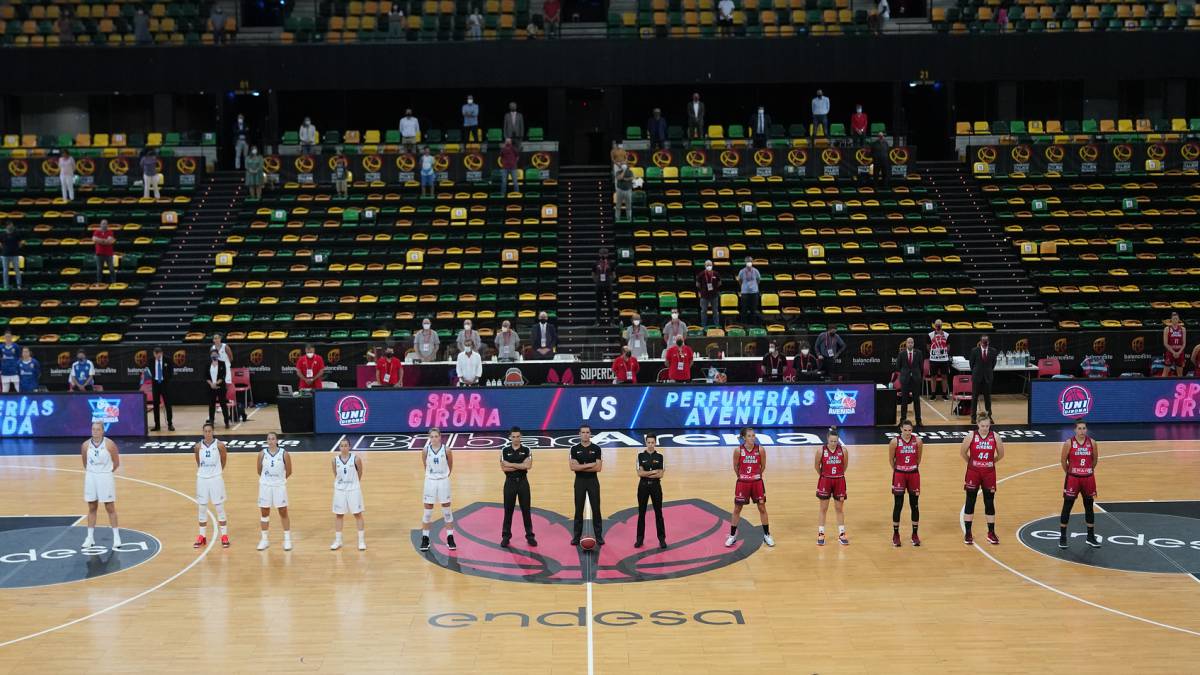 The Endesa 2020-21 Women's League was presented this Wednesday although, due to the pandemic, this year there was neither a gala with all the teams nor will there be an Open Day. A start without so many lights, but for a competition that, on the other hand, is in full swing. Without declines, COVID-19 has given us two extra teams (Movistar Estudiantes and Spar Gran Canaria), but this will also be a season of returns. Of the 12 players who won gold at the 2019 Eurobasket, eleven will play in Spain. Laura Nicholls (Casademont Zaragoza) and Cristina Ouviña (Valencia Basket) are back.
"The growth of the League attracts a lot and it is very positive to have them back, that they are close, that we can see them. In addition, many have lived these months of confinement abroad and they will want to be at home, closer to their families ", explains Silvia Domínguez, captain of Perfumerías Avenida. "Now any team can beat you, anyone can be up," adds Ouviña, one of the most popular returns this summer in Spanish Valencia, a candidate to take one more step this year and play finals, although in the Super Cup he crashed against Lointek Gernika in the first game. "Although we know each other from the National Team, we are practically a new team. We have to keep our feet on the ground. Going crazy in September makes no sense" .
After months of hiatus, the players recognize that being able to play the Super Cup has been a relief. "We have gone with all the illusion, because we have seen each other in the trenches again," says Laia. "The FEB has done a great job in the Super Cup because of how we have felt. It was the first year with four teams, but the pity is that we could not count on our fans. All four teams have done a great job after five months without compete ", explains Silvia. The team that most missed those almost empty stands was the host, Gernika. "It was the first final for the club and it would have been a past to have played in Miribilla with an audience. There were some fans, and then they waited for us on the bus. It makes us happy to feel this affection. You can tell that people really want to play basketball." , says Rosó Buch.
The pandemic is another stone in the team for a women's basketball that was beginning to stick its head out in Spain. "We are used to fighting against adversity and this is one more", confides Silvia Domínguez. "This is the time to bet on women in general. I was very afraid that, due to the pandemic, things would be reversed. It seems that we are moving forward, but this is going to be a crisis that will last. The budgets are closed this year and we hope that everything does not remain a mirage. There are important projects, with the support of men's clubs behind, that have more powerful structures and are going to give more packaging to the League. Hopefully this will take root well ", Laia wishes . "That they continue to bet on us, that they continue to believe, that we will try to make it worthwhile," adds Ouviña.
At the FEB they insist that safety will come first. "For us it will be an important challenge", acknowledges Oscar Graefenhain, general director of the Federation. "The situation is new for everyone. In March we had to take hasty measures, because this pandemic has changed the habits of all of us. But being able to count on the clubs and Endesa is a privilege. We are good traveling companions. The priority is the security, but once the sanitary requirements and protocols have been met, life must continue. Women's basketball has to regain the space it has earned. Society demands it and the League must continue with the efforts of all ".
But the goal this season goes beyond La Liga. In June it will be played in a Eurobasket in Valencia and a month later it will be the Tokyo Games. "All that is on the horizon, but for me it is already interesting that there is a game this Sunday. It is important to go putting carrots along the way. The season is like a marathon, but you focus on the hundred-meter races, because it can be a year highly conditioned by the pandemic, "Laia Palau sentenced. Back to 'normal'.
Schedules of the 1st day of the Endesa Women's League Friday 18 September
Campus Promete-Quesos El Pastor 20: 45
Alter Enersun Al Qázeres-Kutxabank Araski 20: 45
Saturday, September 19
Embutidos Pajariel Bembibre-IDK Euskotren 18: 15
Valencia Basket-Lointek Gernika 19: 15
Durán Ensino-Perfumerías Avenida 19: 15
Cadi La Seu-Casademont Zaragoza 20: 00
Sunday, September 20
City of La Laguna Tenerife-Spar Gran Canaria 18: 00
Spar Girona-Movistar Students 21: 00
Photos from as.com