Barcelona suffers and wins in a controversial final
A foul in attack by Rivero on Abrines, with 87-86 on the scoreboard, and a double technique on Peñarroya sentenced San Pablo.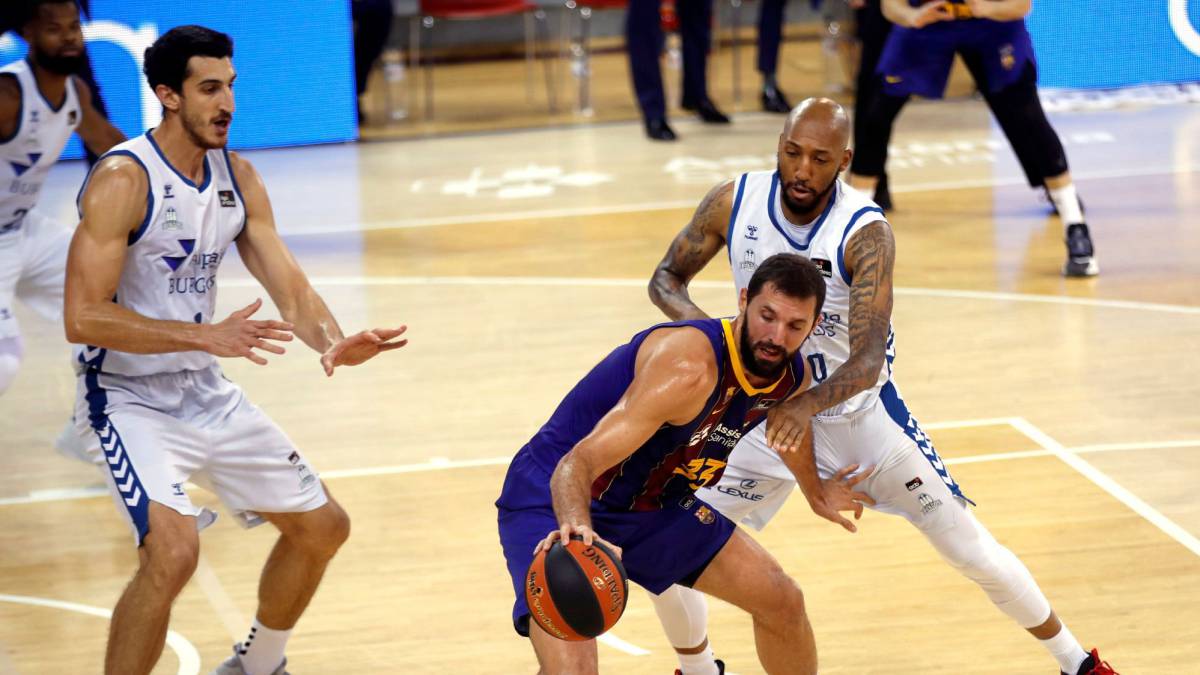 Debut in the Endesa League of Barça by Sarunas Jaskevicius with a controversial victory at the Palau Blaugrana against San Pablo Burgos (89-86) after a debatable foul in an attack by Jasiel Rivero on Abrines and that caused a loss of the ball to the Burgos and double technique to his coach Joan Peñarroya. It was a clash with many ups and downs, but San Pablo never threw in the towel and Barça lost an advantage of up to 12 points (71-59, m.28) to suffer excessively in the last quarter.
There is still no order of play that the Lithuanian coach wants. It is true that the outside shot (12 of 20 in triples) and the rebound (43 sacks, 17 in attack) were Barça in color, but 26 losses allowed his rival to stand up to him. The indisputable effectiveness of Nicola Mirotic (22 points, with 4 triples, and 10 rebounds) together with that of Abrines (22 with 5 triples) and the effort of Pierre Oriola (20 points and 8 rebounds) made a difference. San Pablo, with Victor Benite (18 points) and one of his new signings, Kenneth Horton (17 with 3 triples), was outmatched in the rebound (22 against 43), but only the precipitation in the final minutes in the shot exterior avoided putting Barça even more on the ropes. A pity.
If the atmosphere of the Palau Blaugrana without an audience in the stands is cold, Barça's start in the first quarter today froze it. A real disaster with a series of 2 of 12 in shots of two and nine losses that San Pablo Burgos took advantage of through Rabaseda, Renfro and Dejan Kravic to leave (11-21, m.8). Jasikevicis had rotated almost all of his players and was forced to call his second half. Only the triples Álex Abrines and Thomas Heurtel prevented the collapse at the end of the quarter.
Joan Peñarroya's men were outmatched at the start of the second quarter with captain Pierre Oriola unstoppable in the paint. Six of his points in a row advanced to Barça (24-23, m.12), but Horton, Benite and Omar Cook returned to the charge (26-33, m.15). New time for Saras, who played the card of the young Senegalese base Brancou Badio and with a triple of his launched Barça to the reaction. Oriola kept pounding, Heurtel changed the rhythm and two triples in a row from Abrines allowed his team to go ahead at half-time (55-54) .
The visitors were up at the beginning of the third quarter with Victor Benite right and Horton (45-49, m.21). It would be the last because Abrines on the outside, Oriola on the inside and Mirotic everywhere dismantled the Castilian defense (71-59, m.28) with a partial of 26-10. Calathes and Bolmaro were back on track to slow down the pace of play and give air to their team. This was taken advantage of by San Pablo to react with a partial of 0-7 (71-66) and close the quarter.
Y a triple by Thad McFadden and a basket by Horton tied again (75-75, m.33). Mirotic, Oriola and Abrines returned to the court when Jordan Sakho again advanced the visitors (75-76, m.34). Barça reacted slightly (82-78), but a triple by Cook cut again (82-81.m.37). At that time, San Pablo began to fail in the triples (Renfroe and Benite) and Barça was adding with Calathes and Mirotic (86-81, m.39) .
Peñarroya's men approached again (86-83) and 32 seconds to go Jasikevicius technique was indicated for protesting. Benite's free kick and Cook's basket to tie (86-86). Barça's time with only 18 seconds and Horton's staff to Adam Hanga, two free throws, with only 6 seconds and he only scored one (87-86). On the next play and with only 2 seconds left, a debatable offensive foul arrived in Jasile Rivero's blocking of Abrines that ended Peñarroya with a double technique. Two free throws and possession of Barça decided the contest (89-86) .
Photos from as.com