Barça-Morabanc Andorra: the sixth final in seven years
In the previous five, the Catalans prevailed in four, but in 2018, the Andorrans defeated them 94-76. First title at stake for Jasikevicius.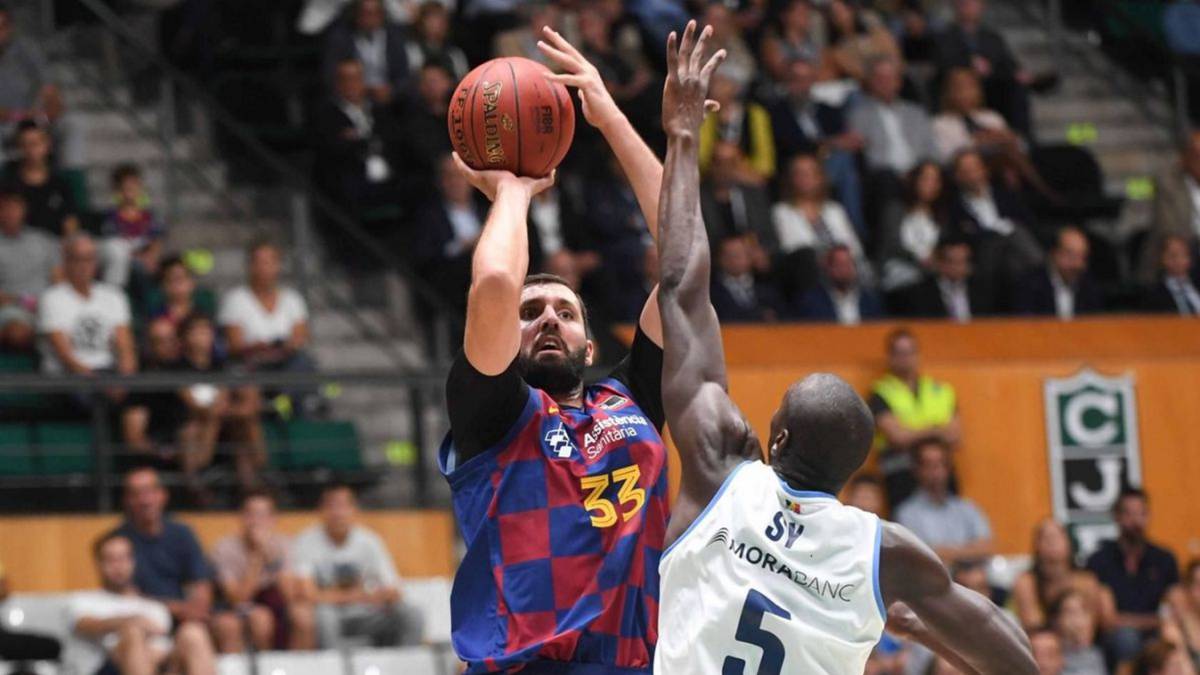 After forty years of history, the final of the 41st edition of the Catalan League, which will be held tomorrow Sunday (9:30 pm) at the Palau Blaugrana between Barça and Morabanc Andorra, will be held for the first time behind closed doors due to strict health and security measures to combat the COVID-19 pandemic.
It will be the repeat of the final that has occurred in five of the last six seasons. Barça, the great dominator of the competition with 22 titles, is the favorite, although Morabanc Andorra, in their sixth final, all the previous ones have been against Barça. Of them he has lost four, but in 2018 he beat the Catalans by a resounding 94-76, in which it is his only title.In the final of last season played at the Palau Olímpic de Badalona, Barça won by a minimum of 93-92 and with a great Nikola Mirotic, elected MVP of the final.
It will be the first title at stake for the new Barça coach, Sarunas Jasikevicius, a week before playing the ACB Super Cup in Tenerife on Saturday 12th where he will face Baskonia, current league champion and executioner of the Barcelona players in the league final this season
Barça beat Baxi Manresa with relative comfort yesterday in the semifinal by 92-82 while Morabanc Andorra beat Joventut 77-75 after an exciting match.
The only reference between both squads so far was in the preseason in a clash played in Encamp (Andorra) where Barça won 84-92 after coming back nine points against in the last quarter thanks to an unstoppable Nick Calathes (15 points) .
Jasikevicius continues with the losses of Cory Higgins and Kyle Kuric, but yesterday he recovered Álex Abrines, who showed good form. Barça are favorites, but the Barça coach is making many rotations and correcting systems such as allowing 13 offensive rebounds to Manresa; a factor that Andorra could take advantage of.
The truth is that Saras has a squad that has innumerable resources as a block, as he demonstrated against Manresa, with Oriola (18 points), Heurtel (14 and 5 assists), Mirotic (13), Abrines (10), Claver (10 ) or Calathes (11 assists) .
Morabanc had to work hard against Ante Tomic's Joventut (22 points and 11 rebounds) and after losing an income of 14 points, he had to recover 11 against (49-60, m.28) to prevail in a final electrifying (77-75) .
The Andorran coach Ibon Navarro, with five new players this season: Oriol Pauli, Malik Dime, Haukur Palsson, Sergi García and Tunde Olumuylwa, has formed a squad with many variants that must fit in and continues with the loss of center Moussa Diagné, and to Tomorrow, Oriol Paulí and David Jelinek are doubtful.
Still, his 'old guard' with the Spanish-Dominican José Miguel 'Tyson' Pérez (15 points and 10 rebounds), especially in the last quarter, point guard Clevin Hanna (14 and 7 assists) and David Jelinek (11 points) , together with pivot 'Tunde' Olumuylwa (12 points and 3 rebounds) responded in difficult moments. The coach hopes that tomorrow the Icelandic guard Haukur Palsson, one of his 'gunners', very gray against Joventut, will be more successful.
Tomorrow (19:00), the final of the Catalan Women's League will also be played between Spar Girona, current champions and who will seek their ninth title against Cadí La Seu.
For the first time in the history of the competition there will be a match for third and fourth place between Baxi Manresa and Joventut (16:30). All matches will be broadcast live on Esports3 of TV3.
Photos from as.com