Barça's 1x1: Mirotic's roar is not enough
The power forward had an excellent game with 22 points (3 of 4 in triples). His great performance did not help him to achieve his first title with Barça.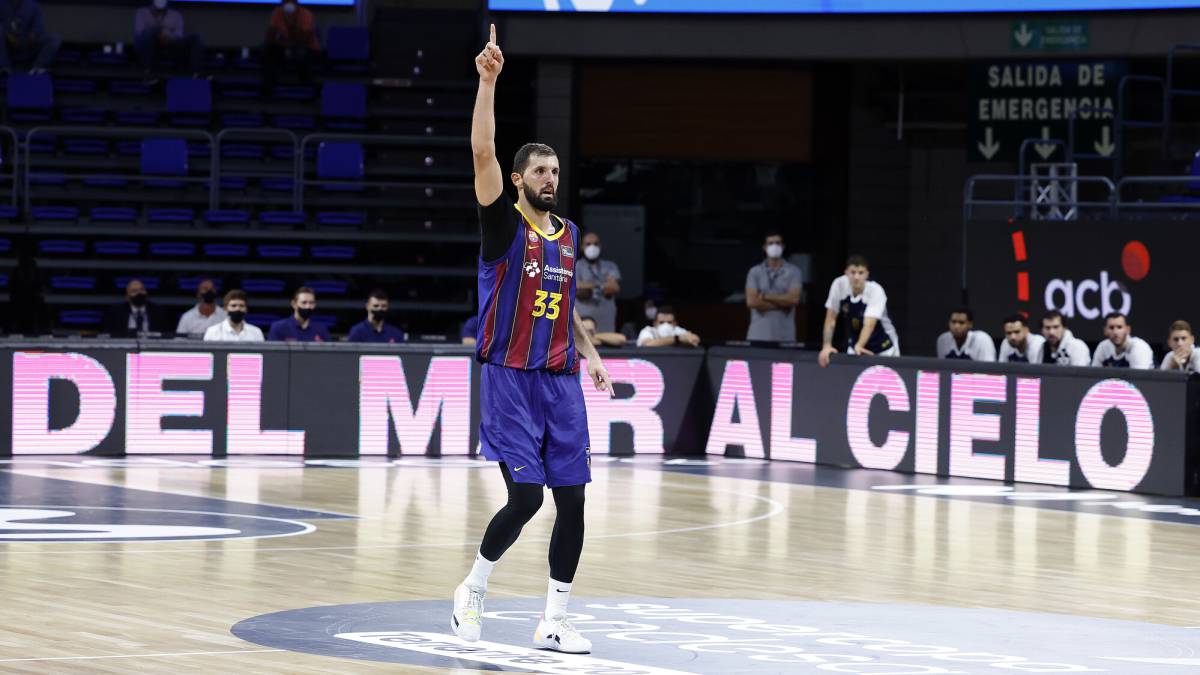 Brandon Davies (good): the power forward was better than in the semifinals. More successful, with less nerve. However, he must still gain importance in this Barça. He had good matches with Tavares and finished with 12 points and 8 rebounds. Rating: 18.
Adam Hanga (failed): Only one point in 27 minutes of play. He maintained the good general line of the team in defense. He is important at Barça and he did not take that step forward that is asked of him… although with the arrival of Calathes the ball passes much less through his hands. Rating: -3.
Leandro Bolmaro (good): the Argentine has a lot (and a good) future ahead of him. He entered with desire and contributed energy in the attack when Barça ran aground. He achieved only 4 points, but in the intangibles he was at the level that a final against Real Madrid requires. Rating: -1.
Rolands Smits (unqualified): five minutes and Jasikevicius fury for an unsportsmanlike behavior. It was not his day. Rating: -1.
Thomas Heurtel (enough scraping): the French guard has lost weight with the arrival of Calathes, but it is hardly noticeable. He has important minutes on the court and knows (more or less) take advantage of them: with the expulsion for five fouls by the Greek, he had courage in two final attacks in which he took oil. The problem is that during the rest of the duel he was at half gas. Rating: -3.
Artem Pustovtyi (did not play) .
Pierre Oriola (good): he is the soul of this team. Jasikevicius uses him as a starter due to his versatility in defense. In this final he had a good start that he could not give continuity. Rating: 1.
Álex Abrines (notable): came in and scored a triple. Everything indicated that he would follow the path of the duel against Iberostar Tenerife (19 points, 5 of 7 in triples). It was a little mirage: he was not so lethal, but he did a good game with 10 points and 6 rebounds. He was in the final moments of the duel. Work builds confidence. Rating: 15.
Brancou Badio (no juice) .
Víctor Claver (enough): the Spanish international did little in attack (1 points). Another thing was in defense, where he annulled Carroll at the dawn of the duel: the American did not shoot until minute 8 of the first quarter. Rating: 3.
Nikola Mirotic (outstanding): It was great again. It is what players with a special talent have ... although once again he was on the verge of winning his first title with Barça. He signed 22 points (3 of 4 in triples) and was the commander of the Barça stretch in the last quarter. He suffers in attack with his pairing with Deck. Rating: 28.
Nick Calathes (good): it went from more to less in the final. Imperial began in attack, with six points in the first moments of the duel ... but he stayed dry. He only scored five more points in the next three quarters. He has an incredible quality, he is very intelligent and with him, Barça's attacks make a lot of sense. Rating: 4.
Photos from as.com