"The balls are a stone, dangerous for health"
Rafa Nadal complains about the "extreme" conditions of "cold and humidity" with which the tournament will be played, but he takes up the challenge and says that he is "satisfied" with the training sessions.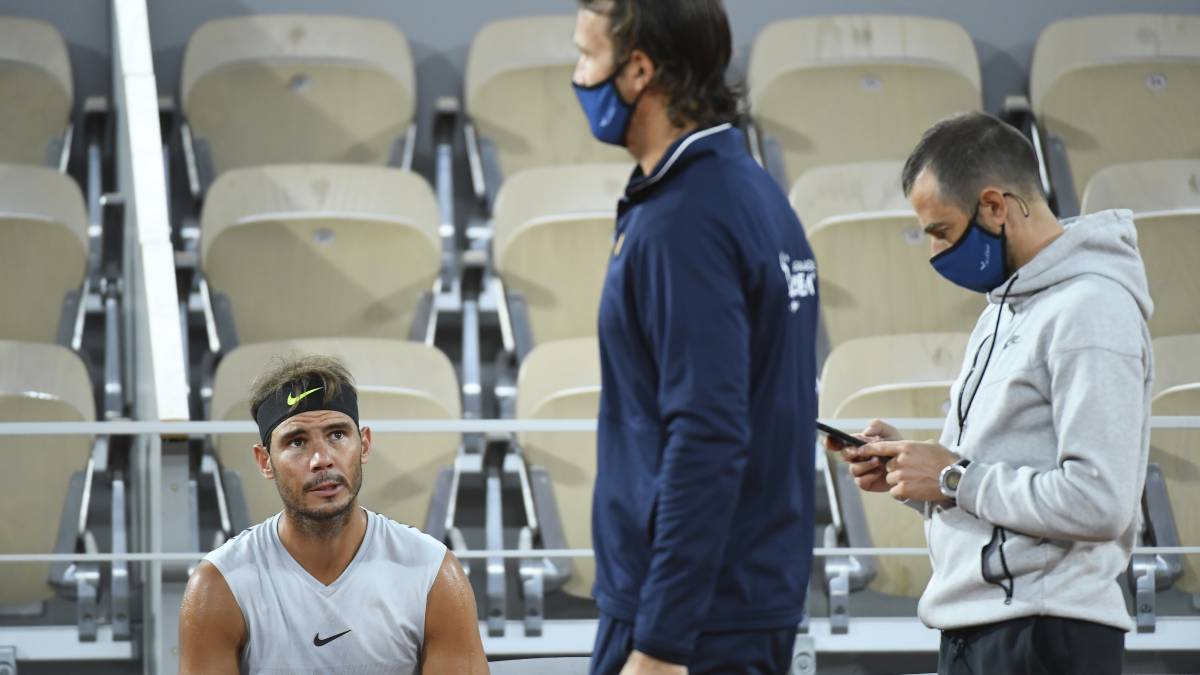 Rafa Nadal appeared at his first virtual press conference at Roland Garros, where he will make his debut on Monday against Belarusian Gerasimov, somewhat saddened by the conditions in which the tournament seems to be held this year, which went from spring to fall because of the coronavirus pandemic. Cold, wind and rain accompany the tennis players during the last days to the chagrin of the current champion and 12-time winner in Paris, who is nevertheless "satisfied" with his first two training sessions. His misgivings and criticisms focus on the weather and the new Wilson brand balls that he considers "super heavy" .
How the tournament is presented: "I don't know, it is a strange situation for everyone, completely different from Rome, the conditions there were good, here they are harsh, it is very cold, they are a little more extreme and difficult for everyone. At nine degrees, to play an outdoor tournament it is an extreme situation, with rain, cold, wind.The balls are very different from those of previous years, in Mallorca with heat it was already slow and heavy, but here with the cold it is like a stone. You have to leave everything every day. Try to overcome obstacles every day and from the reality that things are not going to be perfect. Attitude and enthusiasm. Perhaps it is the tournament in which the conditions in general are the most negative in every way. because of the cold and the ball. It is the first time that this brand has made a ball to play at Roland Garros. There are many things to improve and the tournament will review this for the health of the players. I have had two days of good training sessions ".
Djokovic and Nadal's vulnerability: "It's 100% true, he has beaten me many times on gravel, but at the same time I have been very successful. They are the most difficult conditions for me here in my entire career. The balls are very heavy It is very cold, I come with less preparation than usual, but here I am to fight and do my best. I compete on Monday, so we will see. I will put passion and I will be positive to have better vibrations every day ".
Cheers and routines: "This is the most important event of my entire career. The situation is more difficult than ever. It is a great challenge to play here, I have to maintain the possibility of having opportunities. It does not make much difference to change routines outside of the track, they have no impact on what happens inside, the conditions that exist, which are different. I have done a couple of good practices, although it is very extreme to play in Paris now, but I must be prepared for Monday. "
The ball: "You have to adapt to the conditions, because you can't train to play with a super heavy ball, slower in itself, but with worse cold and humidity. You need time and the right tennis. And be positive. The conditions don't they are perfect for me and neither for others. I need my best version to have opportunities. I have to relax, enjoy and be competitive. Strive to get as high as possible ".
Adaptation and reproach: "I practiced with these balls in Manacor, with heat they were slow. For me it is not the correct ball to play on land. The conditions are going to be worse, I accept the challenge, but the organization has to review this, because the Balls can be dangerous to the elbows and shoulders. Take note. I need to have the best feeling possible, with the right ambition and motivation. "
Positive things: "In Rome I played two good games, the third I did not play well. I do not intend to deceive anyone, the situation is not perfect or ideal, nor did I intend it to be. From then on I must build every day to to have a chance to have a good tournament. I would not be here if it weren't to try to take on the challenge of aspiring to the maximum. I have the illusion of competing at another Roland Garros at 100%, although the conditions are not the best and neither are the preparation. But I repeat to myself every day that this is what there is and even if there is a clear difficulty to have a good tournament, I will try to minimize the problems and have a positive attitude and predisposition so that things go well ".
What you will miss: "First, the weather. Then the joy that we all like, not only in tennis, but in life. Being in another hotel does not affect whether you win or lose a point more or less. That we cannot go out to dinner, well, even if it is a space that separates us from the tennis routine, we do not have it this year, because we adapt. What we will miss in suitable playing conditions to play on land, and a climate of people, parties and public, which we hope to enjoy again soon ".
Duration of the matches: "I don't think there will be shorter matches, they can be almost longer because it will cost more to score points, it costs the ball to take the effects, which affects my game and we will see it from Monday. My job is look for solutions to the difficulties that this tournament presents. Focus on what comes with an appropriate attitude. I am happy with the first two training sessions, there will be more alternatives and we will have to assume them. "
Change: "One cannot make big changes, but play with what there is, not row against the current. There cannot be drastic changes in my pattern of play. It is what there is, I cannot say that I love the ball if it is not like that , but we are going to play with it. For some it is more favorable than for others. You will have more options in the one with the best ability to adapt, there are days left and we trust that the weather will improve. Between rain and wind it is a bit extreme ".

Photos from as.com